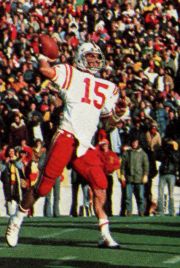 Official recap
Iowa State, capitalizing on eight Nebraska fumbles and one interception, beat the Huskers for the first time in 16 years 37-28, thus setting up a photo finish in the Big 8 race.
Like a premonition of bad things to come, Iowa State drove 94 yards on their second possession to score on a 21-yard field goal. On the following kickoff, Nebraska's Byron Stewart fumbled, and Scott Cole recovered for the Cyclones. Seven plays later, the score was ISU 10, NU 0.
Not content to sit on their 20-13 halftime lead, Iowa State attacked Nebraska on the ground, grinding out 321 yards while holding the Huskers to only 77. A stunned Nebraska had to resort to the pass to move the ball. Vince Ferragamo hit 12 of 27 passes for 199 yards, and split end Bobby Thomas caught four of those for 107 yards, including touchdown strikes of 43 and 30 yards.
But NU's aerial bombardment was not enough to turn back the Cyclones. In the fourth quarter, a Nebraska fumble and interception resulted in two ISU scores that gave them a 37-20 lead. Nebraska scored once more to make the final 37-28.
The loss clouded the post-season bowl picture in the Big 8. NU would have clinched a tie for the Big 8 crown with a win, but instead the showdown with Oklahoma would decide the Orange Bowl representative.
OMAHA WORLD-HERALD
LINCOLN JOURNAL STAR
ASSOCIATED PRESS
UNITED PRESS INTERNATIONAL
SPORTS ILLUSTRATED
PHOTO PAGES: 1, 2
 
SERIES HISTORY
SEASON STATS | NU ROSTER

Iowa State 37
Nebraska 28
Nov. 13,
1976
Ames, IA

Nebraska          7   6   0   15  -  28
Iowa State       17   3   0   17  -  37

First Quarter
ISU - Scott Kollman 21 field goal, 5:38
ISU - Dexter Green 1 run (Kollman kick) 3:35
NEB - Bobby Thomas 43 pass from Vince 
      Ferragamo (Al Eveland kick) 1:29
ISU - Luther Blue 95 kickoff return 
     (Kollman kick) 1:14
Second Quarter
NEB - Monte Anthony 14 run (Eveland kick
      failed) 4:31
ISU - Kollman 31 field goal, 0:48
Fourth Quarter
NEB - Bobby Thomas 30 pass from Ferragamo
     (Eveland kick) 14:35
ISU - Dexter Green 3 run (Kollman kick) 9:26
ISU - Kollman 21 field goal, 5:46
ISU - Buddy Hardeman 16 run (Kollman 
      kick) 2:40
NEB - Rich Berns 2 run (Dave Shamblin 
      pass from Ferragamo) 2:21

                            NU      ISU
First Downs................ 14       19
Rushing, Net............ 38-77   70-321
Passing, Net.............. 199       47
  Comp-Att-Int ....... 12-27-1   3-11-1
Total Offense.......... 65-276   81-368
Return Yards .............. 30       45
Punts-Avg. ............ 7-35.7   6-37.7
Fumbles-Lost ............. 8-6      5-3
Penalties-Yards ......... 5-31     3-15

LEADING NU RUSHERS:
Monte Anthony 47, Rich Berns 34
LEADING NU PASSER:
Vince Ferragamo 199
NU TOTAL OFFENSE LEADER:
Vince Ferragamo 174
MORE INDIVIDUAL STATS
HERE
ATTENDANCE: 51,500
NU OFFENSIVE PLAYER OF THE GAME: Bobby Thomas
NU DEFENSIVE PLAYER OF THE GAME: Clete Pillen