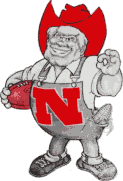 THE BIRTH OF HERBIE HUSKER
The character that would become known as Herbie Husker evolved out of Nebraska's trip to the Cotton Bowl after the 1973 season. Artist Dirk West of Lubbock, Tex., designed a Cornhusker cartoon for the Cotton Bowl press headquarters that caught the eye of Husker sports information director Don Bryant. Later, Bryant contacted West for permission to use the cartoon, and West expressed a desire to refine his original cartoon and improve some of the character's features. As a result, West was commissioned to draw an original Cornhusker cartoon character.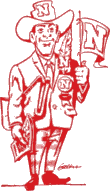 Artist West's concept of Nebraska football is appropriate — a burly, rugged and confident fellow who is proud of both the football and the agricultural tradition of the University of Nebraska Cornhuskers.
The new character adorned the cover of the 1974 Husker football media guide. It was the beginning of the end for the caricature of the famed Nebraska fan as drawn by Bill Gogglns. That character had first appeared in the NEBRASKA FARMER, and that publication had given the Athletic Department permission to use the red-attired fan as a promotional symbol.

SOURCE: 1974 NU MEDIA GUIDE