Nebraska 50
Kansas State 21
Nov. 17,
1973
Manhattan, KS
Nebraska          10   13    7   20 - 50
Kansas State       0    0   14    7 - 21

First quarter
NEB - Rich Sanger 30 field goal, 4:50
NEB - Tony Davis 6 run (Sanger kick), :35
Second quarter
NEB - Dave Humm 1 run (Sanger kick), 12:09
NEB - Davis 4 run (Sanger kick blocked), 2:48
Third quarter
KSU - Isaac Jackson 29 run (Keith Brumley kick), 12:14
KSU - Jackson 1 run (Brumley kick), 8:09
NEB - John O'Leary 5 run (Sanger kick), :18
Fourth quarter
KSU - Fred Rothwell 52 run with fumble recovery (Brumley kick) 12:34
NEB - Davis 4 run (Sanger kick) 7:42
NEB - Dave Shamblin 31 pass from Steve Runty (Sanger kick) 4:00
NEB - Earl Everett 36 run (Sanger kick blocked) 1:55

                             NU     KSU
First Downs ............     24       8
Rushing, Net ...........    434     234
Passes, Comp-Att-Int ... 7-16-1   2-8-2
Passing, Net ...........    178      28
Total Offense ..........    612     262



LEADING NU RUSHERS: Tony Davis 111, John O'Leary 100, Ralph Powell 89.




LEADING NU PASSER: Dave Humm, 4 of 12 - 76.




NU TOTAL OFFENSE LEADER: Tony Davis 111.




ATTENDANCE: 42,000.




NU OFFENSIVE PLAYER OF GAME: Ralph Powell.




NU DEFENSIVE PLAYER OF GAME: Bob Thornton.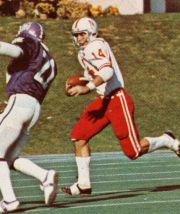 Official recap
Sophomore l-backs Tony Davis and John O'Leary became the first two Huskers ever to rush for 100 yards or more in the same game as Nebraska bombed Kansas State, 50-21, to set up the Big Eight showdown against Oklahoma.
Davis gained 111 yards on 21 carries for his fifth 100-yard day of the season, while O'Leary had his first 100-yard performance, getting an even 100 on 17 rushes. No. 2 fullback Ralph Powell nearly joined the group with a sterling eight carries for 89 yards - an 11.1 average.
The Huskers thoroughly dominated the struggling Wildcats, rolling up 612 yards - the second largest total offense figure in Nebraska history - as they took a 23-0 halftime lead and went on to post their highest point total of the year.
Nebraska got on the board first with a 30-yard Rich Sanger field goal, then when the 'Cats' Isaac Jackson bobbled a Sanger punt later in the opening stanza, Davis scored on one blast from the five to up the count to 10-0. TD's by quarterback Dave Humm and Davis in the second period gave NU that 23-0 halftime lead, but a struggle started early in the second half.
The Huskers fumbled the ball away on their first two second half possessions, and the 'Cats converted on both opportunities to pull within 23-14. Jackson scored both TD's on a 29-yard run and a one-yard plunge. K-State threatened again following an interception, but the Huskers' Bob Thornton returned the favor with another interception. Nebraska then drove 54 yards in five plays, O'Leary going over from the five for a 30-14 lead.
K-State's best of the day came when fullback Don Calhoun burst up the middle for seven yards and fumbled, but center Fred Rothwell scooped up the loose ball and ran the remaining 52 yards for the TD that made It Nebraska 50, Kansas State 21.
OMAHA WORLD-HERALD
ASSOCIATED PRESS
 
SERIES HISTORY
SEASON STATS
NU ROSTER