Nebraska 31
Iowa State 7
Nov. 10,
1973
Lincoln, NE
Iowa State         0    0    7    0 -  7
Nebraska          14   10    0    7 - 31

First quarter
NEB - Dave Humm 1 run (Rich Sanger kick) 10:10
NEB - Ritch Bahe 25 pass from Humm (Sanger kick) 9:19
Second quarter
NEB - Sanger 49 field goal 14:14
NEB - Frosty Anderson 67 pass from Humm (Sanger kick) 1:56
Third quarter
ISU - Buddy Hardeman 1 run (Tom Goedjen kick) 9:50
Fourth quarter
NEB - Steve Runty 1 run (Sanger kick) 0:24

                             NU     ISU
First Downs ............     20      12
Rushing, Net ...........    236     228
Passes, Comp-Att-Int ... 9-21-2  2-11-3
Passing, Net ...........    175      33
Total Offense ..........    411     261



LEADING NU RUSHERS: Tony Davis 85, John O'Leary - 63.




LEADING NU PASSER: Dave Humm, 8 of 19 - 138.




NU TOTAL OFFENSE LEADER: Dave Humm - 142.




ATTENDANCE: 76,503.




NU OFFENSIVE PLAYER OF GAME: Rik Bonness.




NU DEFENSIVE PLAYER OF GAME: John Dutton.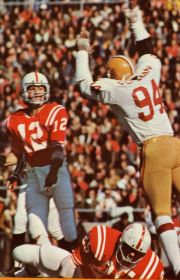 Official recap
In almost a duplicate of the Colorado script, Nebraska tore Iowa State apart early, then settled back and coasted to a 31-7 victory over the Cyclones.
The final 1973 home game crowd of 76,503 saw the Huskers take a 14-0 first quarter lead, run it to 24-0 halftime and then let the defense manhandle the Cyclones before adding another fourth quarter tally.
Nebraska broke the Cyclones early after recovering a fumble at the ISU 21-yard line. Four plays later, Dave Humm sneaked over from the one and Rich Sanger kicked the point for a 7-0 lead with 10:10 left in the quarter. Nebraska kicked off and Cyclone Jerry Moses fumbled to Husker Tom Pate at the Iowa State 21. It took Dave Humm two passes to capitalize on the second break - one for a four-yard loss, then a 25-yard TD toss to Ritch Bahe. That made it 14-0 and the Cyclones were playing catch-up.
On the third play of the second quarter, Sanger booted a 49-yard field goal to make it 17-0 and with 1:56 left in the half, Husker lightning in the form of Dave Humm-to-Frosty Anderson doomed the Cyclones with a brilliant 67-yard aerial bomb. Iowa State staged a good march to open the third quarter and Buddy Hardeman scored midway through the period, but that was the only threat to the Black Shirts who allowed only 33 yards passing against them all day.
Nebraska's offense couldn't get rolling in high gear before the reserves took over for the last 20 minutes of the game. After a pass interception by John Starkebaum late in the game, Steve Runty drove the Huskers 58-yards to score, sneaking over on the ninth play with just :24 left in the game.
With a fine 7-1-1 record and back in the Big 8 race With a 3-1-1 record, the Cornhuskers headed for windup road games at Kansas State and Oklahoma.