Nebraska 28
Colorado 16
Nov. 3,
1973
Lincoln, NE
Colorado           0    3    6    7 - 16
Nebraska          14   14    0    0 - 28

First quarter
NU - Brent Longwell 9 pass from Humm (Sanger kick), 12:38
NU - Tony Davis 9 run (Sanger kick), 6:39
Second quarter
CU - Fred Lima 31 field goal, 13:13
NU - Frosty Anderson 21 pass from Humm (Sanger kick), 8:35
NU - Davis 1 run (Sanger kick), 0:52
Third quarter
CU - Bo Matthews 5 run (run failed) 11:10
Fourth quarter
CU - David Williams 73 pass from Billy Waddy (Lima kick) 11:35

                              CU       NU
First Downs ............      18       19
Rushing, Net ...........     222      231
Passing, Net ...........     105      148
  Comp-Att-Int .........  6-16-2  11-21-1
Total Offense ..........     327      379
Return yards ...........      76       42
Punts ..................    5-36     7-38
Fumbles-Lost ...........     3-2      2-1
Penalties-Yards ........    3-31     4-45



LEADING NU RUSHERS: Tony Davis 97, Ritch Bahe 42.




LEADING NU PASSER: Dave Humm, 11 of 21 - 148.




NU TOTAL OFFENSE LEADER: Dave Humm - 157.




ATTENDANCE: 76,555




NU OFFENSIVE PLAYER OF GAME: Dave Humm.




NU DEFENSIVE PLAYER OF GAME: Willie Thornton.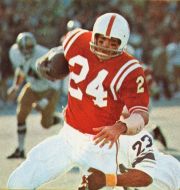 Official recap
Socking the Buffs with two first-quarter touchdowns, the aroused Nebraska Cornhuskers hung a 28-16 loss on tough Colorado before 76,555 delighted fans at Memorial Stadium.
It was NU's sixth straight win over the Buffaloes and boosted Nebraska's record to 6-1-1 for the year. The Cornhuskers rung up 28 points in the first half for a 28-3 margin, then turned to the Black Shirts, who responded gallantly.
Taking the opening kickoff, the Huskers marched 75 yards in seven plays - one a 44-yard Dave Humm to Dave Shamblin pass - to score when Humm hit Brent Longwell with a nine-yard TD pass. With seven minutes left in the quarter, Colorado fumbled and Husker Bob Nelson recovered at the CU 14. It took Tony Davis a five-yard trip and a nine-yard run to score, and Rich Sanger's kick made it 14-0 with 6:39 left in the quarter.
After Fred Lima's 31-yard field goal early in the second quarter, NU bided its time until Willie Thornton blew in to block a Buff punt at the CU 19. Two plays later Humm tossed a 21-yard scoring pass to Frosty Anderson - returning after a three-game injury streak - for a 21-3 lead.
The Huskers drove 71 yards to the CU one late in the second quarter and Sanger booted a field goal. But the Buffs were penalized to the six-inch line and Nebraska elected to send Davis over the pile for a TD and a 28-3 lead with 52 seconds left in the half.
Colorado never recovered, although a Husker fumble at the NU nine gave the Buffs a TD in the third quarter. In the fourth period, the Buffs pulled a variation of the old "swinging gate" play, with QB David Williams flipping the ball to Billy Waddy and the rest of the Buffs across the field, then running down the field and catching a 73-yard TD pass from Waddy.
OMAHA WORLD-HERALD
HUSKERS.COM STORY
ASSOCIATED PRESS
UNITED PRESS INTERNATIONAL
 
SERIES HISTORY
SEASON STATS
NU ROSTER