Nebraska 10
Kansas 9
Oct. 20,
1973
Lincoln, NE
Kansas             0    3    6    0 -  9
Nebraska           7    0    0    3 - 10

First quarter
NU - Tony Davis 2 run (Rich Sanger kick) 2:03
Second quarter
KU - Bob Swift 26 field goal, 1:03
Third quarter
KU - Delvin Williams 4, run (Swift kick blocked) 2:05
Fourth quarter
NU - Sanger 28 field goal, 12:28

                            NU       KU
First Downs ............    14        9
Rushing, Net ...........   159       90
Passes, Comp-Att-Int ... 4-8-1  10-32-1
Passing, Net ...........    54       90
Total Offense ..........   213      180



LEADING NU RUSHERS: Tony Davis 62, Ralph Powell 52.




LEADING NU PASSER: Dave Humm, 4 of 7 - 54.




NU TOTAL OFFENSE LEADER: Tony Davis 62.




ATTENDANCE: 76,490.




NU OFFENSIVE PLAYER OF GAME: Rich Sanger.




NU DEFENSIVE PLAYER OF GAME: Bob Nelson.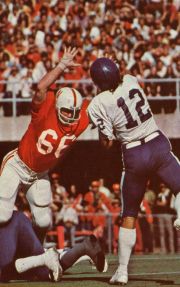 Official recap
Rich Sanger's field goal in the fourth quarter was the difference as Nebraska got back in the win column with a 10-9 decision over Kansas.
It was Homecoming, and 76,498 fans arrived expecting an aerial dual between All America quarterback David Jaynes of Kansas and the Cornhuskers' Dave Humm.
But the battle became one of the defenses as the Husker Black Shirts didn't let Jaynes throw and Nebraska elected to stay on the ground most of the way. Jaynes completed only 10 of 32 passes for a mere 90 yards, while Humm was four of seven for 54 - NU's lowest aerial output since 1965.
Nebraska went 80 yards to score - 15 rushing plays - in the first quarter, with Tony Davis banging over the middle from the two and Sanger adding the point.
It looked like KU might be shut out in the first half, but a Husker fumble gave the Jay­hawks a field goal chance with a minute left, and Bob Swift's 16-yard boot made it 7-3.
Kansas drove 18 yards to score in the third quarter after Randy Borg fumbled a Jayhawk punt. Delvin Williams capped the march with a four-yard TD run to make it 9-7. Husker Ardell Johnson gave the Huskers' their victory break - and as it turned out, saved Nebraska a second-place tie with Kansas in the final Big Eight standings - by blocking Swift's PAT kick with 2:05 left in the quarter.
Then Bob Nelson set the stage for the win. The big, junior linebacker intercepted a Jaynes' pass at the KU 29 and returned it to the 16. Four plays later Sanger kicked a 28-yard field goal for a 10-9 lead.
Nebraska's Black Shirts kept Jaynes completely in check the rest of the way and the Huskers played it safe to win No. 5.
OMAHA WORLD-HERALD
ASSOCIATED PRESS
SPORTS ILLUSTRATED
 
SERIES HISTORY
SEASON STATS
NU ROSTER