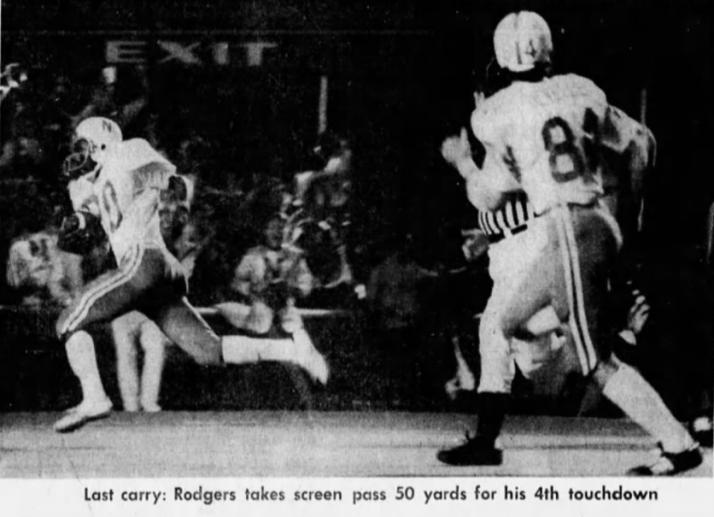 Official recap

Heisman Trophy winner Johnny Rodgers erased all possible doubts about his claim to national pre-eminence with a devastating one-man attack on the Fighting Irish of Notre Dame as the Nebraska Cornhuskers confiscated their third consecutive Orange Bowl Trophy with a 40-6 victory.

With his teammates also performing in magnificent fashion, Rodgers astounded 80,010 fans in familiar Orange Bowl Stadium as well as millions of TV fans on New Year's Night by scoring four TDs and passing for a fifth against the shell-shocked Irish.

No Heisman Trophy winner in history ever concluded his collegiate career in such sensational fashion. Plagued by a tarnished off-the-field reputation, Rodgers feverishly wanted to assure the nation that he really did merit the Heisman as the outstanding player in the United States. Few who watched the 1973 Orange Bowl game would dispute his claim.

In a master stroke of strategy, Coach Bob Devaney shifted Rodgers from Wingback to I-Back. It was a simple move, yet the results were explosive.
---
---
COVERAGE
OMAHA WORLD-HERALD
HUSKER PRESS BOX
SPORTS ILLUSTRATED
ASSOCIATED PRESS:
1
,
2
,
3
ST. PETE TIMES
|
UPI
LINCOLN JOURNAL STAR:
1
,
2
BOLDING SPORTS RESEARCH
FIRST-HALF HIGHLIGHTS
RODGERS PHOTOS:
1
,
2
SERIES HISTORY
|
NU BOWLS
SEASON STATS
|
NU ROSTER
FINAL POLLS
|
HONORS

Nebraska 40
Notre Dame 6
Jan. 1,
1973
Miami, FL
Notre Dame    0     0     0    6  -   6
Nebraska      7    13    20    0  -  40

First Quarter
NU - Rodgers 8 run (Sanger kick) 11:19
Second Quarter
NU - Dixon 1 run (Sanger kick) 14:29
NU - F. Anderson 52 pass from Rodgers (Sanger kick blocked) 12:20 
Third Quarter
NU - Rodgers 4 run (pass failed) 11:17
NU - Rodgers 5 run (Sanger kick) 7:33
NU - Rodgers 50 pass from D. Humm (Sanger kick) 6:00
Fourth Quarter
ND - Demmerle 5 pass from Clements (pass failed) 13:51

ATTENDANCE: 80,010

                               NU      ND 
First Downs .................. 30      13
  By Rushing ................. 20       6
  By Passing .................. 9       5
  By Penalty .................. 1       2
Net Yards Gained Rushing .... 300     104
  Rushing Plays .............. 64      44
  Yards Gained Rushing ...... 328     145
  Yards Lost Rushing ......... 28      41
  Long Rushing Play .......... 36      21
Yards Gained Passing ........ 260     103
  Comp-Att-Int .......... 17-26-1  9-23-3
  Long Passing Play .......... 52      29
Total Offense ............ 90-560  67-207
Interception return yds ....... 0       0
Punts-Average ............ 4-38.3  6-37.2
Yards Returned Punts .......... 3      18
Yards Returned Kickoffs ...... 34      84
Fumbles-Lost ................ 1-1     3-0
Penalties-Yards ............ 5-68    1-15


NEBRASKA
RUSHING
Runner    Att Gain  Ls  Net  Avg  Lng  TD
Rodgers    15   84   3  81   5.4   17   3
Goeller    11   52   9  43   3.9   13   0
Dixon       9   69   0  69   7.7   36   1
Bahe        6   33   6  27   4.5   12   0
Damkroger   3   18   0  18   6.0    8   0
Olds        2    5   0   5   2.5    4   0
D. Humm     4   10   3   7   1.8    8   0
Runty       3   24   5  19   6.3   11   0
Moran       4   13   2  11   2.8    6   0
Garson      4   10   0  10   1.5    6   0
Powell      1    9   0   9   9.0    9   0
Westbrook   1    1   0   1   1.0    1   0 

PASSING
Passer    Att.  Com.  Int  Yards  Long  TD
D. Humm    19    13    0    185    50    1
Rodgers     1     1    0     52    52    1
Runty       6     3    1     23    19    0

PASS RECEIVING
Receiver      No.  Yds  Long  TD
List           3    25   11    0
F.Anderson     2    67   52    1
Revelle        3    62   29    0
Rodgers        3    71   50    1
Damkroger      2    13    7    0
Longwell       1     4    4    0
Goeller        1     2    2    0
Garson         2    16   19    0

PUNTING
Punter        No.  Yds  Avg.  Long
Sanger         4   153  38.3   48

PUNT RETURNS
Player        No.  Yds  Long
Bahe           1     6     6
Rodgers        1    -3    -3

KICKOFF RETURNS
Player        No.  Yds  Long
Bahe           1    23    23
Rodgers        1    11    11

MISCELLANEOUS PLAYS
Player    Type of Play   No. Yds
Blahak    Interception    1   0
Pitts     Interception    1   0
Thornton  Interception    1   0


NOTRE DAME
RUSHING
Runner    Att Gain  Ls   Net  Avg  Lng  TD
Penick      8   49   1   48   6.0   21   0
Best        7   19   4   15   2.1    7   0
Huff       11   22   0   22   2.0    3   0
Dewan       7   18   0   18   2.6    5   0
Diminick    1    2   0    2   2.0    2   0
Cieszkowski 3   21   0   21   7.0   10   0
Clements    6   14  36  -22  -3.7   11   0
Samuel      1    0   0    0   0.0    0   0

PASSING
Passer    Att.  Com.  Int  Yards  Long  TD
Clements   22     9    3    103    29    1
Dewan       1     0    0      0     0    0

PASS RECEIVING
Receiver      No.  Yds  Long  TD
Dewan          3    46   29    0
Diminick       1     5    5    0
Creaney        2    28   17    0
Huff           1     4    4    0
Demmerle       1     5    5    1
Roolf          1    15   15    0

PUNTING
Punter        No.  Yds  Avg.  Long
Doherty        6   223  37.2   46

PUNT RETURNS
Player        No.  Yds  Long
Rudnick        1    15   15
Zanot          1     3    3

KICKOFF RETURNS
Player        No.  Yds  Long
Diminick       3    48    21
Dewan          2    23    15
Penick         1    13    13

MISCELLANEOUS PLAYS
Player     Type of Play  No. Yds
M.Townsend Interception   1   0

DEFENSIVE STATS
NEBRASKA 
Player        Tac  Asst 
Glover          5     5 
Pitts           5     3 
Branch          5     2 
Dutton          4     0 
M.Johnson       4     0 
Mason           3     1 
Bell            3     1 
Harper          3     1 
Yaralian        3     0 
Borg            3     0 
Manstedt        3     0 
Ruud            2     0 
Kyros           1     0 
Sloey           1     1 
A.Johnson       1     0 
Hyland          1     0 
Fischer         1     0 
Austin          1     0 
Alward          1     0

NOTRE DAME 
Player        Tac  Asst 
Mahalic        10     1 
Nosbusch        8     0 
Masuraca        7     5 
Hayduk          6     2 
Barnett         6     0 
O'Malley        5     4 
Schlezes        5     3 
Collins         5     1 
Rudnick         5     0 
Potempa         5     0 
Marx            3     3 
M. Townsend     3     0 
Devine          3     0 
Stock           2     0 
Smith           2     0 
Naughton        1     0 
Best            1     0 
Dewan           1     0


PARTICIPATION
NEBRASKA
OFFENSE
SE - Revelle, F. Anderson,
     Hill, Lackovic
LT - White, Doak, Henrichs
LG - D. Anderson, Alward,
     Leonardi
C  - Dumler, Duda, Kinsel
RG - Beran, Hegener
RT - Crenshaw, Austin, Pavelka
TE - List, Longwell
QB - D. Humm, Runty
IB - Goeller, Dixon, Westbrook
WB - Rodgers, Bahe, Moran,
     Garson
FB - Olds, Damkroger, Powell,
     O'Holleran
Punter, PK - Sanger

DEFENSE
LE  - Manstedt, Hyland, Wieser
LT  - Janssen, M. Johnson
MG  - Glover, Bell
RT  - Dutton
RE  - Harper, Pate
SLB - Branch, Nelson, Schmidt,
      Sloey
WLB - Pitts, Ruud
MON - Mason, Starkebaum,
      Rogers
LCB - Blahak, Fisher
RCB - Borg, Yaralian,
      A. Johnson
S   - Thornton, Kyros

NOTRE DAME
OFFENSE
SE - W. Townsend, Demmerle,
     Roolf  
LT - Casper
LG - Pomarice
C  - Drew, Alvarado
RG - Dinardo
RT - Dampeer
TE - Creaney, Quehl
QB - Clements
LHB - Dewen, Best
RHB - Diminick, Penick
FB - Huff, Cieszkowski
Punter - Doherty
Kickoff - Thomas

DEFENSE
LE - Sullivan, Devine
LT - Nesbusch, Potempa
RT - Marx
RE - Hayduk, Stock
LB - O'Malley, McGraw
OLB - Mahalic
OLB - Masuraca, Smith
DHB - Barnett, Lepienski
DHB - M. Townsend, Zlock
DHB - Schlezes
S - Rudnick, Naughton, Zanet