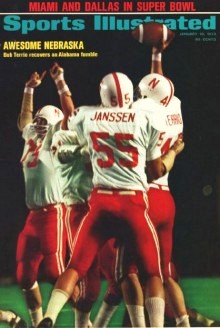 Coverage
The national championship showdown between No. 1 Nebraska and No. 2 Alabama barely got started before the powerful Cornhuskers erased all doubt.
Nebraska led 14-0 at the end of the first quarter and 28-0 at halftime, en route to a 38-6 thrashing of the Crimson Tide.
Taking advantage of a Tide error, NU marched 47 yards in five plays for a 6-0 lead with 12:59 gone in the game. On the last play of the first quarter, Johnny Rodgers recorded another of his sensational punt returns, this time for 77 yards and a 14-0 lead.
Alabama fumbled the ensuing kickoff, and NU had to march only 27 yards to make it 21-0 with 2:17 gone in the second period.
Read more of the official recap here.
SERIES HISTORY | NU BOWLS
SEASON STATS | NU ROSTER
1971 ALABAMA RESULTS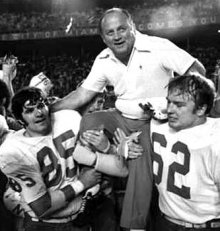 Jerry List & Mike Beran give Bob Devaney a championship ride.
Jan 1,
1972
Miami, FL -- Orange Bowl

Alabama      0    0   6   0  -   6
Nebraska    14   14   3   7  -  38

First Quarter
NEB - Jeff Kinney 2 run (Rich Sanger kick
      wide) 2:01
NEB - Johnny Rodgers 77 punt return (Maury
      Damkroger, pass from Jerry Tagge) 0:00 
Second Quarter
NEB - Tagge 1 run (Sanger kick) 12:43
NEB - Gary Dixon 2 run (Sanger kick) 8:49  
Third Quarter
ALA - Terry Davis 3 run (run failed) 5:49 
NEB - Sanger 21 field goal 0:00
Fourth Quarter
NEB - Van Brownson 1 run (Sanger kick) 4:45

                             ALA      NEB 
First Downs ................. 16       15  
  Rushing ................... 13        9
  Passing .................... 3        5 
  Penalty .................... 0        1 
Rushes-Net Yards ........ 58-241   47-183
  Yards Gained ............. 290      201 
  Yards Lost ................ 49       18 
Net Yards Passing ........... 47      159 
  Passes Att-Comp-Int.... 13-3-2  20-11-0 
Total Offense plays-yds.. 71-288   67-342 
Interception returns-yds.... 0-0     2-30 
Punts-average ........... 7-43.3   5-42.4 
Punts returns-yards ......  4-36    6-136
Kickoff returns-yards .... 7-128      0-0 
Fumbles-lost ............... 5-2      3-2 
Penalties-yards ........... 4-58     4-50 

LEADING NU RUSHER: Jeff Kinney 20-99. 
LEADING NU PASSER: Jerry Tagge 11 for 19-159. 
LEADING NU RECEIVER: Johnny Rodgers 4-84. 
ATTENDANCE: 78,151


RUSHING
NEBRASKA  Att. Gain  Lost Net Avg.  Long  TD 
 Kinney    20   101   2   99   4.9   32    1 
 Olds       2    27   0   27  13.5   19    0
 Brownson   4    23   1   22   5.5   18    1
 Dixon      9    20   6   14   1.6    6    1
 Rodgers    4    12   2   10   2.5    4    0
 Damkroger  3     9   0    9   3.0    7    0
 Tagge      5     9   7    2   0.4    7    1
ALABAMA   Att. Gain  Lost Net Avg.  Long  TD 
 Musso     15    80    1  79   5.3   22    0
 Davis     14    77   16  61   4.4   28    1
 Hobson    15    84   25  59   3.9   26    0
 Bisceglia  7    20    0  20   2.9    5    0
 LaBue      1    11    0  11  11.0   11    0
 Knapp      2    10    0  10   5.0    6    0
 Gantt      1     0    7   7   7.0    7    0
 Beck       2     7    0   7   3.5    4    0
 Spivey     1     1    0   1   1.0    1    0
 
 
PASSING
NEBRASKA  Att. Comp. Int.  Yards   Long   TD
 Tagge     19    11    0    159     56     0
 Brownson   1     0    0      0      0     0
ALABAMA   Att. Comp. Int.  Yards   Long   TD
 Davis      9     3    1     47     17     0
 Hobson     3     0    0      0      0     0
 Rippetoe   1     0    1      0      0     0
 
RECEIVING
NEBRASAKA    No. Yards Long TD
 Rodgers      4    84   56   0
 List         2    21   15   0
 Cox          2    22   15   0
 Dixon        1    20   20   0
 Damkroger    1     6    6   0
 Anderson,F.  1     6    6   0
ALABAMA      No. Yards Long TD
 Wheeler      2    10    5   0
 Bailey       1    15   15   0 
 Musso        0    22   12   0


 
 
KICKOFF
RETURNS
NEBRASKA     No.  Yds  Long   TD
 None
ALABAMA      No.  Yds  Long   TD
 Williams     6   122    27    0 
 Carey        1     6     6    0
PUNTS
NEBRASKA   No.  Yds   Avg.  Long
 Hughes     5   212   42.4    48
ALABAMA    No.  Yds   Avg.  Long
 Gantt      7   303   43.3    55

 
PUNT RETURNS
NEBRASKA     No. Yards Long TD
 Rodgers      6   136   77   1
ALABAMA      No. Yards Long TD
 McKinney     4    36   16   0

 
MISC. PLAYS
NEBRASKA     Type         No. Yds
 Blahak      Interception   1   0 
 J.Anderson  Interception   1  30 
 Peterson    Fumble Rec.    1   0 
 Terrio      Fumble Rec.    1   0
ALABAMA      Type         No. Yds
 Wade        Fumble Rec.    1   0 
 Surlas      Fumble Rec.    1   0


TACKLES

NEBRASKA     UT  AT
Glover        9   1
Terrio        7   1
Harper        6   0
Kosch         5   1
Dutton        4   2
Morell        4   0
Branch        3   3
Adkins        3   1
Carstens      3   0
Mason         2   0
Manstedt      2   0
Janssen       2   0
Jacobson      2   0
McClelland    1   0
Anderson, J.  1   1
Blahak        1   1
Johnson, M.   1   0
Peterson      1   0
Damkroger     1   0
Dixon         1   0
Kinney        1   0
Cox           1   0
Dumler        1   0
List          0   1
Borg          1   0

ALABAMA       UT  AT
Rowell         8   1
Strickland     5   1
Parkhouse      5   1
Rousie         5   1 
Surlas         4   1 
Higginbotham   4   1 
Mitchell       4   0 
Norris         3   1 
Atkinson       3   0 
McKinney       2   0 
Wade           2   0 
Bisceglia      2   0 
Williams       1   2 
McMakin        1   0 
Patterson      1   0 
Cokely         1   0 
White          1   0 
Spivey         1   0 
Brown          1   0 
Beard          0   1 
Croyle         1   1





      NEBRASKA
      Offense
SE—Cox, F. Anderson
LT—White, Wolf 
LG—Rupert, Weber 
C—Dumler, Jamail, Kinsel 
RG—Wortman 
RT—C. Johnson, Austin 
TE—List, Longwell 
QB—Tagge, Brownson 
RB—Kinney, Dixon 
SB—Rodgers, Garson, Hughes 
FB—Olds, Damkroger, Carstens 
PUNTER—Hughes 
PLACEKICKER—Sanger 
KICKOFF—Sanger 

      Defense 
LE—Adkins, Hyland 
LT—Jacobson, Peterson, Robison 
MG—Glover, M. Johnson 
RT—Janssen, Dutton 
RE—Harper, Manstedt 
WLB—Terrio, Morell 
SLB—Branch, Hauge 
M—Mason, Pitts 
LC—Blahak, Hollstein 
RC—J. Anderson, Borg 
S—Kosch, McClelland


       ALABAMA
       Offense 
SE—Bailey, Sawyer, Cash, Jackson 
LT—Krapf, Cokely 
LG—Rosser 
C—Grammer, P. Raines 
RG—Hannah, White 
RT—Brown 
TE—Simmons, Wheeler, Woodruff 
QB—Davis, T. Hobson, Rippetoe 
LB—Musso 
RB—LaBue, Knapp, Spivey 
FB—Bisceglia, Beck 
PUNTER—Gantt 
PLACEKICKER—Gantt 
KICKOFF—Gantt

       Defense 
LE—Parkhouse, Horton, Croyle 
LT—Rowell, Barron, Patterson, Kubellus 
RT—Beard 
RE—Mitchell, Watkins 
SLB—Rouzie, Cross 
MLB—Strickland, Hall 
WLB—Surlas, Root 
LCB—Higginbotham, Cary 
RCB—Williams, Blitz 
SS—Norris, McKinney, McMakin 
FS—Wade, Adkinson