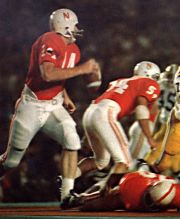 Official recap
Nebraska's unrelenting Cornhuskers marched 67 yards into immortality to climax a brilliant Orange Bowl victory, 17-12 over Louisiana State. Trailing 12-10 as the fourth quarter opened — after leading early, 10-0 — Coach Bob Devaney's Huskers passed and ran over and through the defensive titans of the nation for the winning touchdown.
It came with 6:10 gone in the final quarter when Jerry Tagge, the engineering genius of the night, clinched the Most Valuable Back Trophy by plunging over from the one and then extended his arms high over the pile — just to make sure.
With victory came the certainty that Nebraska would be voted No. 1 by AP and almost all of the other pollsters. No. 1 Texas and No. 2 Ohio State both lost their bowl games, leaving the door open to Nebraska.
Full recap here.

Nebraska 17
LSU 12
Jan. 1, 1971
Miami, FL
Nebraska      10   0   0   7   -  17
LSU            0   3   9   0   -  12

First Quarter
NEB - Rogers 25 yd field goal 2:40
NEB - Orduna 3 yd run (Rogers kick) 2:06
Second Quarter
LSU - Lumpkin 36 yd field goal 0:49
Third Quarter
LSU - Lumpkin 25 yd field goal 11:49
LSU - Coffee 31 yd pass from Lee 0:00
 (Lumpkin kick wide)
Fourth Quarter
NEB - Tagge 1 yd run (Rogers kick) 8:50 

ATTENDANCE: 80,699 (Orange Bowl Record)

                              NEB      LSU
First Downs .................. 18       20
 By Rushing .................. 12        7
 By Passing ..................  6       11
 By Penalty ..................  0        2
Rushes-Net yards ......... 48-132    45-51
 Yards Gained Rushing ....... 173      158
 Yards Lost Rushing .........  41      107
 Long Rushing Play  .........  14       25
Passing net yards ........... 161      227
 Att-Comp-Int ........... 28-14-2  32-17-1
 Long Passing Play  .......... 27       31
Total Offense ............ 76-293   77-278
Int. returns-yards .......... 1-0      2-3
Punts-average ............ 6-37.7   8-32.5
Punt returns-yards .........  1-3      0-0
Kickoff returns-yards ...... 4-54     3-22
Fumbles-lost ...............  4-3      4-3
Penalties-yards ............ 8-67     4-27
Time of possession ........ 30:06    29:54
 1st quarter ..............  9:30     5:30
 2nd quarter ..............  4:39    10:21
 3rd quarter ..............  6:14     8:46
 4th quarter ..............  9:43     5:17
 
 COMPLETE STATS