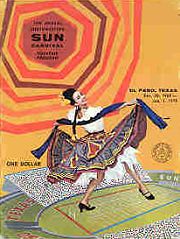 Rogers Boots Bulldogs
Into Sun Bowl Oblivion
As Huskers Romp, 45-6
El Paso, Texas—Dec. 20, 1969—Staging one of the greatest kicking sprees of all-time, Nebraska's Paul Rogers literally kicked the Georgia Bulldogs out of the Sun Bowl as the Cornhuskers romped to a 45-6 victory before 31,728 sun-splashed fans.
Nebraska dominated the game from the time almost all the 7,000 Husker boosters swarmed onto the field to welcome the Big Red before the opening kickoff. But it was Rogers who put the Bulldogs to sleep in dramatic fashion and then let his mates gallop at will.
Rogers set a Nebraska and Big 8 record with four field goals in the first quarter, ranging from 50 down to 32 yards, a fete also good for a Big 8 and Nebraska game record and added to his season and career marks.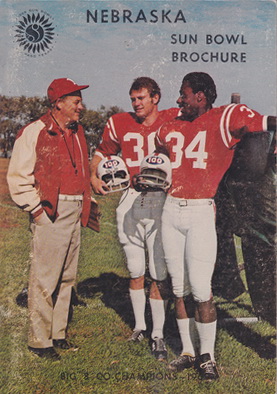 What a bomb-laden first quarter it was! Rogers got the Huskers rolling early when the first drive bogged down at the Georgia 33. His 50-yarder made it 3-0 and a Bulldog fumble enabled him to try again with 9:40 left, this time from the 32 for a 6-0 margin. Van Brownson's 45-yard pass to Guy Ingles set up a Jeff Kinney TD plunge and a 15-0 lead with 7:21 left and Rogers added a 42-yarder with 4:54 left after Dana Stephenson picked off a Georgia pass.
Rogers wound up the wild first quarter with a 37-yard kick with :14 left after Jim Anderson had intercepted a pass.
With the Nebraska defense, led by All Big 8 and All America candidate Jerry Murtaugh who won Outstanding Lineman honors, completely shutting off the Georgia attack, Nebraska's offense rolled into high gear after the scoreless second quarter.
The Huskers capped a third-quarter drive of 42 yards after a fumble recovery with a TD pass from Van Brownson to Mike Green. That made it 25-0 with 11:30 left and seconds later Murtaugh intercepted a Georgia pass and sprinted to the Bulldog one. Brownson plunged and it was 32-0 with 10:30 left in the third.
Defense again dominated the rest of the quarter and Nebraska didn't score again until 13:06 remained in the game. Dan Schneiss got the TD on a two yard dive to make the score, 38-0.
Georgia countered with a drive against the Husker reserves, but Nebraska came right back after recovering the Bulldog on-sides kick try and drove 49 yards to make it 45-6 with 4:10 left in the game.
Rogers, of course, won Most Valuable Player honors on the strength of (1) four first quarter field goals; (2) a half-dozen kickoffs that zoomed out of the Bowl; 15 points on the strength of the four FGs and three of four PAT tries.
The sensational victory, which evened Bob Devaney's Nebraska bowl count to 3-3 and his lifetime mark to 4-3, capped a brilliant comeback 9-2 season which included the Big 8 co-championship and a colorful, exciting and victorious visit to hospitable El Paso and Juarez, Mexico.