Nebraska 44
Oklahoma 14
Nov. 22,
1969
Norman, OK
Nebraska          14    3    13   14  -  44
Oklahoma           7    0     0    7  -  14

First Quarter
OU - Jack Mildren 18 run (Derr kick) 13:33
NU - Van Brownson 1 run (Rogers kick) 5:49
NU - Jeff Kinney 3 run (Rogers kick) 3:03
Second Quarter
NU - Rogers 26 field goal, 12:24
Third Quarter
NU - Kinney 11 run (PAT failed, bad snap) 10:04
NU - Ingles 7 pass from Kinney (Rogers kick) 2:31
Fourth Quarter
NU - Kinney 6 pass from Brownson (Rogers kick) 13:24
OU - Nordgren 16 pass from Mildren (Derr kick) 6:49
NU - Jeff Hughes 6 run (Rogers kick) 2:13

                       NU        OU
First Downs            22        17
Rushing Net           314       121
Passing Net           123       157
  Comp-Att-Int    10-20-0   15-30-3
Total Offense         437       278
Punts                6-24      9-33
Fumbles lost            0         2
Yards penalized        29        72

LEADING NU RUSHERS:
  Jeff Kinney 127; Van Brownson 82.

LEADING NU PASSERS: 
  Van Brownson 5 for 15-43;
  Jerry Tagge 4 for 4-73.

NU BACK OF THE GAME: Jeff Kinney, Carried 35 times for 127 yards; caught three passes for 26 yards, scored three TDs; passed for one TD.

NU LINEMAN OF THE GAME: Glenn Patterson. Ace Husker center did a great blocking job, both in opening holes for running game and in pass protection.

ATTENDANCE: 53,500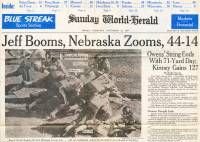 Romp over Sooners clinches Big 8 title
Nebraska climaxed what most observers called Coach Bob Devaney's finest season by thrashing the Oklahoma Sooners, 44-14, and clinching a tie with Missouri for the Big 8 championship.
As in the past, the Huskers had to come from behind. The Sooners jumped to a 7-0 lead right off the bat, thanks to a wind-blown punt that wound up on the NU 18. But the Scarlets fought back to tie 7-7 on a 96-yard drive, then went up 14-7 at the quarter-with the help of a pass interception-and won going away for a sparkling 8-2 season.
It was a banner day as the Sun Bowl-bound Cornhuskers whacked the Sooners for the first time at Norman under Coach Devaney. Laurels were split between the offense and the defense. With Jeff Kinney scoring three TDs and passing for a fourth while running for 127 yards, the offense put the Sooners in shock.
And the defense stopped All America and Heisman Trophy winner Steve Owens with only 71 yards and no TDs-first time in 17 games-to chalk up another superb performance.
The Huskers led 17-7 at halftime, upped the count to 30-7, at the three-quarter mark and turned the game over to the reserves.
It was a high moment for the Huskers and Coach Devaney and his staff- a return to the Big Eight throne room after a two-year absence.
OMAHA WORLD-HERALD
UNITED PRESS INTERNATIONAL
VIDEO OF 2ND HALF
VIDEO HIGHLIGHTS: 1, 2
 
SERIES HISTORY
SEASON STATS
NU ROSTER