Nebraska 13
Okla. State 3
Oct. 25,
1969
Lincoln, NE

Oklahoma State      0    0    3    0  -   3
Nebraska            0    7    6    0  -  13

First Quarter
NEB - Jerry Tagge 2 run (Paul Rogers kick) 1:29
Third Quarter
OSU - Pruss 40 field goal, 9:31
NEB - Guy Ingles 47 pass from Van Brownson (kick blocked) 0:14

                       NU      OSU
First Downs            17        9
Rushing Net           154       43
Passing Net           243       78
  Att-Comp-Int    14-24-1   8-26-1
Total Offense         397      121
Punts-Avg            8-37    10-40
Fumbles lost            2        0
Yards penalized        59       26



LEADING NU RUSHERS:
 Dan Schneiss 47, Jeff Kinney 46.




LEADING NU PASSERS:
 Jerry Tagge 11 for 18—174, Van Brownson 3 for 5—69.




NU BACK OF THE GAME:
 Dan Schneiss ... Outstanding job of blocking ... Carried for 47 yards and caught three passes for 26 yards.




NU LINEMAN OF THE GAME:
 Guy Ingles ... Sensational day, with five receptions for 163 yards and one TD for NU record ... Caught great 47-yarder to shake Huskers loose; scored on a 47-yarder that featured a great run. 




ATTENDANCE: 66,421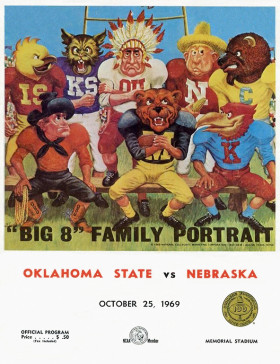 Blackshirts throttle Cowboys
Defense was the name of the game as Nebraska won its fourth game of the season, 13-3, over the Oklahoma State Cowboys before 66,421 fans.
The Husker defensive platoon held the Cowboys to only 43 yards on the ground and 78 yards through the air for a measley 121 yard total. Meanwhile, the Scarlet offense, while muffing a couple of scoring chances, piled up 397 yards for a good day.
Nebraska took a 7-0 lead in the second quarter and the Huskers were never headed. A 47-yard pass from Jerry Tagge to Guy Ingles, who made a sensational catch, ignited the Huskers. Six plays later the 80-yard drive ended with Tagge's two-yard smash for the TD with 1:29 left in the half.
Preuss kicked a 40-yard field goal to get the Cowboys on the board in the third quarter, but Van Brownson came in to skipper the Huskers 58 yards for the clinching touchdown.
Brownson tossed a 47-yard scoring bomb to Ingles with :14 left in the third quarter.
OMAHA WORLD-HERALD

SERIES HISTORY
SEASON STATS
NU ROSTER