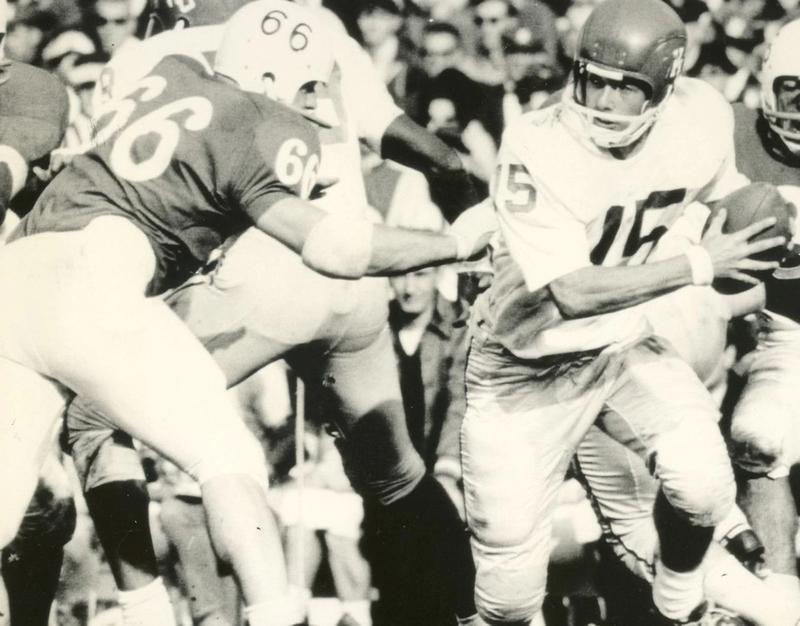 Nebraska 24
Kansas 13
Nov. 5,
1966
Lawrence, KS

Nebraska ....... 0   18    0    6   -   24
Kansas  ........ 0    0    7    6   -   13

Second Quarter
NU: Ben Gregory 3 run (kick failed) 13:55
NU: Bob Churchich 27 run (run failed) 4:51
NU: Harry Wilson 2 run (run failed) 2:28
Third Quarter
KU: Junior Riggins 25 pass from Bill Fenton (David Bouda kick) 1:44 
Fourth Quarter
NU: Wilson 9 pass from Churchich (pass failed) 0:51
KU: Halley Kampschroeder 12 pass from Don Shanklin (pass failed) 0:00

                           NU        KU
First downs ............   23        15
Rushing net ............  226        82
Passing net ............  101       117
  Comp-Att-Int ...... 11-15-0   10-19-1
Total offense ..........  327       199
Punts .................. 4-42      8-47
Fumbles lost ...........    2         0
Yards penalized ........   35        10

Leading NU rushers:
 Ben Gregory 79; Pete Tatman 69.
Leading NU passer:
 Bob  Churchich, 11 for 15, 101 yards.
 
More individual stats here


Official recap
Nebraska bombed Kansas early, then settled back for a 24-13 win that was more decisive than the score.
With 45,500 fans on hand, the Huskers started moving late in the first quarter and wound up with three second-quarter touchdowns and an 18-0 halftime lead.
Kansas got a third-quarter TD after a NU fumble gave the Jayhawks a break at the Husker 36. Then Nebraska opened the gap to 24-7 before KU sent Husker subs reeling with a last second tally off a full-scale aerial attack.
Nebraska capped a 69-yard drive with Ben Gregory scoring from the three with 13:55 left in the first half. With 4:51 left, Bob Churchich ran 27 yards for a second Husker TD, and on the play following the subsequent kickoff, Dennis Thorell intercepted a KU pass and tore back to the 24. Six plays later, Harry Wilson scored for an 18-0 lead with 2:28 left in the half.
KU's Bill Fenton tossed a 25-yard TD pass to Junior Riggins to get the Jayhawks on the board in the third quarter.
The Scarlets retaliated in the final quarter with a fine drive, scoring on a Churchich-to-Wilson nine yard pass.
Fenton passed the Jayhawks 65 yards in four plays, the TD pass coming after time had run out, against NU reserves.
ASSOCIATED PRESS: 1, 2
OMAHA WORLD-HERALD
LINCOLN JOURNAL STAR: 1, 2
LAWRENCE JOUNRAL-WORLD
SPORTS ILLUSTRATED
PHOTO PAGE
 
SERIES HISTORY
SEASON STATS
NU ROSTER