CLARIDGE, THEISEN STAR AS NU CLIPS AUBURN, 13-7
A record run by Dennis Claridge, record field goals by Dave Theisen and clutch defense — those were the ingredients the Nebraska Cornhuskers used to stop a fine Auburn team and win the 1964 Orange Bowl game, 13-7.
With 72,647 fans basking in sunny, 68-degree Miami weather, the Huskers and the Tigers treated a national TV audience to one of the finest New Year's Day bowl contests.
The issue wasn't settled until the final minute of the game. Few of the more than 7,000 Nebraskans who made the trek to Miami would care to relive the last portion of the final quarter again.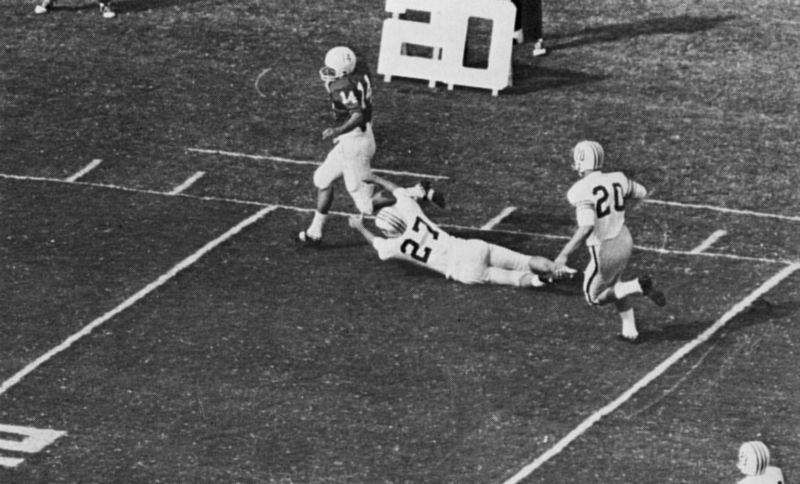 Jimmy Sidle, Auburn's All America quarterback and a gem this day, passed the Tigers to the NU 18 — and with Nebraska leading 13-7, the spectre of Auburn gaining the tying TD and winning the game with a kick converted the colorful Orange Bowl into a giant pressure-cooker.
Nebraska's defense was put to an even tougher test. Co-captain John Kirby tossed Sidle for a one-yard loss. Then two straight Sidle passes were broken up by Dick Callahan and Bruce Smith — but Nebraska was called for pass interference on the five. However, a motion penalty against Auburn nullified the play and it was again third down at the NU 18 with only a minute and a half left to play.
Sidle fired again — and hit halfback George Rose with a 7-yard strike over the middle, safety-man Callahan hauling him down on the 11.
Fourth down ... a hush settled over the throng as Sidle awaited the snap. The outcome of an afternoon of exciting, bruising football was to be settled in the next instant.
Sidle retreated, then shot a bullet toward fullback Doc Griffith crossing the middle. There to deflect the ball were linebackers Kirby and Bruce Smith.
Nebraska players danced and hugged each other, their fans cheered — then fell back limp. The Cornhuskers ran out the clock, aided by a key third down plunge of seven yards by Rudy Johnson, and racked up their second consecutive post-season victory and closed their finest campaign since 1903.
The heart-stopping final quarter was in direct contrast to the early portion of the game in which the Cornhuskers threatened to run Auburn out of the park.
Orange Bowl patrons barely had time to regain their seats after the National Anthem and the tribute to President Kennedy before Nebraska unleashed the shocker of the day.
On the second play after the kickoff, Claridge sent Willie Ross in motion to his left, took the handoff and sprinted to his right. All America guard Bob Brown proceeded to drive his target eight yards down the field, while All Big 8 tackle Lloyd Voss, stopped short and peeled back with a crunching block. Result: a gaping hole in the Auburn line and through it tore Claridge. Denny sprinted to the Auburn side of the field, then hoisted full sail. At the Tiger 30, an Auburn defender challenged — but Claridge planted a stiff-arm and brushed the would-be tackler off and coasted into the end zone.
It was a record 68-yard run and when Theisen kicked the point Nebraska had a 7-0 lead with 13:47 left in the first quarter. The Cornhuskers threw another bomb four plays later, but what might have been an obliterating explosion became a dud by the tiniest margin.
Forcing a Tiger punt, after Tony Jeter — the game's defensive standout — blitzed Sidle for a third-down loss, Nebraska this time turned loose the smallest member of a giant football team.
Little Frankie Solich, a 5-6 sophomore flyer, gathered in the Auburn punt at the NU 20, sprinted straight ahead, angled to his left and saw teammate Bobby Hohn toss a crumpling block. Solich darted to the sideline, gunned to the Tiger 30 where he got another key block and then whistled into the end zone for what 72,647 fans and both teams thought was an 80-yard touchdown gallop.
But back on the NU 42, an official pointed to the sideline — and ruled Solich had ruffled the chalk. So excitement was all the sensational return netted the Cornhuskers.
However, NU did march to the Auburn 14 from where Theisen booted a 31-yard field goal with 5:26 left in the quarter. Dave's kick was also a record, bettering the 22-yard kick set by Tennessee's Bowden Wyatt against Oklahoma in 1939.
It wasn't long before Theisen got a chance to challenge his newly-established record. On the first play of the second quarter, Rose fumbled Claridge's punt at the Tiger 25 and Jeter surrounded the ball at the 22.
A Claridge-to-Jeter pass in the end zone just missed and Auburn stiffened. So on fourth down, Theisen zeroed in from the 26-yard line and bulls-eyed, giving Nebraska a 13-0 lead with 13:05 left in the half.
Except for one Auburn series in the third quarter, the rest of the action centered around rugged defensive play — Auburn slowly regaining momentum, Nebraska grudgingly switching from explosive command to desperate defense as the Huskers fought furiously to fend off the onrushing Tigers.
Sidle put Auburn solidly back into contention and set the stage for the frenzied finish late in the third period. He passed to the NU 13, then circled his own left end off the shotgun formation for the Tiger touchdown — the only time all season an opponent scored a TD on Nebraska during the third quarter.
After that it was a titanic defensive struggle, with the Cornhuskers finally stopping Sidle to gain the coveted Orange Bowl trophy.

SOURCE: 1964 NU MEDIA GUIDE
Nebraska     10    3    0    0  -  13
Auburn        0    0    7    0  -   7

First Quarter
NU - Dennis Claridge 68 run (Dave Theisen kick) 13:47 
NU - FG Theisen 31, 5:26
Second Quarter
NU - FG Theisen 36, 13:05
Third Quarter
AU - Jimmy Sidle 13 run (Woody Woodall kick), 3:32

                        NU       AU
First Downs ........... 11       17
 By rushing ............ 9        8
 By passing ............ 2        8
 By penalty ............ 0        1
Rushes-Net yards .. 46-204   35-126
Passing, Net yards .... 30      157
 Att-Comp-Int ...... 9-4-0  27-14-1
Total Offense ........ 234      283
Punts-Avg. ........ 7-38.3   6-35.2
Fumbles-Lost ......... 2-1      3-1
Penalties-Yards ..... 6-65     5-39

Attendance: 72,647

NEBRASKA

RUSHING    Att. Gain Loss Net  Avg  Long
Claridge    14   116   8  108  7.7    68
R.Johnson   14    47   0   47  3.5     7
McCloughan   5    25   0   25  5.0     9
Ross         7    21   0   21  3.0     6
Solich       2     3   0    3  1.5     2
Hohn         4     8   8    0  0.0     6

PASSING   Att.  Cmp. Int.  Yds  TD  Long
Claridge    9     4    0    30   0    13

RECEIVING    No.    Yds    Long
Doepke        1      13      13
Hohn          1       9       9
Jeter         1       8       8
Ross          1       0       0

PUNTING   No.  Yds.  Avg.  Long
Claridge   7   268   38.3    46

PUNT RETURNS    No.  Yds.  Long
Hohn             1    25     25
Solich           1    22     22
McCloughan       1    11     11
                   
KICKOFF RETURNS  No.  Yds. Long
Solich            1    29    29
McCloughan        1    18    18
Jeter             1     9     9

LINEUP
LE-Tomlinson, White 
LT-Kramer, Jones 
LG-Kirby, Dervin, Kennedy 
C-Michka, Sittler, Barnes 
RG-Brown, McGinn 
RT-Voss, Kiffin 
RE-Jeter, Callahan, Doepke 
QB-Claridge, Duda 
LH-Ross, Solich, Smidt, Theisen
RH-Hohn, McCloughan
FB-Johnson, Smith, McNulty

AUBURN

RUSHING    Att. Gain Loss Net  Avg  Long
Sidle       25   124  28   96  3.8    16
Rawson       4    14   0   14  3.5     5
Sutton       1     6   0    6  6.0     6
Frederickson 3     5   1    4  1.3     4
Rose         1     3   0    3  3.0     3
Griffith     1     3   0    3  3.0     3

PASSING   Att.  Cmp. Int.  Yds  TD  Long
Sidle      25    12    1   141   0    28
Rose        2     2    0    16   0    10

RECEIVING    No.    Yds    Long
Simpson       4      39      11
Rose          3      37      18
Waid          2      34      28
Ingle         2      22      11
Lewis         2      15      12
Sidle         1      10      10

PUNTING   No.  Yds.  Avg.  Long
Kilgore    6   211   35.2    46

PUNT RETURNS    No.  Yds.  Long
None

KICKOFF RETURNS  No.  Yds. Long
Rose              1    18    18

LINEUP
LE-Simpson, Helms
LT-Thornton, Hurston
LG-Heller, Osburne  Burns
C-Alford, Popwell
RG-Van Dyke, Warren 
RT-Walton, Heller 
RE-Waid, Ingle 
QB-Sidle, Cody, Kilgore 
LH-Frederickson, Edge, Sutton, Lewis 
RH-Rose, Partin, Woodall 
FB-Rawson, Fuller, Griffith, Cochran



OFFICIALS

Referee-Pat Haggerty; umpire-George Hecht; head linesman-Glenn Bowles; field judge-Jack Bradford; back judge-Alex George; sixth emergency official-R.P. (Pete) Williams.





WEATHER

At game time: Temperature 68 degrees; humidity 49%; wind 13 mph NW.