REVERSING FIELD
Sayers on a 43-yard touchdown run in the Shrine Game.
Cornhusker fans had to be giddy over Gale Sayers' dazzling four-touchdown performance in the state high school Shrine Game in August 1961. In just a few weeks, he was due to enroll at Nebraska. Surely he would bring Memorial Stadium crowds to their feet in the seasons to come.
 
But these were the Wild West days of college football recruiting. Nebraska was about to receive a most unpleasant surprise.
---
Fifty-five years ago, recruitniks weren't much of a thing. That's good, because anyone following the Gale Sayers saga of 1961 just might have been sent over the edge.
Back then, a college football recruiting class wasn't wrapped in a tidy bow in early February. Instead, the offers – legal and otherwise – continued through the spring and into the summer – sometimes all the way into September. So did what we now call commitments and decommitments. Little if anything was binding until the player began attending class.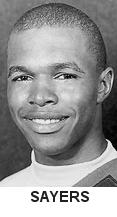 Sayers was a Nebraska prep sensation who had college coaches drooling. Near the end of January of 1961, in his final semester at Omaha Central High School, he announced Iowa State was his college destination. That would have been just days before the modern-day signing date, but the University of Nebraska and coach Bill Jennings weren't about to give up. Sure enough, by late May it was believed Sayers had flipped to the Huskers, and Jennings confirmed in June that the star running back had accepted Nebraska's scholarship offer and signed grant-in-aid papers.
End of story? Yogi Berra hadn't yet coined the phrase, but it was a textbook case of "it ain't over till it's over."
Fast-forward two months to Aug. 19th. In a jaw-dropping performance, Sayers scored four touchdowns in the Nebraska Shrine high school all-star game. Afterward, he gave no hint – publicly, at least – that he was wavering. Behind the scenes, though, the University of Kansas was coming after him hard, even offering to bring Sayers' older brother, Roger, to Lawrence in a package deal. After Roger Sayers' school, Omaha University, complained to the NCAA, Kansas coach Jack Mitchell dropped that part of the offer but continued wooing Gale.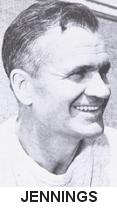 All this was long before recruiting became a spectator sport in its own right, so what happened next came as a blindside hit to most Husker fans. On Sept. 8th, just 10 days before the start of the fall semester in Lincoln, Sayers announced he was reversing field once more and enrolling at Kansas. This time, Jennings waved the white flag, saying Nebraska would do nothing more to try to dissuade Sayers from leaving his home state.
So Sayers was a Jayhawk, and the rest is history. He went on to Hall of Fame careers in both college and the NFL. Whenever the greatest running backs of all time are debated, his name is prominently in the mix. The only consolation for Nebraska was that the "Kansas Comet" never tasted victory against the Cornhuskers. Even in defeat, however, Sayers registered the longest-ever run from scrimmage by a Nebraska opponent. At 99 yards, it's a record that cannot be broken.
While far from typical, Sayers' story was hardly unique. In fact, the shoe was on the other foot for the Huskers when quarterback Dennis Claridge made an even later switch from Minnesota to Nebraska in 1959.
Clearly, a greater degree of order and sanity was needed. It arrived less than 18 months after Sayers' eleventh-hour reversal in the form of a joint Big Eight-Southwest Conference letter of intent. Not long after that came the national letter of intent. But it wasn't until the early 1980s that a national signing day was established.
Had there been binding February commitments 55 years ago, would Gale Sayers have ended up somewhere other than Kansas? Would all that drama have been avoided? Perhaps. But it's also quite possible that similar events simply would have played out several months earlier than they did. In any case, at least those Shrine Game fans would have known whether or not to dream big.
J. Hudson
Jan. 27, 2016