Halfback Pat Fischer fights for yardage.
Nebraska 14
Pittsburgh 6
Nov. 15,
1958
— Lincoln, NE
Pittsburgh      0   0   0   6   -   6
Nebraska        0   6   8   0   -  14

Second quarter
NEBR: Mike Eger 10 pass from Larry Naviaux (George Harshman kick wide) 
Third quarter
NEBR: Pat Fischer 2 pass from Naviaux (Naviaux pass from Fischer)
Fourth quarter
PITT: Dick Haley 35 pass from Bill Kaliden (pass failed)

                     PITT      NEBR
First downs .......... 19        12
 By rushing ........... 9         8
 By passing .......... 10         4
 By penalty ........... 0         0
Rushes-yards ..... 41-148    41-118
Passing yards ....... 191        69    
 Att-Comp-Int ... 31-17-2    13-7-0
Total offense .... 72-339    54-187
Punts ............ 4-47.8    6-38.5
Fumbles-lost ........ 1-1       1-0
Yards penalized .... 2-30       0-0

RUSHING
NEBR: Harshman 4-8; Zaruba 9-35; Naviaux 12-46; McCashland 5-14; Tolly 5-9; White 3-7; Fischer 3-14.

PITT: Toncic 2-8; Haley 8-38; Plowman 10-30; Riddle 11-40; Kaliden 2-4; Flara 1-1; Cunningham 1-2; Rathi 5-28; Reinhold 1-(-3).

PASSING
NEBR: Naviaux 5/6 41 YDS; Harshman 1/4 7 YDS; Zaruba 0/1 0 YDS; Fischer 1/2 21 YDS

PITT: Toncic 4/5 33 YDS; Haley 1/2 11 YDS; Kaliden 12/24 147 YDS

RECEIVING
NEBR: Bond 1-7; Fischer 3-19; Zaruba 1-12; Eger 1-10; White 1-21

PITT: Ditka 6-70; Riddle 3-13; Delfine 2-18; Flara 1-7; Scisly 1-11; Haley 3-58; Zanos 1-14


Notes
The Sunday Journal & Star's playful typographical touch reflects the giddiness brought on by the upset victory. Fans stormed the field, and the Corn Cob mascot lost its head in the joyous chaos. The steel north goalposts, however, withstood an assault.
It was only the fourth win in 22 tries for Nebraska, and the Huskers' first home win in the series.
Nebraska played nearly error-free ball: zero turnovers and zero penalty yards assessed.
Pittsburgh end Jim Zanos and Nebraska guard Dick Kosier were ejected early in the fourth quarter for fighting.
Of Bill Kaliden's 12 pass completions for Pitt, nine came in the fourth quarter.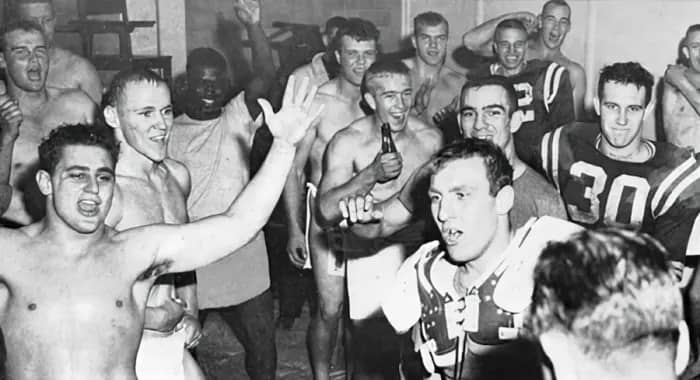 Husker players serenade the coaches after the upset win.
Cornhuskers stun old nemesis Pitt
Pittsburgh came to Lincoln as a three-touchdown favorite and hoping for a major bowl invitation. But the 14th-ranked Panthers headed home on the short end of a 14-6 score as the 1958 Huskers made it two for two against heavily favored teams from the Keystone State.
Pitt was fresh off a big win over Notre Dame, and on paper, NU appeared overmatched. The Pittsburgh Post-Gazette's Myron Cope wrote before the game: "Pitt's third team may be as good or better than Nebraska's first. Fresh Panthers will keep coming at the Nebraskans all afternoon. … Pitt's depth adds up to a slaughter for Nebraska."
Husker fans apparently agreed. A season-low 24,107 were on hand to see what might unfold against NU's longtime nemesis, who owned a commanding 15-3-3 advantage in the series.

McCash-
land
With the score tied 0-0 early in the second period, NU fullback Dick McCashland gave Nebraska its first spark, intercepting a Bill Kaliden pass on Pitt's 42. The Huskers used running plays to move the ball to the 10, the biggest gains coming on a 14-yard carry by halfback Larry Naviaux and a 9-yard run by fullback Carroll "Pappy" Zaruba. The southpaw Naviaux then hit Mike Eger in the end zone for a TD. The conversion kick was wide, and the Huskers led 6-0.
The Huskers let an opportunity later in the quarter go to waste. A 53-yard punt return by Zaruba, sprung by a key block from center Don Fricke, put Nebraska at Pitt's 33. A 21-yard pass from Pat Fischer to Clay White on a fake field goal moved NU to the Pitt 9. The drive ended, however, when Pitt stopped George Harshman on fourth and goal from the 1, and the score remained 6-0 at halftime.
Naviaux
The third quarter opened with the easterners driving with relative ease into Nebraska territory. It was first and 10 at the NU 25, but there the Huskers stiffened, taking over on downs at the 16. An exchange of punts then flipped field position, with Mike Ditka's boot of just 19 yards giving Nebraska the ball at the Pitt 42. Using short runs and passes, the Huskers drove methodically to Pitt's 2 yard line. There, Naviaux passed to Fischer on an option play for the touchdown. The honors were then reversed on the conversion try as Fischer passed to Naviaux out of a fake kick formation, and Nebraska's lead was 14-0.
Pittsburgh wasn't about to go down quietly. Early in the fourth quarter, the Panthers drove inside the NU 10 but were stymied by a two big plays by Naviaux — a tackle for loss and then a fourth-down pass breakup. Nebraska subsequently punted from poor field position, and Pitt took over on the NU 35. Kaliden immediately connected with Dick Haley on a 35-yard TD pass. After a failed two-point try, the score stood at 14-6.
NU's next possession chewed five minutes off the clock, and when Pitt got the ball back, the Panthers were on their own 10 with just two minutes remaining. The visitors furiously moved downfield, 11 plays netting 67 yards to the NU 23. There, Kaliden passed to John Flara, who caught the ball at the 15 and lateraled desperately to a tackle, who could not hold on. Time ran out during the scramble for the errant pigskin, which NU recovered. The unlikely victory was in the books.

Coverage
•
Omaha World-Herald
•
Pittsburgh Press
•
Pittsburgh Post-Gazette
•
Associated Press
•
OWH retrospective
•
Photos:
1
,
2
,
3
•
Rosters:
NU
,
Pitt
•
Series history