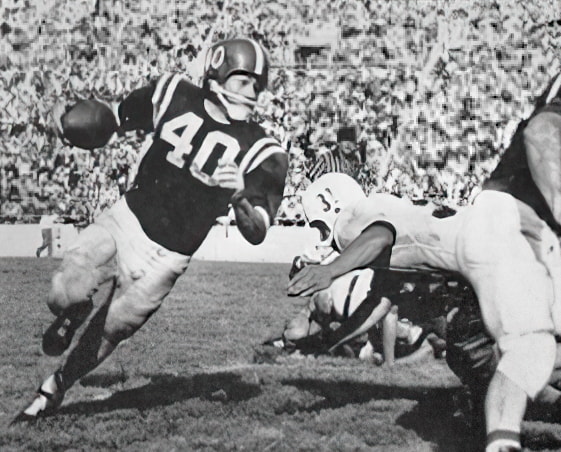 Pat Fischer tries to turn the corner against the Nittany Lions.
| Cornhusker yearbook
Nebraska 14
Penn State 7
Sept. 20,
1958
— Lincoln, NE
Penn State    0    0    0    7   --   7
Nebraska      0    0    0   14   --  14

Fourth Quarter
PSU: Dave Kasperian 1 run (Don Jonas kick)
    (71-yd drive, 13 plays)
NEB: Pat Fischer 92 kickoff return (George Harshman kick)
NEB: Carroll Zaruba 1 run (Harshman kick)
    (54-yd drive after a PSU fumble)
 
                           PSU      NEB
First downs ............... 20        9
  Rushing ................. 18        8
  Passing .................  2        1
  Penalty .................  0        0
Rushes-Net yards ...... 68-285   43-149
  Yards gained ........... 301      158
  Yards lost .............. 16        9
Passing net yards ......... 49       32
  Att-comp-int ........ 15-6-0    6-2-0
Total offense ............ 334      181
Punts-avg ............. 8-34.1   7-45.0
Punt returns-yards ...... 2-18     4-53
K.O. returns-yards ..... 4-110     1-92
Fumbles-lost ............. 4-1      1-0
Ball lost on downs ......... 1        1
Penalties-yards ......... 4-35     6-46
Field goals .............. 0/1      0/1

RUSHING
PSU: Botula 32-111, Kasperian 13-80, Paolone 6-26, Jonas 2-24, Lucas 2-14, Gilmore 5-13, Jacks 2-4, Sobzcak 1-1, Hoak 1-minus-2.

NEB: Naviaux 4-46, Fischer 8-20, Zaruba 5-18, McCashland 6-15, Martz 4-12, Tolly 8-12, Harshman 3-11, White 1-5.

PASSING
PSU: Jacks 3-8-0 19, Lucas 2-4-0 20, Scrabis 1-3-0 10.

NEB: Harshman 1-3-0 26, Tolly 1-1-0 6, Fischer 0-2-0 0.

RECEIVING
PSU: Paolone 2-20, Botula 2-13, Jonas 1-10, Bozick 1-6.

NEB: Eger 1-26, Fischer 1-6.

Attendance: 26,966

NOTES
After scoring 14 points in the fourth quarter, the Huskers would score just 13 points in their next four games combined.
Thirty-nine players suited up for the Huskers, and 23 played.
Nebraska misfired on a fake field goal in the third quarter when Fischer overthrew Ron McDole.
Each team missed a field goal in the first half, Nebraska from the 27 and Penn State from the 34.
How about that punting? The Lincoln paper noted that a quick kick by Fischer netted 65 yards; Harry Tolly had a 51-yarder that pinned PSU at its own 2 and another at the 11; and a 58-yarder by Harshman had the Lions scrimmaging from their own 3.
On offense, the Huskers used both the T and the single-wing formations and ran mostly to the short side of the field.
Penn State would finish the season 6-3-1.
Huskers upset Nittany Lions
A scoreless defensive deadlock — described by an Associated Press reporter as "a dreary series of punt exchanges" — broke wide open in a frenzied fourth quarter as Nebraska upset heavily favored Penn State, 14-7.
Saddled with a school record-tying seven-game losing streak, the Huskers entered the 1958 opener having lost 11 of their last 12. For Penn State, the game appeared to be little more than a tune-up for its 20th consecutive winning season. The Nittany Lions were favored by two touchdowns in Lincoln.
For three quarters, neither team could score. Stellar Nebraska punting and timely defensive stands helped thwart the Lions as they rolled up a sizable statistical advantage. But finally, Penn State put together a 13-play, 71-yard drive, and Dave Kasperian's 1-yard TD run and Don Jonas' extra point made it 7-0.
The visitors' lead lasted just 15 seconds.
Sophomore halfback Pat Fischer took the ensuing kickoff at the 8. Here's how the Lincoln Journal & Star's Dick Becker described it: "Penn Staters appeared to block the way as he headed up the middle. Then Fischer broke to the left and swung up the east sidelines. It looked like he was trapped and out of bounds at the NU 40. Almost daintily he picked his way down the sidelines. Then he saw daylight. Calling on a reserve of speed and strength, he outraced the Lions to score standing up." George Harshman's conversion kick tied the game, 7-7. More than 13 minutes remained in the fourth quarter.
Penn State answered by driving to midfield, but a Husker hit separated Kasperian from the ball, and Nebraska's Joe Gacusana recovered at the NU 46. Runs of 30 yards by Larry Naviaux and 9 yards by Fischer put the Huskers at Penn State's 14, but a holding penalty promptly set them back to the 29. Undeterred, Harshman threw to end Mike Eger, who went airborne to make the catch at the 3. Carroll Zaruba bulled into the end zone four plays later, and Harshman again kicked the extra point. NU now led 14-7.
The Nittany Lions weren't finished. Again they drove into NU territory. The Huskers had good fortune when end Maurice Schleicher dropped a pass in the end zone. Penn State recovered from that disappointment and gained a first down at the NU 8. A pair of running plays netted just a yard, thanks to stops by Don Fricke and Dennis Emanuel. The Lions then went to the air and again were stymied, with Naviaux breaking up a pass in the end zone and Duane Mongerson knocking one down at the line of scrimmage.
Two minutes remained, and NU had the ball at its own 7. After Nebraska ran three plays and punted, two Penn State pass plays netted 7 yards, and the game was over.
COVERAGE
OMAHA WORLD-HERALD
ASSOCIATED PRESS
DAILY NEBRASKAN
DAILY COLLEGIAN: 1, 2, 3
PHOTOS