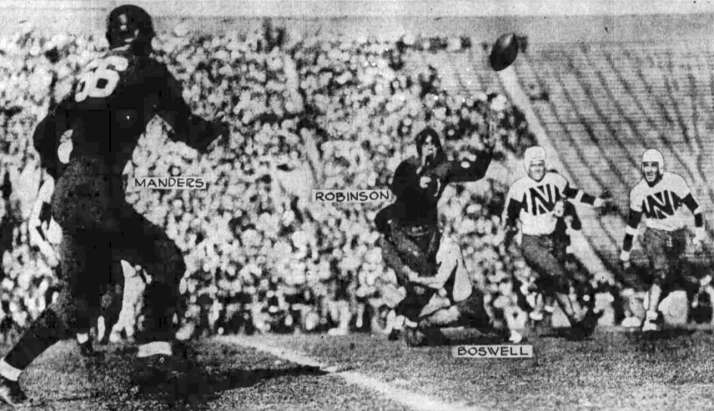 Bradbury Robinson gets his lateral away to Jack Manders on the game's pivotal play.
Minnesota 7, Nebraska 6
Oct. 15,
1932
•
Minneapolis
A missed PAT and a 27-yard hook-and-lateral touchdown play doomed the Cornhuskers in a 7-6 loss at Minnesota.
Underdog Nebraska jumped to 6-0 lead early in the first quarter. The Cornhuskers began their drive at the Minnesota 38 and overcame a 15-yard roughing penalty to travel the required distance. The big play was a 34-yard pass from George Sauer to Bernie Masterson to the Minnesota 5. On fourth and goal from the four, Sauer and Masterson teamed up again for the touchdown, but Masterson's try for the extra point was wide.
Late in the second quarter, a punt by Sauer into a strong wind went for negative yards, giving the Gophers the ball at the Nebraska 31. On third down, Francis "Pug" Lund flipped a short pass to Bradbury Robinson. Robinson caught the ball and lateraled to senior back Jack Manders, who was running downfield near the right sideline. Robinson's lateral hit the ground, but Manders scooped up the ball on one hop and streaked in for the touchdown. Manders' extra point was good, and Minnesota held a 7-6 lead at halftime.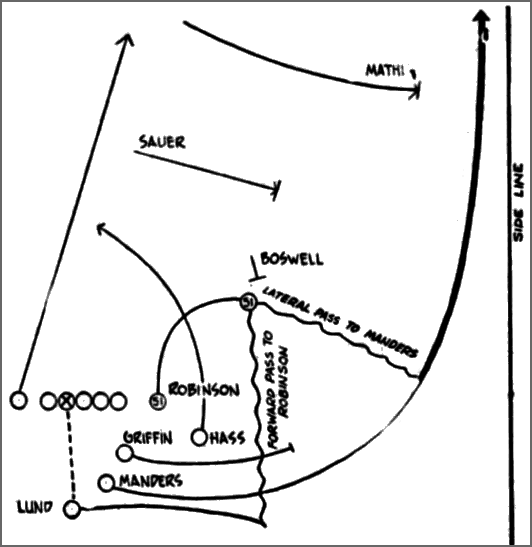 Neither team could score after intermission, but Minnesota had the two best chances. Lund overthrew a receiver who was open deep in Nebraska territory in the third quarter. Late in the final period, Manders returned an interception to the Husker 11, but Nebraska held the Gophers on downs.


Nebraska  ........ 6  0  0  0  -  6
Minnesota ........ 0  7  0  0  -  7

First quarter
NEB: Bernie Masterson 4 pass from George
     Sauer (Masterson kick wide) 
Second quarter
MIN: Jack Manders 20 run with lateral 
     after 7-yard pass from Francis Lund
     to Bradbury Robinson (Manders kick)

                         NEB       MIN
First downs .............. 5         8
  By rushing ............. 4         5
  By passing ............. 1         3
Rushing yards (net) ..... 73       132
Passing yards (net)...... 45        64
  Att-Comp-Int ....... 6-3-1    13-3-3
Total offense .......... 118       196
Punts-Avg ............ 14-34     10-36
Fumbles-Lost ........... 6-4       5-3
Penalties-Yards ....... 8-60     10-60


COVERAGE
•
Omaha World-Herald
•
Lincoln Journal Star:
1
,
2
,
3
•
Associated Press:
1
,
2
•
Minneapolis Star Tribune:
1
,
2
•
Daily Nebraskan
•
Stats
•
Play by play
•
Notes
•
NU ROSTER
•
SERIES HISTORY
---