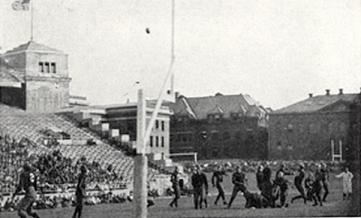 All eyes are on Illinois' winning kick.
 
Illinois 9
Nebraska 6
Oct. 4, 1924
Nebraska held the running game of Illinois' sensational Harold "Red" Grange largely in check, but the visiting Illini turned to the airways and eked out a 9-6 victory with a fourth-quarter field goal.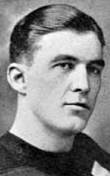 Rhodes
A decided underdog to the defending Big Ten co-champions, Nebraska struck first on a 53-yard drive capped by halfback John "Choppy" Rhodes' twisting 37-yard run in the first quarter, but Elbert Bloodgood's extra-point attempt was no good. 
Illinois answered with a 47-yard drive in the second quarter. The big gainer was 30-yard pass play on third and five, and the touchdown came on an eight-yard pass from Grange to Charles Kassel. The PAT kick failed, so it was a 6-6 tie at intermission. 
Nebraska's best scoring opportunity the rest of the way came in the third quarter when Rhodes intercepted a Grange pass and returned it to the Illinois 33. After yielding a first down, Illinois stiffened, and on fourth and five at the 17, Bloodgood's field goal try from about the 25 yard line sailed wide. 
In the final period, a 23-yard Nebraska punt on third down gave Illinois possession on the NU 39. An offside penalty on Nebraska and a 15-yard run by Marion Leonard put the Illini in scoring position, and Earl Britton's kick from the 27 yard line was true. 
The Huskers could not mount a threat on their two subsequent possessions, which started at their own 12 and 20 yard lines. 
NOTES:
Rhodes moved from end to halfback during the week before the game because of an ankle injury to Roland Locke. ... Grange's stats, according to
this source
: 16 carries for 74 yards; 6-of-11 passing for 116 yards; 3 punt returns for 42 yards. ... Cornhusker fans "were celebrating what they termed a moral victory," the Associated Press reported. ... Nebraska center Harold Hutchinson suffered a broken collarbone in the first half and was replaced by Joe Wostoupel. ... AP reported that Hutchinson, Rhodes, tackle Ed Weir and fullback Douglas Myers "played brilliantly" for Nebraska. 
MORE COVERAGE:
Omaha World-Herald
•
Associated Press


              1   2   3   4    Final 
Illinois      0   6   0   3  --   9
Nebraska      6   0   0   0  --   6

First quarter
NU - John Rhodes 37 run (kick failed)
Second quarter
UI - Charles Kassel 8 pass from Red Grange (kick failed)
Fourth quarter
UI - Earl Britton 37 field goal

                         UI        NU
First downs              12         6
Total offense           245       142
Passes Comp-Att        6-12       0-2






---