FIRST GAME AT MEMORIAL STADIUM
Nebraska 24
Oklahoma 0
Oct. 13, 1923
---
             1   2   3   4     Final
Oklahoma     0   0   0   0   -   0
Nebraska     0   3   7  14   -  24

SECOND QUARTER
NU - Herb Dewitz 30 field goal
THIRD QUARTER
NU - Dave Noble 4 run (Herb Dewitz kick)
FOURTH QUARTER
NU - Douglas Myers 93 fumble return (Rufus Dewitz kick)
NU - Noble 4 run (R. Dewitz kick)

                       OU       NU
First downs ........... 8       19
Total yards ......... 141      350
Rushing yards ........ 41      350
Passing yards ....... 100        0
  Comp-Att ......... 8-20     0-10
Yards penalized ...... 20       50

Attendance: 15,000 (est.)

              Lineups
Nebraska       Pos.       Oklahoma
Rhodes ........ LE ....... Hickman 
Weir .......... LT ........ Penick
Berquist ...... LG ...... Thompson
Hutchison .....  C ...... Hartford
McGlasson ..... RG ........ Bowles
Bassett ....... RT ......... White
Myers ......... RE ......... Price
R. Dewitz ..... QB ....... Johnson
H. Dewitz ..... LH ...Hammert (c.)
Noble (a.c.)... RH ..... Hendricks
Locke ......... FB ....... Bristow

Substitutions: Nebraska—Hubka for
McGlasson, Halbersleben for Bassett, Hart- 
man for H. Dewitz, Wostoupal for Hutchison,
Hendrickson for McGlasson, Halbersleben
for Berquist, Bloodgood for Locke, McAl-
lister for Myers, Cameron for Rhodes, 
Hill for Weir. Oklahoma—Wilcox for Thomp-
son, McFadden for Hartford, Brockman for
Bowles, Guffy for Penick, Maris for Price,
Brockman for White.
  Officials—Ira Carrithers, Illinois uni-
versity, referee; Clyde Williams, Iowa uni-
versity, umpire; Gus Graham, Michigan uni-
versity, headlinesman.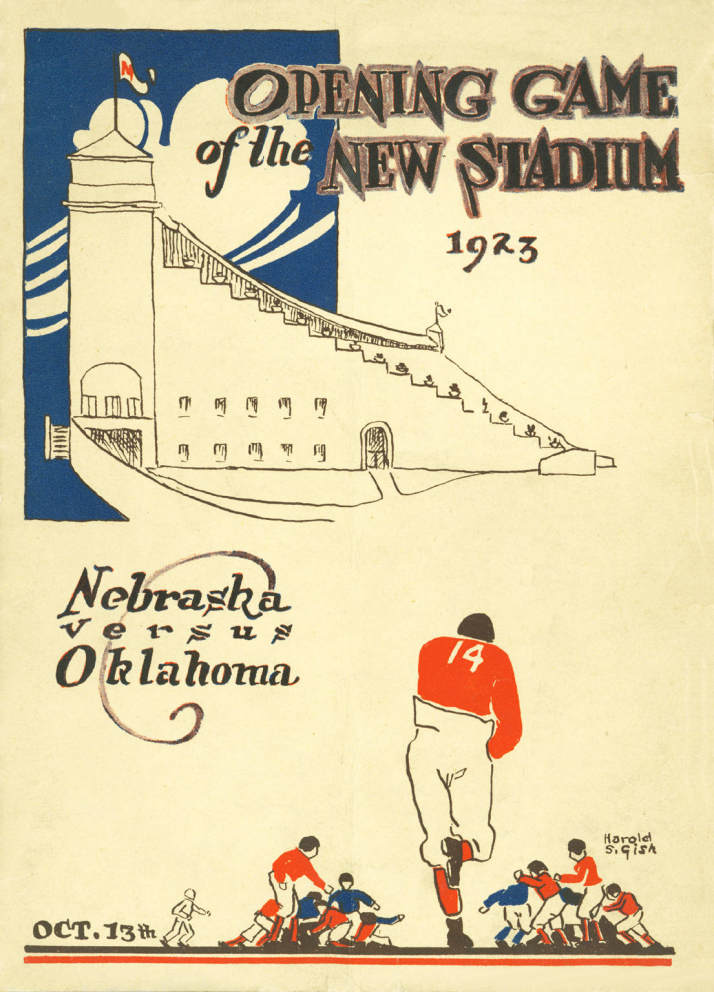 RECAP: In the inaugural game at Nebraska's Memorial Stadium, a 93-yard fumble return by Douglas Myers midway through the second half took the air out of an Oklahoma rally as the Cornhuskers posted a 24-0 win over the Sooners. OU had driven 50 yards, mostly via passing, and was threatening to slice into the Huskers' 10-0 lead when Myers made the pivotal play.
Earlier, Herb Dewitz scored the first points in Memorial Stadium history, placekicking a second-quarter field goal as his brother Rufus provided the hold, giving Nebraska a 3-0 lead. Dave Noble scored the first touchdown, a four-yard run in the third quarter that gave the Cornhuskers their 10-0 advantage.
Trailing 24-0, the Sooners nearly scored late in the game when they got the ball at the Nebraska 2-yard line after a bad NU punt. But a one-yard gain was followed by a 10-yard loss on a bad snap and then an interception by Rufus Dewitz.
NOTES: Nebraska wore blue jerseys out of courtesy to the visiting red-and-white-clad Sooners. … The Cornhuskers were without their captain and punter, Verne Lewellen, who was sidelined by an infected knee. … The game was played on dirt, as grass had yet to be installed in the new stadium. … The Sooners' starter at left guard, James Thompson, was a member of the lower house of the Oklahoma Legislature … Oklahoma remained winless in five tries against Nebraska.
OMAHA WORLD-HERALD
Associated Press
International News Service
Lincoln Star: 1, 2, 3, 4
Daily Nebraskan
Hail Varsity
Yearbook
Huskers.com

Stadium photos
Fund drive

NU ROSTER
---

DEWITZ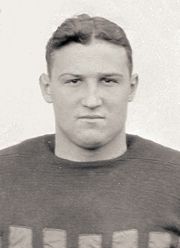 NOBLE
Herb Dewitz scored the first points in Memorial Stadium history when his second-quarter field goal give the Cornhuskers a 3-0 lead. Dave Noble scored the first touchdown on a third-quarter run. No Husker other than Noble scored an offensive touchdown in the stadium until the season's final game, against Kansas State.
---
"Fifteen thousand spectators, the greatest gathering at an opening game in Cornhusker history, witnessed the Sooners' defeat. The verdict was general that when the upper balconies and stadium walls are completed and a grass gridiron provides the proper setting in the middle of the bowl, football at Nebraska will become a spectacle, rather than a game—a spectacle which will so appeal to followers of the pigskin sport as to regularly pack the stadium at all important contests of the home schedules."
– Cy Sherman,
Lincoln Star
 
"The Cornhuskers, fighting every munute, battled in the face of odds which had doped the Sooners to stand an excellent chance of dethroning the Valley champions. … The Husker is never out until the count of ten has been sounded and the green Nebraska line proceeded to out-play and out-smart the Oklahoma forwards and the Husker backs turned loose a resistless attack which smashed its way to two touchdowns and kept the play for the most part in the enemy's territory."
– Gregg McBride,
Omaha World-Herald
 
---