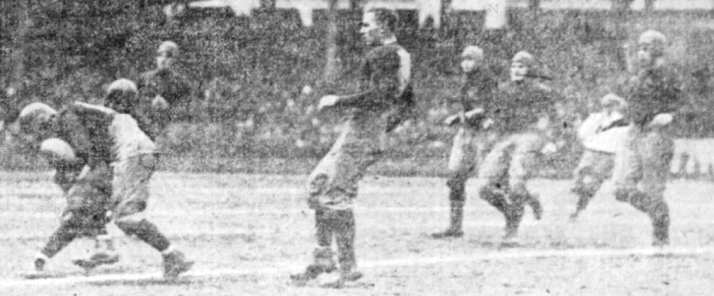 HELMET OPTIONAL: Herb Stein, Pittsburgh's Hall-of-Fame center, looks on as a Nebraska player forces an incompletion with a hit on Pitt fullback Orville Hewitt.
Nebraska 10
Pittsburgh 0
Nov. 5,
1921
- Forbes Field, Pittsburgh, PA

Nebraska ....... 0  7  0  3  -  10
Pittsburgh ..... 0  0  0  0  -   0

Second quarter
NU - Clarence Swanson 63 pass from Harold Hartley (Herb Dewitz kick) 0:00
Fourth quarter
NU - Glen Preston 13 field goal 

                     NU       PIT
First downs ........ 12         2
Total offense ..... 212        62
  Gained .......... 218        88
  Lost .............. 6        26
Punts-Avg ...... 8-36.3   12-29.6
Yds penalized ...... 67        45

Note: Statistics and scoring distances are unofficial. They are a "best guess" based on sometimes-conflicting newspaper stories.


In the years between the two world wars, there was no bigger intersectional rival for the Huskers than Pittsburgh. It all started in 1921 with something that would become quite a rarity in the hard-fought series: A Nebraska victory.
Underdogs on the road, the Cornhuskers dominated play from start to finish for a 10-0 victory. Sportswriters covering the game agreed that the score failed to reflect how thoroughly Pittsburgh was outplayed.
The game's biggest moment came just before haltime. On a play originating at the Nebraska 37-yard line, Husker fullback Harold "Chick" Hartley lofted a long pass down the left sideline. Nebraska end Clarence Swanson caught the ball in stride around the Pitt 40 or 35 and beat Pittburgh's Tommy Davies to the end zone as the clock ran out. Herb Dewitz kicked the extra point.
After a scoreless third quarter, the Cornhuskers added three insurance points in the fourth period when Orville Preston kicked a field goal from the 13, capping a drive that began on the Nebraska 45.

Thousands greeted the team at Lincoln's Burlington depot.
Back in Lincoln, Monday's 8 and 9 a.m. classes were canceled and an estimated 3,500 students and faculty celebrated the team's arrival at the Burlington depot. Swanson and coach Fred Dawson gave speeches after a parade back to campus.
Imagine the celebration if everyone had somehow known just how unusual a win over Pitt would be. It took 13 more tries before Nebraska earned its second victory in the series in 1939. Three times during that span, the Huskers shut out Pitt but had to settle for 0-0 ties.
The 1921 game also had the distinction of being the first Nebraska football game to air on commercial radio, with P.A. Boyd providing the call on Pittsburgh station KDKA. (The first commercial radio game in all of college football occurred just four weeks earlier.)

Nebraska makes a defensive stop during the game at Forbes Field.