Penn State 20
Nebraska 0
Nov. 6,
1920
State College, PA
Nebraska       0    0    0    0  -   0
Penn State     0    7    0   13  -  20

Second quarter
PS: Squeak Hufford 35 pass from Glenn Killinger (Dick Rauch kick)
Fourth quarter
PS: Charley Way 57 run (Dick Rauch kick)
PS: Glenn Killinger 4 run (kick failed)

                         NU       PS
First downs               6       12
Ruching yards           125      207
Passing yards            90      178
 Comp-Att-Int        4-15-1   8-15-3
Punts-Avg             13-36    10-39
Punt return yards        55       42
Kickoff return yards     48       20
Field goals             0/1      0/1
Penalties-yards        3-12     3-15

 
                 -Lineups-
NEBRASKA                       PENN STATE
Clarence Swanson .. LE ..... George Brown
John Pucelik ...... LT ........ Carl Beck
Wade Munn ......... LG .. Percy Griffiths
William Day .......  C ...... Newsh Bentz
Monte Munn ........ RG ....... Dick Rauch
Raymond Weller .... RT ......... Ray Baer
Leo Scherer ....... RE ... Squeak Hufford
Richard Newman .... QB .. Glenn Killinger
Harold Hartley .... LHB .... Joe Lightner
Floyd Wright ...... RHB ... Hinkey Haines
Ernest Hubka ...... FB ..... George Snell

Substitutions
PENN STATE: Charley Way for Lightner.
NEBRASKA: Vern Moore for Hubka, Hubka for
Moore, Fred Thomsen for Wright, Harry 
Howarth for Hartley, Hartley for Hubka.

Officials
Referee: Hadden, Michigan. Umpire: 
Cosgrove, Cornell. Head linesman: Eberle,
Swarthmore.

Time of periods: 15 minutes.

Attendance: 9,000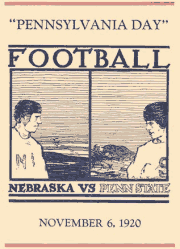 Eastern foray ends on down note
Penn State halfback Charley Way helped break open a close game with two long runs in the final period, sparking Penn State to a 20-0 victory over Nebraska.
Playing for the second time in five days, the traveling Cornhuskers trailed 7-0 but had Penn State backed up at its own 10 yard line in the fourth quarter when Way entered the game. (It was Penn State's only substitution.) On the first play, Way broke loose for 55 yards before being tackled by Nebraska's Floyd Wright at the Cornhuskers' 35. NU stiffened there, but an exchange of punts gave the Nittany Lions the ball at their own 43 yard line, and on the first play Way again sparkled, this time darting 57 yards for a touchdown.
Now trailing 14-0 and running short of time, Nebraska surrendered the ball on downs at its own 28, and Penn State capitalized with a short TD drive to make the score 20-0.
The Cornhuskers got the ball back one last time. A 55-yard pass reception by Leo Scherer was the biggest play in a drive that got Nebraska to Penn State's 15 yard line, where time expired.
In the scoreless first quarter, each team got to the other's two-yard line but failed to put points on the board. Nebraska also missed a golden opportunity in the third period, when a drive stalled at Penn State's five yard line.
Notes: The Penn State student newspaper called it "one of the hardest, cleanest and most thrilling games ever witnessed at Penn State. … The contest was close and thrilling throughout — more so than the score indicates." … Penn State end Squeak Hufford, who scored the first TD, was playing his first varsity game. … Penn State ended the year 7-0-2, finishing the season with ties against Lehigh (7-7) and Pittsburgh (0-0). … Penn State's Griffiths and Way were 1920 All-Americans, and Killinger was a 1921 All-American and is in the College Football Hall of Fame. Penn State coach Hugo Bezdek is also in the CFB Hall.
OMAHA WORLD-HERALD
ASSOCIATED PRESS
BROOKLYN DAILY EAGLE
 
SERIES HISTORY
NU ROSTER