Nebraska 0, Notre Dame 0
Nov. 28,
1918
The
Nebraska yearbook provides this description:  
On a field which was nearly as wet as it was in the long-to-be-remembered Jayhawk-Cornhusker battle, Nebraska, in their Thanks­giv­ing Day fray, held the far-famed Notre Dame eleven to a scoreless tie. A light snow had fallen during the night, and the crowd was not up to the usual Thanksgiving standard.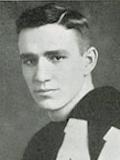 PAUL DOBSON
Nebraska played a strictly defensive game, punting out of danger rather than attempting to advance the ball by line plunging or end runs. Dobson practically alone defended Nebraska's goal with his punting. He kicked the ball in Nebraska's defense fifteen times during the game and clearly was far superior to Gipp, who did the kicking for the visitors. Nebraska only carried the ball sixty yards as against 177 for the Catholics, and nearly half of these were by the aerial route. The ball was kept in Notre Dame's territory practically the whole game by Dobson's accurate kicking.
---