The Cornhuskers, in striped socks, make a defensive stop during the game in Portland.
Nebraska 17
Oregon St. 7
Oct. 21,
1916
- Multnomah Field, Portland, OR

Nebraska .......... 7  0  0  10  -  17
Oregon State ...... 0  7  0   0  -   7

First quarter
NEB - Loren Caley 3 run (Tim Corey kick)
Second quarter
OSU - Tuffy Conn 100 fumble return 
     (Conn kick)
Fourth quarter
NEB - Corey 28 field goal 
NEB - Caley 20 run (Corey kick)

                            NEB    OSU
First downs ................ 16      7
Yards gained rushing ...... 284    104
Yards lost rushing ......... 22     34
Net yards passing .........  32     11
Passes Comp-Att .......... 3-10   1-12
Penalties-Yards .......... 4-20   3-32


After crossing half a continent in 2½ days by train, Nebraska made sure its first West Coast trip was a success by tallying 10 fourth-quarter points for a 17-7 victory over Oregon State in Portland.
Loren Caley and Tim Corey did all the scoring for the Cornhuskers, Caley with his running and Corey with his kicking.
The teams traded touchdowns in the first half and remained deadlocked at 7-7 after a scoreless third quarter. Nebraska, however, was winning the field-position battle, and the Huskers retook the lead early in the final period on Corey's 28-yard field goal. Soon after that, Nebraska's Paul Dobson intercepted a pass and returned it 30 yards to the Oregon State 20. On the next play, Caley swept around the Aggies' left end to give the Huskers a 17-7 advantage.
The Aggies' only score had come on a 100-yard fumble return, and they had another prime opportunity later in the fourth quarter: Caley fumbled a punt and Oregon State got the ball at the Nebraska 1-yard line. But the Aggies fumbled it right back and never made another serious scoring threat.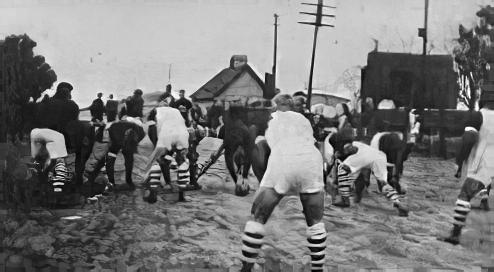 Perhaps more noteworthy than the game itself was the Nebraska team's 4,000-mile round trip, which had the Huskers and the cadet band away from Lincoln for 8½ days in mid-semester.
It was a chance to drum up publicity and good will, so there were stops along the way to mingle with fans and even to conduct attention-getting practices on the streets of such places as Julesburg, Colo. (photo above), and Laramie, Wyo. As the Laramie newspaper described it:
Attention was attracted by the splendid peppery music of their band of forty pieces on the corner of First and Thornburg streets, and on arriving on the scene one was greeted by the team clad in light attire for the Wyoming afternoon enjoying a limb stretching practice of their numerous plays up and down First street in the two inches of snow that had fallen during the day.
Aboard the train there were student stowaways (ejected), poker games (frowned upon) and a piano (played by Coach "Doc" Stewart himself). Much more detail can be found at this link and the ones below.
Game coverage
•
Eugene Register
•
United Press
• Lincoln Star:
1
,
2
,
3
• Oregon Daily Journal:
1
,
2
• The Oregonian:
1
,
2
,
•
Omaha World-Herald
•
Play-by-play
Trip coverage
• Julesburg & Laramie:
1
,
2
,
3
• Idaho:
1
,
2
• Portland:
1
,
2
• Gameday:
1
,
2
,
3
• En route home:
1
,
2
,
3
,
4
,
5
• Lincoln arrival:
1
,
2
More
•
Nebraska Quarterly feature
•
Series history
•
Neb. roster

Tuffy Conn eyes the Nebraska fumble in midair before his 100-yard return for a touchdown.