Nebraska 13, Oklahoma 9
Nov. 23, 1912
Nebraska Field, Lincoln

Fullback Vic Halligan scored twice as the Cornhuskers closed the season by holding off visiting Oklahoma, 13-9.
It was the first game between the two schools, and "Sooner Magic" almost happened, although that term wouldn't be coined until decades later.
After taking over on downs in game's final moments, Oklahoma bolted from its own 28 to the Nebraska 23 in two plays — a 12-yard run followed by a 37-yard pass. But a third snap wasn't to be, as the game clock ran out on the Sooners.
It was a far more lopsided game statistically, with Nebraska gaining 467 yards to Oklahoma's 178, according to the Nebraska State Journal. The Lincoln Star put the Sooners' total at 226 yards and said Nebraska ran 122 plays to Oklahoma's 34.
Nebraska held lineman Clinton Ross out of the game because of Oklahoma's objections to taking the field against a black player.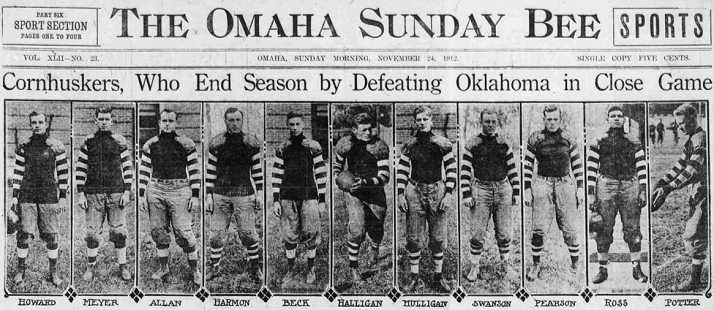 OMAHA BEE
 
 
MORE COVERAGE
NEBRASKA STATE JOURNAL
LINCOLN STAR
 

SERIES HISTORY
NU ROSTER
OKLAHOMA SOONERS LOSE TO NEBRASKA Coach Stichm's CornhUBkers End the Season with a Victory jof Thirteen to Nine, PLAYS EXCELLENT FOOT BALL Oklahoma Gridiron Warriors Run Up Against a Perfect Machine. FORWARDS PLAY WITH A DASH Nebraska Halves and Line Work Hard Make Dcst Show of Season,, S00NERS WORK FORWARD PASS rlfiMlheriirrs I'ae This IMny with t'liMii-jliiu- ; Nueces mill on Pour I'luys Heeled Off Gulns of TUIrty-l'Mv- e Ynrils. LINCOLN, Neb., Nov. 'lWf egntm.f Nebraska, ,li 'orjmp n (lie Missouri, VAlle.vfco!iferenco .nmblUuiiR ot Oltlalioma university hero this afternoon by defeating the Sonners, 13 to ?, In a flashily played, brilliantly scintillating game, thus closing tho season with a victory. ' It wus a far different CornhiiBkor eleven that faced Oklahoma than, .that which played Kansiis lust Huturday ajid, nsldo from exctisnhlc fumbling, Htlchln'j foot bull machine was In perfect order For the first time this yenr tho forwards outplayed their opponents by n wldo margin,' und - with the lino going well tho star buQkflld';'of tho Huskers reeled off yon)! after yard on the shift pluys. Nebraska should huvo won by it whirr mitrgln cxcetK for , tho fumbllngs. Tho gume wns" filled with open, jiluy or tho spectu'cular sort thn.t brougljj the stands to their feet tltno and time, agnln. The southerners worked the forward pass with unvarying success and on four plnys reeled off gains pf from thlrty-flv- o to forty yurds euch. It wus ono of theso which netted Oklahoma Its first score and, although tho fiooner.i fulled to cross tho goal again, tho Cornhtisker rooters wero several times thrown Into a panlo by nently executed pisses. Courtrlght scored threo more points on u protty goal from placement. Tho Okluhomu backfleld, Courtrlght. Heeds und Cuptaln Shaw, was tho fastest WBoen here In two years and wero ro-- Bponslblt. for the brilliant showing of tho southerners. Hulliguu, sent off tho field lust Thunduy night by the conch for u mediocre showing, was tho star of the Coruhusker team nnd never fulled to lug Uio bull for yurds whon culled on. Nebrusku's two touchdowns came as tha result of straight foot ball, Hulliguu, I'urdy und Frank currying tho bull. Lineup: N'KllltASKA. OKLAHOMA. Mulligan, Howard.. L.E. I n.K O. Clark (V I twttwon u.T.Il.T Mrtrhiu I'rlta Ud.iIl.O Iicrrj Allan ... C. C Bcean I'rarron . , .11.(1 I U(l llurton, Holt Harmon .H.T.'U.T W Clark It.K I UK Hollaml Tewl. pottrr. .q.lI.IQ II Arrnbrtater Purur .... Ultl H ll...U)r (C), Snow Kranl. ((;.), .. . .1t.li.lL.il Ooartrliht llilllfan I'B.IKIl IvmiJs touchdowns: t'oortrlglit, Halllgan (2). Goal from touclwn: Potter Goal rrom field: Courtrlght. Time of quarters: 15 minutes. Iteferee: Grovur, Washington t'mplre, Dudley, Dartmouth. I h ail linesman and timekeeper; Irwli Chlcugo.