Here is a view of the action from the west end zone at Nebraska Field. This turned out to be Michigan's only visit to Nebraska in the Cornhuskers' first 122 seasons of football.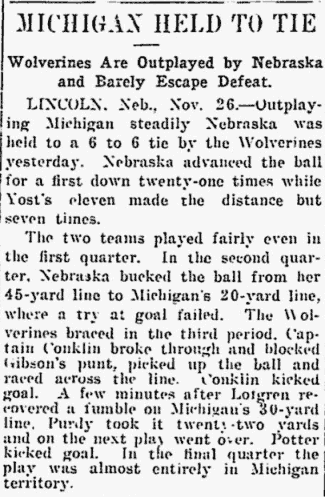 – MILWAUKEE JOURNAL
Nebraska 6
Michigan 6
NOVEMBER 25,
1911
NEBRASKA FIELD


Michigan     0   0   6   0   –   6
Nebraska     0   0   6   0   –   6

Third quarter
UM: Fred Conklin return of blocked punt (Conklin kick)
NU: Leonard Purdy run (Herbert Potter kick)
		 
Note: TDs were worth five points
 

Michigan and Nebraska battled to a hard-fought tie, but it was the Cornhuskers who won the bragging rights.
Various press accounts agreed that Nebraska had the upper hand on this Saturday before Thanksgiving. NU rolled up 302 total yards to 125 for Michigan and led 21-7 in first downs. Still, the Cornhuskers, like Michigan, could not score without the help of a big break in the punting game.
It was NU's first-ever Homecoming game. A record crowd packed the stands at Nebraska Field, and Gov. Chester H. Aldrich was on hand to perform a ceremonial kickoff. The Wolverines were among the nation's elite, having claimed a pair of consensus national championships in the previous decade, and they were given the royal treatment upon their arrival in Lincoln by train.
The game matched two legendary coaches. "Jumbo" Stiehm still owns NU's best career winning percentage (.913). Michigan's Fielding Yost, a one-time coach at Nebraska (1898), is in college football's Hall of Fame. Before the game, Yost publicly bemoaned his team's injuries.
Game details can be gleaned from the press clippings on this page. These stories show how the game differed a century ago, but one constant through the years is that Husker football has a way of commanding our attention on autumn Saturdays – especially when an opponent of Michigan's stature comes calling.  — J. Hudson, Oct. 24, 2012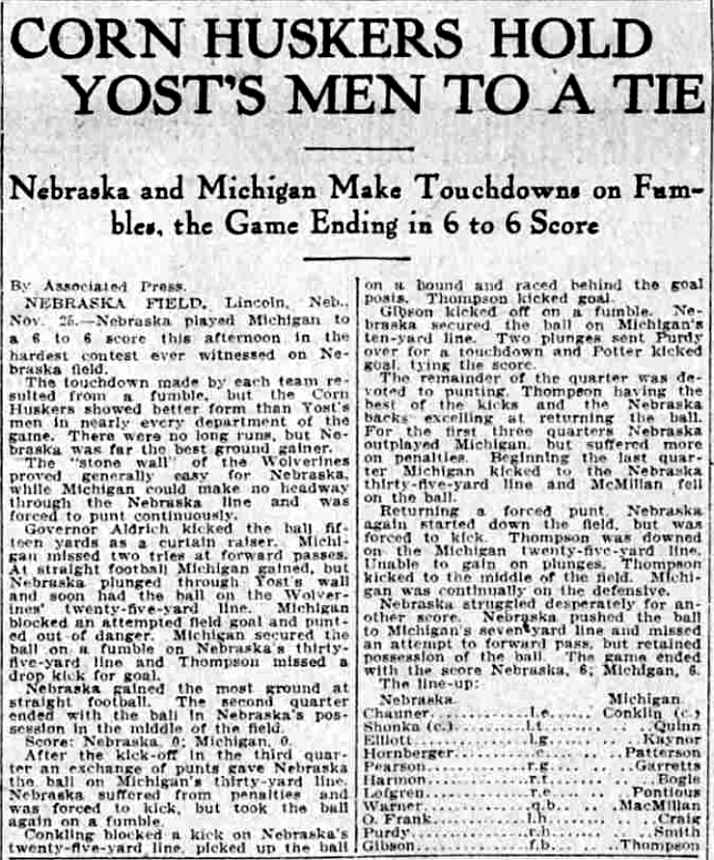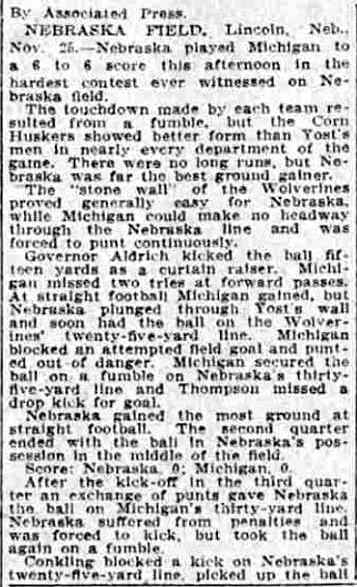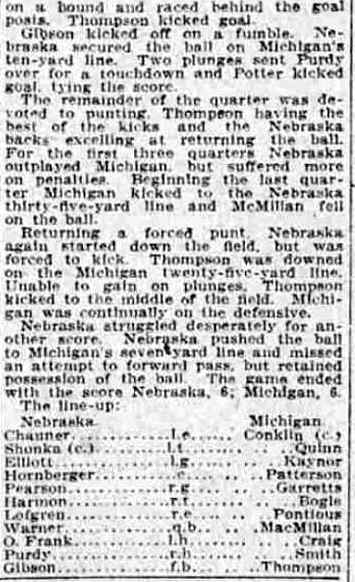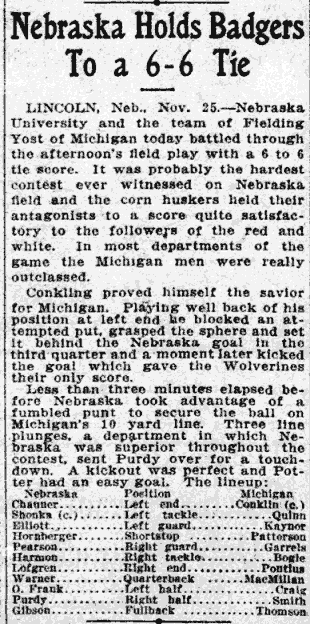 – SAN FRANCISCO CALL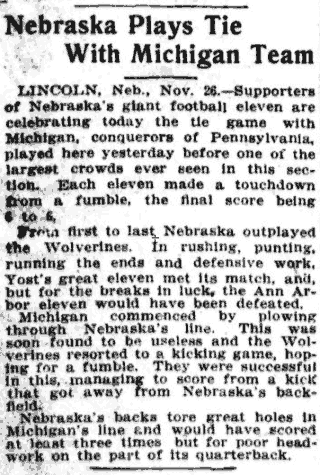 – WASHINGTON TIMES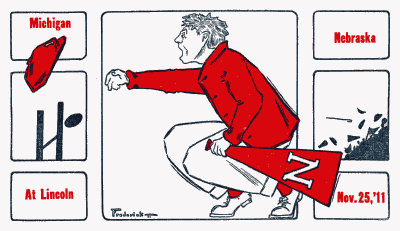 GAME PROGRAM COVER