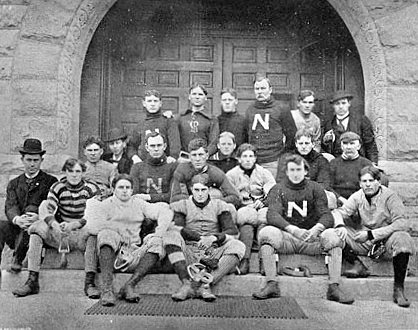 Coach Fielding Yost and the 1898 Nebraska team
Nebraska 11
Denver Athletic Club 10
Nov. 19, 1898
Long before there were "special teams," Nebraska's kicking proved to be the difference in an 11-10 win over the Denver Athletic Club. The teams scored two touchdowns apiece, but only Nebraska's William Melford was able to make a conversion kick.
Nebraska led 11-5 at halftime and held on for the win despite a second half dominated by Denver. Time ran out as Denver was trying to complete a drive that had totaled at least 50 yards.
Nebraska was playing its second road game in three days, having beaten Colorado in Boulder, 23-10. NU's Athletic Board later censured team manager A.A. Bischof for arranging the DAC game, and a censure was also issued because of Nebraska's use of a suspended player, Ray Elliott.
---
NEBRASKA STATE JOURNAL
Sunday, Nov. 20, 1898
WIN BY A NARROW MARGIN
NEBRASKA BOYS TURN ANOTHER
TRICK AT DENVER
THE SCORE ELEVEN TO TEN
Honors Even on Touchdowns, With
Melford's Strength of Limb the
Deciding Factor—Games
Elsewhere
DENVER, Colo., Nov. 19—(Special.)—The university of Nebraska football team had a close call today, and won for two reasons that exhibit the chances of football. The score was 11 to 10. It was agreed that the game would be of twenty-five minute halves. The first half closed with the Denver team just waking up and pushing the ball rapidly. The second half was all the Denver team's way, though the Nebraskans put up a magnificent defense. They were unable to prevent the local men from gaining, and the only time the prairie men had the ball in this half was when it was kicked off. The other tricky feature for Nebraska was that the Denver men missed two kicks for goal.
Nebraska commenced the game like a house a-fire, playing grand ball with fireworks accomplishments. Denver kicked off and Nebraska started up the field like a train behind time. At the Denver thirty-five yard line Follmar was helped through between center and left guard and went over for a touchdown, Melford making his forty-first goal out of forty-three trials for the season.
Follmer and Drain both muffed the kick-off and Clay got the ball. It was forced to Nebraska's five-yard line, where Denver made the mistake of assaulting the Nebraska center when the players were grouped there, and lost the ball. Nebraska then pushed the ball clear to the Denver goal line, Pillsbury, Kingsbury and Follmer doing much of the heavy work. Benedict made a thirty-five yard run during the pushing. The kick to Drain was fumbled, and Denver got the ball. Nebraska recovered it on downs and pushed it over into Denver territory. A fumble sent the ball bounding over the heads of the bunch. Clay got it and made a seventy yard run to a touchdown. Goal was missed.
In the second half Nebraska had an opportunity for nothing but defense. Docette kept lifting Hansen out of the way, making holes for the backs. Pillsbury and Garrett formed a tandem to throw against Docette and Davy, but it was ineffectual in preventing the big Denver man, who was last year's center for Harvard, from opening holes. Moore finally got over by five inches for a touchdown.
With five minutes to play the Denver men again started up field, Pfouts, Moore and Smith making substantial gains on every play. With a minute and a half to play, Pfouts nearly got away for a run, making thirty-eight yards around left end, however, before being downed. Powers made twelve around the other end, when time was called. The summary:


Denver.      Position.     Nebraska.
Davis .......... LE .........Garrett
Gallager ........LT .......Pillsbury
Siess ...........LG ..........Hansen
Post .............C .........Melford
Doucette ....... RG .......Reasoner,
                              Turner
Davy ............RT .......Kingsbury
Clay ............RE .........Follmer
Johnson, ........QB .........Elliott
Smith                               
Smith, ..........LH ...........Drain
Powers 
Pfouts ..........RH ........Benedict
Moore ...........FB ...........Erwin

Score—Nebraska 11, Denver 10.
Touchdowns—Follmer, Kingsbury, Clay
  and Moore.
Goals kicked—Melford 1.
Time of halves—25 minutes.
Umpire—M.T. Schwartz of Nebraska.
Referee—J. Frank Adams of Princeton.
Linesmen—J.G. Yont for Nebraska,
  N.O. Vosburgh for Denver.
Timekeeper—Fay Burhee of Denver.
Ball passed in downs—To Nebraska 2.

---