| | | | | |
| --- | --- | --- | --- | --- |
| | 1st Half | 2nd Half | | F |
| Nebraska | 0 | 8 | | 8 |
| Missouri | 4 | 0 | | 4 |
Who holds the record for the longest touchdown run from scrimmage against Nebraska? The legendary Gale Sayers' 99-yard jaunt in 1963 has long been cemented in NU's record book and is impossible to top.
But during the first 22 seasons of Nebraska football, college football's goal lines were 110 yards apart, not 100. And in October 1896, a now-impossible thing happened.
Nebraska had traveled to Columbia to face Missouri in a rare Monday game. With the teams locked in a scoreless tie in the first half, Nebraska was hammering closer and closer to paydirt. The Tigers stiffened, and Nebraska turned the ball over on downs at the Mizzou 2 or 3 yard line. (Newspaper accounts disagree slightly on the exact spot.)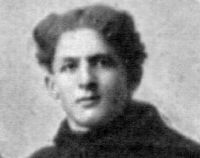 TUCKER
On the very next play, Missouri fullback Wilson Tucker took the ball straight up the middle. In those days, defensive alignments typically consisted of seven linemen, two linebackers (though they were not yet called that) and two backs. Tucker somehow got past them all and didn't stop until he had crossed the Nebraska goal, 107 or 108 yards away, for a touchdown.
Either distance handily tops Sayers' record, but there's little chance the "Kansas Comet's" dash will be bumped from its official perch. That's because games before 1946 are generally excluded from Nebraska's individual statistical records.
Why ignore 57 seasons? It took decades for football statistics-keeping to evolve and become standardized. In the old days, it was haphazard, unofficial and inconsistent if it existed at all. The task was done mainly by newspapers and wire services, and it wasn't unusual for two stories about the same game to assign wildly conflicting yardages to a given play. Sorting it out after the fact can be next to impossible.
Despite all that, at least one exception to Nebraska's 1946 cutoff does exist. Cornhusker fullback Harvey Rathbone is credited with the school's single-game record for touchdowns – seven – even though it happened in 1910.
Perhaps a claim to fame like Rathbone's simply wasn't meant to be for Missouri's Wilson Tucker. His luck is such that he's nowhere to be found in Mizzou's own record book – not even on the list of all-time lettermen. And his run didn't alter the game's outcome.
What Tucker's touchdown did do was give the Tigers a 4-0 lead just moments after a deficit of 0-4 or worse seemed imminent. That's known today as a two-touchdown swing and a momentum-changer, but Missouri would do no further damage.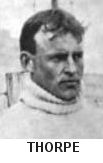 Nebraska played stifling defense the rest of the way and mustered up enough offensive punch to score two second-half touchdowns. Halfback Leonard Packard's 25-yard run proved to be the game-winner, and Tucker's long-distance ramble became a soon-forgotten footnote. Time will tell whether it ever becomes a footnote in the record books.
NOTES: The Omaha Bee singled out Packard's "phenomenal" runs, quarterback Orley Thorpe's timely use of trick plays, and right guard Edmund Turner's tough running in short-yardage situations. … Tucker's fumble of a punt helped set up Nebraska's second touchdown. … In Lincoln, the Nebraska players were greeted at the train depot by "a howling mob of students, who piled the victors into a waiting obmibus, from which the horses had been removed, and drew them triumphantly back to their alma mater."
• Coverage: Omaha Bee | Kansas City Journal