FEIT: Nebraska Should Leave the Big Ten
A lot has changed since the Nebraska Cornhuskers played their last college baseball game.
On March 11, 2020, the Huskers beat Northern Colorado 8-1, their third straight win. However, it would be the final game the Huskers played in 2020. The COVID-19 pandemic cancelled the remainder of the season, the Big Ten tournament, and the College World Series.
Even though the pandemic is still very much on-going, college sports have mostly returned. The schedules for the Huskers football*, basketball, and volleyball seasons were all impacted by both the pandemic and mandates from the Big Ten office.
*My apologies if I triggered anybody's PTSD caused by a summer of self-inflicted scheduling woes, anti-Nebraska rhetoric, and Sir Yacht tweets.
In a normal year, the college baseball season would be starting in a few short weeks. We would be reading about the 14 inches of snow from last Monday's storm that is forcing the team to practice indoors as they prepare to open their season in Arizona or Texas.
But this will not be a normal year. As of this post, there is no baseball schedule for 2021. The Big Ten Conference has yet to announce anything, although it is widely believed that the league will make teams play a conference-only schedule. Here is the latest information from Kendall Rogers of D1Baseball.com:
The conference-only plan would be especially hard on a team like Nebraska that is a) in need of experience for a young roster, and b) at the far western edge of the conference. The closest Big Ten team (Iowa) is 300 miles away. Penn State, Maryland, and Rutgers are all over 1,000 miles from Lincoln.
Of Nebraska's 12 conference rivals in baseball (Wisconsin does not play baseball), the average distance from Lincoln is 740 miles. That is either a lot of time on airplanes with possibly infected passengers, or an even longer time counting wind turbines on I-80.
* * *
For a long time, I have been an advocate of schools like Nebraska belonging to two (or more) athletic conferences:
A national, power conference for football and men's basketball. Think the Big Ten, SEC, ACC, Big XII, and PAC 12. The Jayskers out there would still belong to the Big East for basketball.
One (or more) regional conferences for Olympic & non-revenue sports. Probably the majority would belong to the same regional league, but there may be situations where a sport is not widely offered, or there is an incentive to play elsewhere.
My argument has always been primarily based on two indisputable facts:
Even in normal times, it is asinine – and fiscally irresponsible – to fly a 25+ student-athletes 1,200 miles to play a baseball series at Rutgers, when there are a dozen schools within a three hour drive. When athletic departments are laying off employees and cutting sports, it is indefensible.
FOX and ESPN aren't paying billions of dollars for the TV rights to air regular season, collegiate Olympic sports. Bluntly, and with few exceptions, nobody is watching.
Here is what I wrote way back in 2013:
It just makes financial sense:  Schools can dramatically cut travel costs and operating expenses for sports that already lose money.  TV networks don't get burdened with a bunch of lower end TV rights for volleyball matches, wrestling duals, and gymnastics meets that the average fan does not want to watch.  If there is an audience for SEC baseball or Big East lacrosse games, the smaller leagues can sell those rights independently.
Yes, it may be a little confusing for fans who have always identified their school with a single league to have to familiarize themselves with two different sets of conference rivals, but it sure beats cutting the baseball team because your new conference foes up north don't play the sport, or losing the gymnastics team because it is too expensive to fly them all over the country for meets.
* * *
When I first made the two-conference argument, I never expected that a power conference would be so openly apathetic about a sport – to the point where it might be a competitive disadvantage to stay.
But here we are.
It is brutally obvious that the Big Ten does not care about baseball, and they certainly don't care about the 13 schools who field baseball teams.
Will that ever change? I joked that the best bet to spur Big Ten interest would be to rename the College World Series to the "Summer Rose Bowl". Then I was reminded that a prestige Big Ten program (Michigan) was a game away from winning the most recent CWS in 2019.
So I'm not very optimistic.
* * *
To be crystal clear: I am in no way saying Nebraska football should leave the Big Ten.
The TV money is the best of any Power 5 conference. The academic perks and prestige are too damn good to give up.
Period.
As many (myself included) have written, the relationship between NU Football and the B1G could be a lot better – on both sides. But having the football team leave would be foolish and reckless.
That said, the University of Nebraska has 22 intercollegiate sports. For the vast majority* of them, it makes little sense to have your competition be in a different time zone.
*From a Nebraska perspective, volleyball would likely be an exception. The Big Ten is the premier volleyball league, and NU Volleyball is better for playing in that league. I imagine there are similar scenarios for other leagues / sports. If so, keep them under the power conference umbrella.
* * *
Let's go back to that March 2020 baseball game against Northern Colorado. Fans of the baseball program know Northern Colorado well. And for good reason. In 16 of the last 17 seasons, the Bears have made the 458-mile trek from Greeley to Lincoln for a midweek series against NU.
You remember the famed "500 mile radius" that used to get referenced in football recruiting? Here is what it looks like, centered precisely on A.D. Bill Moos' office: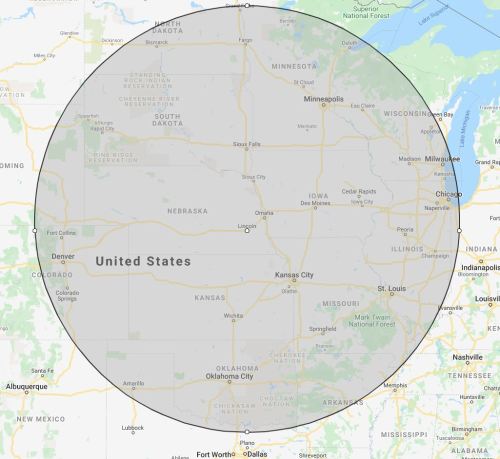 I'd imagine Moos could put together a very respectable baseball league, track meet, wrestling invitational, or pretty much anything else with teams inside this circle.
I would imagine that even if the Northern Colorado Bears don't make the "Great Plains Conference", they would still be invited to play at Haymarket Park on a sunny Wednesday in March.
And isn't that ultimately the point?
Dave Feit has been writing for HuskerMax since 2011.  Follow him on Twitter (@feitcanwrite) or Facebook (www.facebook.com/FeitCanWrite)
---