HuskerMax™ Fresno State Game Tailgate
September 13, 2014
HuskerMax™ will be hosting a tailgate the day of the Fresno State game at the Softball Stadium located directly across the street from Bulldog Stadium. Vince Ferragamo and Willie Harper will both be in attendance at the tailgate. Vince is the only former Husker to start at quarterback in the Super Bowl. Willie played on the 1970 and 1971 National Championship teams and played several years in the NFL. More former players are being invited and will be added as they confirm. There will be an autograph table for one hour during the tailgate. You are welcome to bring your personal items for autographs.
Information on air travel from Omaha and land only packages is located here.
The tailgate start time will be at 5:00 PM Central time/3:00 PM Pacific time. Kick off is at 7:30 Pacific time.
We will again have California themed music entertainment provided by Chris Farmer and the Ricky Lewis Band. Chris is the former music director and bass player for the Beach Boys. The drummer has also toured with the Beach Boys. (Chris is on the right in the picture below). The YouTube video is from the UCLA tailgate with Vince Ferragamo on guitar.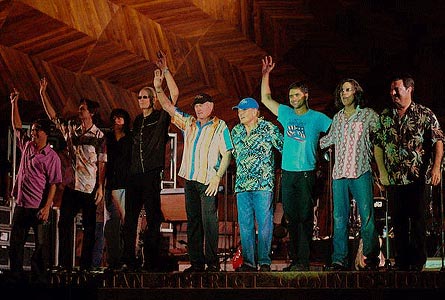 The following items are included with each tailgate ticket:
BBQ meal ticket
Two drink tickets for beer, wine, or soft drinks
Drinks will include beer, wine, mixed drinks, water, and soft drinks. Bud, Bud Light, Coors Light, Cabernet and Chardonnay wine, standard well mixed drinks, Coke, Diet Coke, Diet Dr Pepper, 7-UP, and bottled water. Additionals drink pricing is $4 for beer and wine, $5-$7 for mixed drinks and $1 for soft drinks.
We have a few more game tickets for the Game Ticket/Tailgate Package below and will be sold on a first come, first served basis.
| | |
| --- | --- |
| Game Ticket/Tailgate Ticket - $145 per person | Click here to order |
| Tailgate Ticket - $60 per person | Click here to order |
| Game Tickets by Priority Mail - $10 per order | Available when tickets are ready to ship this summer |
Please print out your receipt for confirmation and bring it with you to the tailgate.
(We will keep a master list will names and mailing addresses in case you forget your receipt)

Your receipt or photo ID will be needed to pick up wrist bands and drink tickets
at the will call table at the tailgate entrance.
No tailgate tickets will be mailed.
Order Page for all events is located here.