Degrees of Separation for Husker Fans
I have always said that the six degrees of separation for Husker Fans is only three.
I will start by sharing one experience I have had recently. Donna and I were sitting at the bar in our favorite restaurant in Elk Grove last year waiting for our dinner table with our daughter Crystal and son in law Andy. Andy was on the end and sitting next to him was another guy that Andy struck up a conversation with. We got out table and Andy told me that the guy was Greg Vaughn who was drafted by the Milwaukee Brewers in 1986.
My first job out of college was the athletic trainer at Cal State, Dominguez Hills and I had a student trainer program. One of my students was John Adam who became the head trainer for the Brewers. So I go back into to bar and ask Greg if he knows John Adam. "Of course I do!!" and he pulls out his phone and dials John and puts him on speaker. The three of us are talking and John says "Guess who I am with?" The answer was my nephew Corey Hug. At the time John and Corey were the athletic trainer and physical therapist for the PGA Tour.  Corey is still with the PGA Tour and John is retired. Corey is the son of my brother in law Butch Hug. That is how a random encounter with a former baseball player that had no connection to Nebraska now has one. Here is a picture of Greg and I that he texted to John.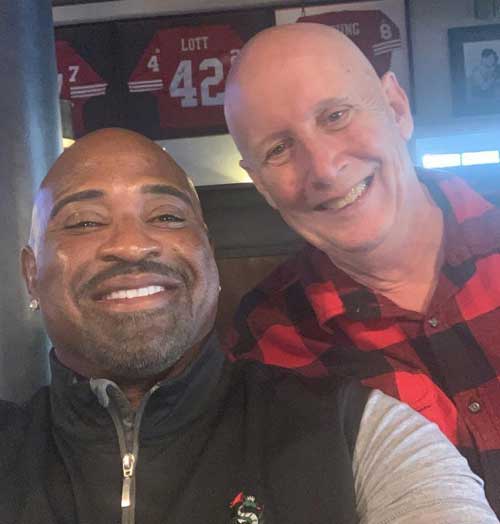 What is your "Six degrees is only three" Nebraska story where you met another person and discovered that common Nebraska connection?
There are two ways you can share your story. The best way is to post it on this thread on the bulletin board. You can join now for free due to the corona virus if you don't already have a subscription.
The second way is to send your story to me by email to bigredmax@yahoo.com and I will publish it for you. Looking forward to adding more of these stories to show how connected we are as a fan base.
---