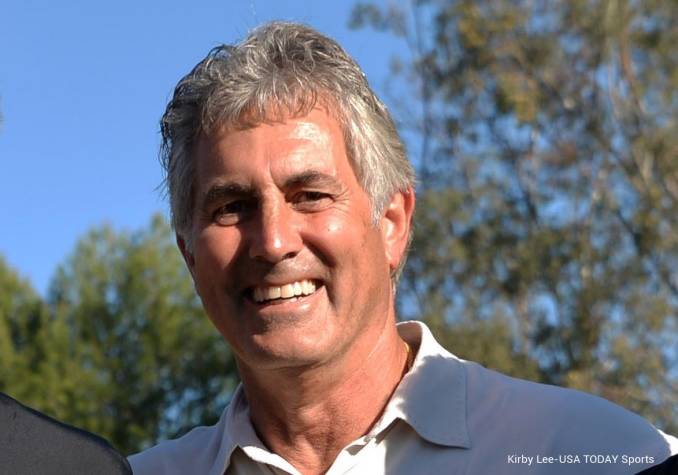 RETURN TO VIDEO 

Feb. 20, 2017
 
Vince Ferragamo, Part 2
AC: Now talk to me, because your daughters -- one of them went to Colorado on a soccer scholarship and the other went to Vanderbilt on a basketball scholarship. From what I understand, they were turned down by Nebraska, but obviously, phenomenal athletes. So talk to me about your daughters playing those college sports.
VF: Well my oldest daughter, Vanessa, was a basketball player and a swimmer in high school. She really liked the team sports so she focused and concentrated on basketball. But, her main thing was that she wanted to study medicine so she wanted to go to a school that she felt very comfortable at and had a tradition of a great national contending basketball team. And she went on a couple recruiting trips, she was accepted at a couple schools; Boston College, SC, and Vanderbilt. I think if Vanessa had more of an inkling to go to my Alma-mater, they might have really looked at her more. So I don't really hold anything against Nebraska for not recruiting my daughter. I think the way things turned out -- there's always a reason for what happens. So she went there, she earned a basketball scholarship, she graduated Cum Laude from medical school and now she's a pediatrician here at St. Joseph's in Orange County, CA; She's also bilingual. So we're real proud of her. Cara, my middle daughter, is still here in Southern California. She's very interested in cosmetics and fashion design, and she's also my marketing director for my wine company that I have; Ferragamo Wines; and she's done a really good job with that. And Jenna, the youngest one, was at Colorado. I thought she might go to Nebraska, but I had a good friend of mine who was at Colorado and she went there on a visit and she really liked it and she ended up going four years there. She was at least in the Big 8 at the time, but had I had football players, okay Adam, I think the football players definitely would have went to Nebraska, I'll tell ya that.
AC: Yeah, sounds like they did alright so I don't think too bad of a deal for them. Now, I don't know how much you keep up to date on the current Huskers, but I wanted to ask you -- because there's going to be this big quarterback battle all spring, all fall camp, I wanted to ask you your thoughts on the quarterback battle; who you like and things of that nature. Who do you think might end up starting for the Huskers this year?
VF: You know what, that's a good question. I really don't know the players that are battling for the number one spot. I can tell you this, that you'll be able to find out a lot in spring practice. In spring practice, Mike Riley will assess these guys and will put them to the test. The training is very rigorous, it's tough, it's where you win your spot, playing in the fall. And I think that someone will emerge, and you'll have to look at how the team responds to one player out there. Nebraska is a contributory kind of team where every player wants to contribute to the success of the team. But the quarterback is a vital key, and I think you have to look at how the rest of the team responds to the guy that's at the helm. And when he's out there, you kind of go "Wow." So if you get the "wow factor" and you say "Man, this team really looks good," I think it's more of a team game and how he will complement the receivers, the running backs, how the offensive line can protect; all that stuff is going to be vital for Nebraska to get back to National Championship caliber. You saw what it's like with Alabama, they've done it with defense, and so did Clemson, but they also always have the key position player who's the running back and the quarterback -- they always have to be the team leaders, so they have to find two of those kind of guys that will emerge at the top of the list. I don't know who it's gonna be at this time, if I come back to spring practice, maybe I can tell you then. I won't know till I see them in action.
AC: Sounds good. Do you have any thoughts on the Huskers going from a running quarterback to a more pro-style quarterback who passes first?
VF: Today's football is more of a forward pass type of game than it was years ago. When we played, there were always two backs in the backfield, you play action, you run the ball, you throw some, you know. Bill Walsh started the West Coast Offense where it went to throw first instead of run, and the normal progression was run first, but that offense was set up to pass. Today, it's wide-open offense. I think the game -- don't let the game pass you by, you have to roll with the times and the changes, you have to be willing to adapt to what's going on today, but I think you can't forget about the running game. I tried to tell Mike that a couple years ago in the bowl game when he started to turn things around, you know, he had Armstrong as the quarterback. And Tommy, he was more of a running threat, and when he used his threat as the run, they seemed to win. They seemed to play better. And I think you gotta look at the skills at the quarterback, especially in college, because the threat of a run as a quarterback is sometimes that special element you need. I don't think it's the most important element, but I think it's something that -- if you have to run occasionally, you can run a little bit. You don't have to be the fastest guy on the field. But if you can dip in and out of bounds, get back to the line of scrimmage, or maybe get five yards on a 3rd and 5 and slide, then you've got it made. That's basically what you have to do. Other than that, I kind of like the way offenses are today, they're kind of wide open. But you have to be -- you can't focus on the pass every down, you have to be able to run the ball as well.
AC: Absolutely, I agree with that. Now we talked about Tom Osborne earlier, so I gotta ask: do you have any stories during your time playing under Tom Osborne you'd like to share?
VF: Well, I can tell you what a class guy Tom was, and Tom is still that way today. The one thing I think that really impressed me the most was that we were having a pregame meal in Indiana, we were playing the Hoosiers. We were there the night before the game, and in this big cafeteria style room where the team was eating, in walked a few old guys. And I looked up and I remember saying "who are these guys?" And they were former Nebraska greats that played before our time. And of course Tom Osborne sat there and called them by their names, he said "Hey, come on over, sit down, have dinner with us!" And they joined us for dinner. I thought to myself, "Wow, one day, I'll be in and out of here. And if they still remember guys like that, I mean, this is a special place." Because a lot of -- you know, what have you done for me lately? But Nebraska never forgets players, and the guy that really made it all happen was Tom Osborne. And nostalgia is a great thing, but if you want to inspire young guys, recognize the old guys. That's the way to do it.
AC: Absolutely, and I just have two final questions for ya. Do you have any teammates that you still keep up with to this day?
VF: Oh yeah, Tony Davis? I mean, when we get together, it's a fraternity that you never forget. You always remember the guys; Tom Ruud, I always keep in touch with Tommy Heiser. Tommy is a doctor back in Nebraska, he played with me as a wide receiver; great receiver. Dave Shamblin, you know when we go back to some of the games together, we all get together, and you know… Dan Schmidt, Rik Bonness, and John O'Leary, these guys, you never forget! You'll never forget them as long as you live, you know, it doesn't matter what you look like 30 years from now, I mean you still remember the guys because it's still that same guy that you played ball with. I just -- you know, I'm really thankful I had the opportunity to play major college football, and you go to a school like that which was a national contender. It meant a lot to you, and your teammates and to the school, and that's what you play for, you know, so, but I do try to keep in touch with a lot of those guys, and I wish they'd have more of those reunion type of games where guys could come back. And you know, the fans still remember a lot of the guys, so that's even more special.
AC: And one last question, we're about out of time, so real quick; what are you up to these days? What's Vince Ferragamo doing nowadays?
VF: Well we're still doing a lot of stuff, I work for Fox, Channel 11 here in California, we do a lot of the insider reports for the Rams, the LA Rams are back in town, so I've always kind of made my home here in Los Angeles. So I do that, I have a hobby in the wine business, it's Vince Ferragamo Vineyards, ferragamowinery.com, we have a really beautiful selection that has three gold medals, but most of my time is consumed with my family and my real estate. I'm still involved in the real estate business in California, and have been doing that for 30 years both residential and land sales, so that's always been good to us and it's always kind of occupied most of my time here in Southern California.
AC: Well I want to thank you for joining me, man. I've enjoyed chatting with you and it's been a true pleasure.
VF: Thank you, Adam! Thanks so much!
AC: All right, Husker Nation, as always, Go Big Red, and remember … to THROW THE BONES!
Views:
2017 views: