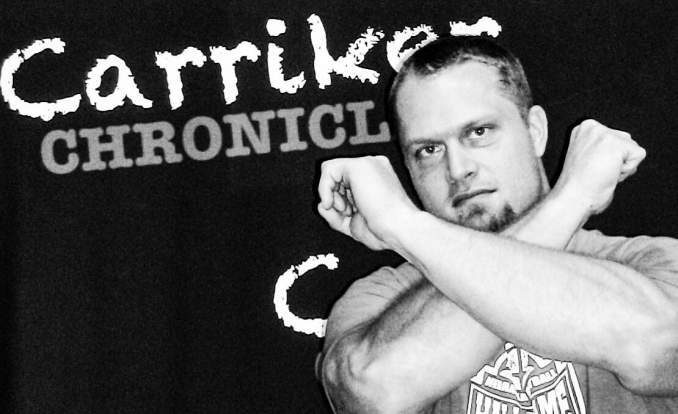 RETURN TO VIDEO 

Jan. 18, 2017
 
The 2017 Blackshirts
Welcome Husker Nation to the Carriker Chronicles and today, I want to take a look at what I think our defense is going to look like in the year 2017. Now I'm going to take about our base defense. It's called the "Okie defense". It's called that from Bud Wilkinson, the old Oklahoma who ran the 5-2 defense back in the day. And if you look at the 3-4 on paper, it looks exactly like the old 5-2. Now, the technique is completely different so it's not the same defense, but that is why our base defense is called the Okie defense.
Now, I'm going to be looking at the two-deep roster we have from last year going into this year. And that's how I'm going to be projecting our starters going into next year and into spring ball. At least going into spring ball starting out the first day of spring practice because when you talk about some of these recruits coming in you don't how they're going to perform. When you talk about possible guys who are going to sign or not sign on National Signing Day – hey, we don't know who's coming or who's not coming yet, so this is based off of who is currently at the University of Nebraska going into spring ball. Now we are two weeks away from National Signing Day – two weeks to the day I believe, so I am going to be getting into in depth the recruits that we have, the recruits we're targeting. Targeting if you will! Not the Nate Gerry type targeting, my goodness! But targeting recruiting over the next couple weeks heading into National Signing Day coming up real soon. Today I will be addressing an individual player who's going to be coming in this fall who's committed at this moment who could have an impact on this defense. And on National Signing Day, there will be an announcement from a nose guard where he's going to be going. And obviously we need a nose guard so I'll be discussing him for a few minutes during this video as well so I will talk a little bit of recruiting today as well.
Cover Bob Diaco, I have no doubt he's out there right now recruiting trying to get people to come in. He's got ties to the East Coast. He's a young guy, I think recruits are gonna love this guy. I don't know – I haven't heard any specific names yet. He basically got hired and hit the recruiting trail. But I'm sure that information will filter in over the next week or two. As far as John Parella, I've gotten a lot of questions about John Parella. He played in the 3-4 with the Buffalo Bills where he was drafted in the second round. And he played in the 4-3 with the San Diego Chargers. So he's played both defenses. So I have no doubt he knows how to coach the 3-4 defense and he'll be able to do a great job going forward. In fact, 43% of colleges now use a 3-4 defense. I was surprised the stat was that high but it's a good defense and that's why it's growing in popularity. Colleges such as Alabama, Georgia, Wisconsin, so on and so forth. Now, there are different coaching technique for the 3-4 and our coaches will have to familiarize with those.
I'll never forget when I got to DC and I walked in and saw my D line coach Jacob Burney. Now at the combine – the NFL Combine – different teams have different philosophies. I had certain teams that were very jovial, very loosey-goosey. When I met with coach Burney (he was with the Broncos), he was as intense and in your face as anybody I had ever met in my entire life. And I remember telling my wife "I'd love to play for the Broncos, I just don't know if I want to play for him." I walked in, and saw him, and saw that he was my defensive line coach, and went "Oh my God." But this is a man who had coached for 30 years. He'd coached the 4-3 for well over two decades, and he made the transition to coaching the 3-4 just fine. FYI, him and I actually got along really well and we keep in contact to this day, as it turned out.
But I'm gonna start talking about the defensive line up front. Of the 12 guys who were on the d line last year, we have 9 guys returning. Three guys who have started a combined 28 games. Now, when you look at the 3-4, I'm going to talk about Mick Stoltenberg. And he's not a nose guard, he's too tall. 6'5". He's 290 pounds. He is your prototypical 3-4 defensive end. And typically you want to put your more run-stopping defensive end on the left side. Your left defensive end cuz most offenses are right handed. They're going to put the strength of their formation, their tight end, on the right side. That's where they're typically gonna run the ball. So I see Mick Stoltenberg as a solid left defensive end on this defense. Now, Carlos Davis – my first thought was to put him at right defensive end because you want your run stuffer on the left – or your better run stopper – and you want your more athletic pass rusher on the right side cuz he's gonna get the opportunity to rush the quarterback's blind side and there's less runs over that way. So my first thought was Carlos Davis. But I'm trying to figure out who we're going to start at nose guard cuz right now we don't have one. We just flat-out do not have a nose guard for a 3-4 defense right now. So to me, I'm looking at – cuz I've looked at the two-deep from last year and there's only one 300-pounder on the defensive line and that was Kevin Maurice and he's obviously gone. So I'm thinking Carlos Davis as the right end or Kahlil Davis as one of the ends and you move Carlos inside or maybe you have Stoltenberg and the two Davis brothers as your ends and you bring in a juco guy inside. I don't know, we gotta find a nose guard. So I would say Carlos as the right end and for now maybe you put Kahlil at the nose guard or you flip-flop those guys or whatever the case may be.
Now I look at the rest of our defensive line. You got guys like Alex Davis, AJ Natter, Sedrick King. A lot of these guys are 255, 250, 250. They are NOT 3-4 defensive ends. So they're either going to have to put on a lot of weight or they're going to have to move to the linebacker – probably an outside linebacker type. So, the other defensive ends I see that fit the 3-4 scheme that we currently have are Daishon Neal. I hope I'm saying that right. Daishon – he's 6'7", 270. Only a sophomore, so he can put on weight. He's got great size, so he could be one of our back up d ends, put on weight, and he could probably do well in this defense and Peyton Newell, he's 6'3", 290 pounds. He's already 290 and he's a junior so he could be one of these 3-4 defensive ends as well. Maybe if he gets quite a bit bigger you put him inside but he's kind of a little – I mean, you want your nose guard to be stouter or a little bit shorter. So he's a little bit tall at six foot three. So I don't see a whole lot of depth right now, we're going to have to bring some guys in, develop some guys. But I'll be honest with you, in DC, a lot of Sundays we'd only have five defensive linemen going into the games! I wasn't crazy about that, I would have preferred to have six. We had a guy go down in Miami of all places – the wonderful heat of Miami. And we ended up with four defensive linemen that game! So they're going to have to build some more depth and I think it starts with the nose guard and you move outward.
Now I look at the linebackers and this is very interesting to me. Cuz this could completely change by the time the season starts. But I'm going to start at – and you have the SAM and WILL is what I'm used to. But I believe in this defense there is a cat and a dog. You have your guy who rushes and your guy who drops most of the time. And I think your rusher has to be Freedom Akinmoladun. And I hope I said that right cuz I practiced it! He's gotta be the guy that rushes most of the time from the outside. He's a prototypical outside linebacker rush type for the 3-4 defense. We had eight linebackers last year, five of them return, three guys with 33 games starting experience. Now, I look at the inside backers and I'm thinking Chris Weber. When Banderas got hurt a couple years ago he started. He has four games of starting experience. He's 6'3", 230. You'd like him to get up to 240 or 250. But I'm thinking he might be one of the middle backers. He's really the only guy with starting experience as a middle backer. You got Dedrick Young who has 19 starts, the most of anybody. He's 6'1", 220. He's lighter, but he doesn't have quite the speed you'd expect. He's been an outside linebacker most of his career, so you would think he'd stay there. But he could bulk up and move to the inside. I look at a guy like Marcus Newby. 6'1" 235. He has ten starts. He's got a great first explosive step. So to me, even though he'll probably be dropping more in this defense, you need to be able to have two guys who can rush on the outside so they can't just slide the offensive line protection to Freedom every time. They can't just chip with the running back, hold the tight end in. You have two threats to rush on the outside so I like Marcus Newby on the outside right now out there. Another guy who could play in this mix is Mohamed Berry. He's 6'1" 220. He's been a WILL outside linebacker most of his career. Other guys, there's other guys that can play in the mix, there's younger guys, guys who've redshirted. I'm just looking at guys who've had some playing experience to this point.
One of the guys I want to talk about is Avery Roberts. He's a 4 star commit, he's 6'1", 220. He's a defensive end/linebacker type. And he could thrive – it's hard to count on a true freshman too much, but he could thrive as an outside pass rusher in this defense. And a lot of this could be determined cuz I could see Newby going inside. I could see where Young is lighter – he could go outside. A lot of this will be determined in a lot of these pass rush drills that these linebackers haven't had to do in the past. They're gonna start doing to see who should be a middle backer, who should be an outside backer, who can rush the passer one-on-one. They're going to do a lot more of these pass rush one-on-one drills.
I remember back to Demorrio Williams my redshirt freshmen year. We needed another pass rusher. So we just threw him in on these one-on-one pass rush drills. He did great. And I also – he ended up with 11 sacks his senior year – I'll never forget! We used to weigh in every either Wednesday or Thursday. I want to say it was Wednesday, maybe Thursday. We'd weigh in. I'll never forget one day he stepped on the scale. And he's our #1 pass rusher at the time. He's a linebacker and the scale says 207. I couldn't believe he was that light. He turned around and told our guy in the strength staff "222". Walked away, cuz he couldn't see the scale. I just stood there like "Whatever, man, just keep getting sacks." I'll never forget Josh Bullocks, our starting safety, got on the scale right after him, weighed 220! Our starting safety outweighed our best pass rusher and linebacker by 13 pounds! So I thought that was interesting.
When I look at our secondary, I think it's fairly cut and dried. You got Josh Kalu, Chris Jones at the cornerback. You got Antonio Reed and Kieron Williams at the safety. Now this could change but to me I think those guys are fairly safe but competition is always coming! Now, as far as my official starters that I'm projecting and somewhat guessing because I don't know who's going to commit on National Signing Day. I don't know how things are going to change. I don't know who they're going to ask to beef up, lose weight, things of that nature. But this is my projection at the moment and I feel fairly confident with it. Left defensive end: Mick Stoltenberg. Nose guard: Khalil Davis, possibly Carlos Davis. And the other defensive end: Carlos Davis. Like I mentioned before you could have DaiShon Neal and Peyton Newell as back ups at these defensive ends if we can not find a nose guard. And if the Davis brothers and Stoltenberg can't do the defensive end rotation I think that would be ideal.
I look at the linebackers, I've got at our two outside linebackers, guys who could probably rush the quarterback the best: Freedom Akinmoladun and Marcus Newby. Inside: Chris Weber. Dedrick Young, who's going to have to bulk up a little bit if he's going to be inside. On the back end, Josh Kalu, Antonio Reed, Kieron Williams and Chris Jones.
Now I want to talk about a nose guard who's going to be committing on National Signing Day. He's a 3 star guy, he's 6'2", 310. Don't look at the stars, cuz he's one of the most important guys we need to commit to the Huskers based on one of our needs and the value he would bring. He is looking at Colorado, Nebraska (us!), and Texas-San Antonio and he'll make his announcement on National Signing Day. So keep your eye out for him and maybe hit him up on Twitter for some positivity from Cornhusker Nation.
Now my observations just from looking at the defense? We're a bit undersized. We're gonna have to get bigger in the middle. Especially our middle linebackers and our nose guard. (Our) defensive ends aren't too bad and our outside linebackers aren't too bad. Marcus Newby is a decent size. Freedom Akinmoladun 255 rock solid. It's our middle linebackers – you want them about 240, 250 in this defense and your big nose guard right in the middle. Gotta get a little bit bigger.
I will say this: I saw where they did a poll at the Army All-American Game. Who are the most annoying fans on Twitter? And we were tied with Tennessee with the most annoying. And the only reason I'm going to bring that up is cuz we are two weeks away from National Signing Day, I'm going to discuss recruiting more these next couple weeks. But guys like Avery Roberts, guys like Damion Daniels, who are committed and thinking about coming here – we want to be passionate – we want to be expressive. We want to be positive towards these recruits so that they're more likely to come here. Because recruiting, as we know is very, very important.
Now, like I said this is my estimation, this is my best guess. I feel fairly decent about it. It will change based on who comes in and who doesn't come in and what the strength staff is asked to do with some of these guys. But, I want to talk to you about fast Friday. Two days from now – I'm going to try something out. Every Friday I'm going to do a fast Friday video. It's going to be kinda like my gut reactions in length. Hence, fast Friday! We used to do this in the NFL. Instead of getting out at 4:30 we'd get out at 1:30. And we called it fast Friday. So check it out, two days from now fast Friday. Until then, GO BIG RED and always remember to THROW THE BONES!!!
Views:
2017 views: