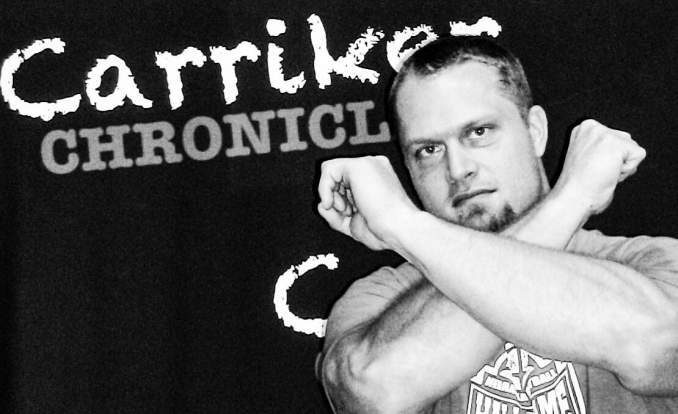 RETURN TO VIDEO 

Jan. 11, 2017
 
'95 Huskers
Welcome, Husker Nation, to the Carriker Chronicles! I just got done working out, so I am super excited to do this particular show. I'm always excited, but today, we get to debate. We get to do a little comparison and contrast. I think it's going to be fun. Today, we're going to talk about three things. 1: Will there ever be a college football team as great as '95 Nebraska? 2: Has there already been a team that good? And the only reason I ask that, is I did some research, and I found a legit competitor! 3: Can Nebraska get back to playing championship football once again? This is prompted by Alabama, when they were 14-0 and everyone was comparing the Tide to '95 Nebraska, were they the greatest of all time, etc.
And I was prepared to do this video, until Alabama lost (LOL). So now, I'm doing this video! Keep in mind, the second best team in the SEC has 4 losses and will be ranked around 20th in the final polls.
Those were points I was going to make in the other video, but they're moot now, because Alabama lost (LOL). And clearly, '95 Nebraska is still the best… or are they? ;)
Now. Will there ever be another team as good as '95 Nebraska? In my unbiased opinion, I don't think so. A lot of it has to do with the 85 scholarship limit, Prop 48 (regulates minimum grades/ standardized test scores in high school to compete in college athletic competition) and they play more games now. So, Alabama would have had to go 15-0 with today's college playoff games. Don't get me wrong, '95 Nebraska played a lot of great teams. I don't think anyone will surpass them for those reasons above.
I also want to get into, has there ever been a team as good as the '95 Huskers? And I think I found a legit contender! I came across this video of this poll that was done a few years ago, and Herbstreit was flipping out. Because, they did the greatest college football team of all time, and in the finals were '95 Nebraska, and '71 Nebraska. He was flipping out, like "Oh, this is so ridiculous!" Well yeah, Nebraska has some great fans, but let me break down some stats here and explain why, and you can let me know which team you think was better.
I have a whole bunch of stuff written down, so I'm just going to rattle it off. These are ridiculous. They had 27 players play in the NFL. Let's see. 11 starters on offense. 11 starters on defense. That's 22. That means there were 5 back-ups that played in the NFL. Their closest game all year was a 14-point victory. They only trailed once all season, very early on. They averaged 400 yards rushing per game, while yielding only 78 yards per game. They scored 51 rushing touchdowns, while giving up only 6. Tommie Frazier was sacked 0 times all season. They tied an NCAA record by allowing only 5 punt returns and 12 punt return yards… all season! Their average margin of factory was 38 points (scoring an average of 52 and giving up an average of 14) and keep in mind, they rested their starters in the 4th quarter many times, because they had such big leads. They had the largest margin of victory for the entire season since WW2. They averaged close to 30 points in the first half, more than at least 3 championship teams did all game; '92 Bama, '02 OSU, and '06 Florida. They beat four teams ranked in the final poll top 10: #9 KU, 41-3; #7 KSU, 44-21; #5 CU, 44-21; and #2 FLA, 62-24 in the Fiesta Bowl. People want to talk about Nick Saban and this Alabama dynasty. Let's talk about the '93-'97 Huskers, an underrated dynasty with a combined record of 60-3. It is apples to oranges because of different eras, but Nick Saban's best 5-year run was from '08-'12 and his record was 61-7.
Now, let's talk about '71 Nebraska. I did some research, and I knew these guys were good, but they were even better than I thought they were. They were ranked #1 13 out of 14 weeks in the season, better than '95. They beat #2, #3, and #4 in the final poll that year; OU in the game of the century (35-31 in Norman), Colorado (a 31-7 spanking), and Bear Bryant's Crimson Tide in the Orange Bowl, 38-6. That's 3 games against numbers 2, 3, and 4, with an overall margin of victory of 104-44. 104 is also the total points they gave up the entire season! That's an average victory of 35-14, with the closest game other than OU being a 24 point margin (in those three games). People want to talk about this Alabama Crimson Tide defense with all these 1st round draft prospects and highly recruited kids. They were pretty good, just got worn down in the 4th quarter against Clemson. But let's look back at that Blackshirt Defense in '71. They held teams under 10 points in 10 of the 13 games, with 3 shutouts, and 6 times not allowing a touchdown.
It would have been awesome to see '95 Nebraska's Tommie Frazier, Lawrence Phillips, and the rest of that offense against the '71 Blackshirt Defense. The '71 Offense was also great, not scoring less than 30 points all year. They scored 40+ and 50+ points multiple times, in a day where points were really at a premium. They outscored their opponents 507-104. Had they not played an extra game in Hawaii, they would not have given up 100 points all year. Their average margin of victory for the whole year was 39-8. You let me know which team you think was better, '71 or '95.
The next thing I want to talk about is can the current Nebraska team return to that dominance? Last Thursday, I gave my 5 keys to improving the Husker football program, so if you haven't seen that video, go back and check it out. But, I thought of one major thing that was not in that video that I want to talk about that could help Nebraska get back to championship form. I'll get to that in a bit. But if you look at a team like Clemson, it's been 35 years between their 2 National Championships. Now, let's talk about Dabo Swinney. He wasn't even supposed to be the coach of Clemson. He was an interim head coach and they kept him on. Remember in 2009, when Nebraska beat them in the Gator Bowl with Bo Pelini? It just goes to show that if you do things the right way, and you truly care about your players, and are a genuinely good human being which he seems to be, you can do great things as a coach and as a program. Yes. Nebraska can get back there. Hopefully it won't take another 16 years (haha).
Here is the one thing I didn't add to the video last Thursday. It's the intangibles. Things like leadership. The coach can scream all he wants, but it's the players who take control of the team. Like the Peter Brothers in the 90s. Like I tried to do when I played. I often think about what it would have been like if I had played with the Peter Brothers, and Grant Wistrom, and those great players. I think it would've been pretty cool. I had a great time while I was there, just thinking hypothetically. The next intangible is poise in late game situations. Tommy Armstrong was never voted team captain, but talk about a guy who the team followed late in the game. He had the poise and the killer instinct. He was not afraid of the spotlight. He ran toward it. It's something LeBron James now has, but he had to learn it over the course of his career. Tommie Frazier had it from the very beginning, just one of the things that made him great. He was a phenomenal athlete, another thing that put him over the top, in my opinion, as the greatest option quarterback ever. The final thing (which will sound cliché) is working hard. People think everybody works hard. No they don't. Most do. Everyone says they do. Everybody doesn't work the same amount of hard. I want the kids who will come early and stay late for practice, catching balls, doing hand drills, shedding blocks. I want the guy in the weight room the longest. The guys who watch extra film, so they know not only their position, but the guy next to them, in case he goes down (offensive line).
To me, it's about leadership, poise in the clutch, and working harder and smarter than anybody else. Here's something I noticed that didn't get much attention in the national championship game. The Clemson defense stopped the Alabama offense on 12 straight 3rd downs, a lot of which were 3 and Outs. It just goes to show you, that while Deshaun Watson and that Clemson offense stole the show, the defense still wins championships.
I'd like responses from you about the three things I talked about today; Will there ever be a team as great as the '95 Huskers, which team was better, '95 or '71 Nebraska, and can Nebraska get back to championship form (and what do they have to do to get there). Hit me up in the comments below, respond to the tweet, the Facebook post, the HuskerMax post, wherever you're watching.
Now, my son, is big into football this year. HUGE Husker fan (he just kind of did that on his own). We're driving to school this morning, and he says something out of nowhere. People say "LOL" in texts all the time (and when Bama loses) but you don't actually laugh, you just say it (except when Bama loses). Well, when he said what he said, I literally LOL'd. Keep in mind, he's a 7-year-old boy just discovering the world. He goes "Daddy, you know what I learned?" "What's that, Jacob?" "I learned that guys with long hair are really good at football." I burst out laughing. I don't want to hear anything about stereotypes, or discrimination, or anything like that. He's seven, and we had a talk, but I burst out laughing. The world through a seven-year-old boy's eyes.
The family and I are taking a ski trip, so we will not see you until next week. And because of the schedule we're doing, it will be Sunday night. I will be putting out a video at 7 p.m. CST on all my outlets. I promise you this. It will be a unique show. And then we'll be back to our regular schedule after that. So, until Sunday night, Go Big Red, and always remember… to THROW THE BONES!!!
Views:
2017 views: