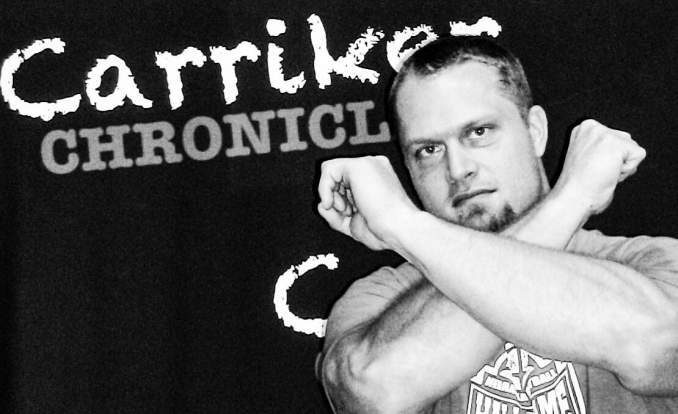 RETURN TO VIDEO 

Dec. 26, 2016
 
Tommy Armstrong's legacy
Oh hey, how ya doing? Welcome Husker Nation to the Carriker Chronicles! Just brushing up on my X's and O's. Gotta stay sharp, ya know. Hopefully you guys had a good Christmas Eve, a good Christmas, hopefully you ate lots of ham, lotsa turkey, lotsa pumpkin pie, apple pie. Hopefully you got everything you wanted for Christmas. If you got lumps of coal ... be nicer next year!
But I'm glad to be back. We had a great Christmas here at the Carriker household. I'm glad to be back talking a little Husker football on this fine Monday.
Now, I want to talk about two things today. Number one, the career and legacy of Tommy Armstrong. And number two, I wanna start to look ahead to the future just a little bit.
But let's start with Tommy Armstrong. And, I think it's going to be tough for him to crack the top five as far as the greatest Husker quarterbacks of all time. You've got Heisman winning quarterbacks, you've got national championship winning quarterbacks. There is an argument, with all the records that Tommy has set during his time here, and it's quite a few ... and I'll go through them here in a second, that he could be considered one of the top ten greatest quarterbacks of all time here in Husker history.
But let's start at the very beginning. Let's start start at his freshman year. Taylor Martinez goes down, 2013. And Tommy and Ron Kellogg start to split some time. And then, Tommy makes his first start against ... lemme get this right ... South Dakota State. And Tommy ends up starting eight games that year. Ends up with a 7 and 1 record as a starting quarterback and leads the Huskers to a Gator Bowl victory over the Georgia Bulldogs and in that game he set probably his first record when he completed a 99 yard touchdown pass to Quincy Enunwa. Now since then, he's had a school record 44 career starts. And, let's just go ahead and list some of these records. He has the most career passing touchdowns. 8,871, the most career ... I'M SORRY! The most career passing yards! That would have been a LOT of touchdowns – most career passing yards with 8,871. Most career passing touchdowns at 67. The most career completions 625, the most career total yards on offense --10,690 yards. He also has the most career 250 yard passing games with 14. The most 250 passing yard games in a season at eight. Most career 300 yard total offense games at 11. And the most career (300) total yard games in a season at six. And he also has the most career total touchdowns at Nebraska history at 91. That is a plethora of records that this man has achieved.
Now, I do want to say this, because it is not quite the same as it used to be, cuz Tommy set records and some Huskers set records, there are players across college football setting records. And I don't want to take anything away from these really good, these great players. But you gotta keep in mind, there are more games being played now in today's college game than there was just a few years ago. I remember when there was an 11 game regular season and then you'd have a bowl game, so 12 games. Well now you got a 12 game regular season with a possible conference championship game, a bowl game, if you're in the playoff you could end up playing 15 games. So if you do the math, 15 games possible depending what happens throughout your four year career. But 15 games, times a four year career, that's 60 games whereas 12 games times a four year career is 48 games. And again, (it) depends what happens during those years, but that's a 12 game difference. That's literally another season. Again, not trying to knock what any of these guys have done, they're phenomenal players. Nothing but respect and much love. You just gotta take it with a grain of salt when you're talking about it as well.
But as far as the conversation of top ten great Husker quarterbacks of all time and Tommy being in that conversation, he's got some pretty stiff competition as well. He's got Turner Gill, he's got Vince Ferragamo, he's got some guys before my time but I'm up to date on this stuff! Dennis Claridge, Bob Churchich, Van Bronson you can't forget about Brook Berringer. I know he never started a whole season, but when Tommie went down – if he doesn't do what he did, we probably don't have a National Championship in 94. Both on and off the field, he was phenomenal.
But when I think of Tommy Armstrong, I think of a guy who's probably going to be remembered for his heart, his toughness, and his resiliency. Now the thing that's going to hurt him in this conversation is his junior year the Huskers went 6-7. And in his senior year – and they haven't played Tennessee yet, they could beat them when they play them in the bowl game later this week – but they haven't beat a ranked team yet this year. So that's what's going to hurt him. But in my opinion, when I think of Tommy I think of heart, toughness, resiliency. Was he – is he – the most accurate passer of all time? No, he's not. Does he have the best mechanics? No he does not. Is he the most consistent?
(Banner falling off the wall)
So ... full disclosure, ladies and gentlemen. So I have some children who've been messing with this thing behind me. And so we had to take the one that we normally use full-time, all-time and get it fixed. So we had to put up this makeshift thing which clearly didn't work very well. But this is the CARRIKER CHRONICLES and WE GONNA PLOW THROUGH, BABY! And when we get the regular one back we won't have these issues! Let's just say Christmas was fun at my house and at the studio ... But I will get back to the conversation.
Tommy – he wasn't the most consistent, he didn't have the best accuracy, he didn't have the best mechanics. And when you talk about consistency, or when I think of Tommy Armstrong (pointing to half-fallen banner), I still can't believe that happen. Yes, I can. But when I think of Tommy Armstrong and consistency, I think of a quarterback who one week would be considered one of the best quarterbacks in the entire Big Ten Conference. Then a couple weeks later, you'd hear fans – you know, again it didn't go so well – they'd be talking, he shouldn't even be starting for us anymore, when is this freshman kid going to get here. So it was a bit of an up and down rollercoaster for Tommy Armstrong when it comes to that.
Now, as far as me what I'm gonna think of when I think of Tommy I'm gonna think of the things I said. Heart, toughness, resiliency. I'm gonna think of – and I forget which game it was – but his offensive linemen literally had to carry him because he couldn't do it on his own at that point during the game. I think of the Ohio State game where he was carted off the field. And you're wondering – just as a human being – not even (as) a football player "Is he going to be okay?" Just as far as a human being, will he be alright? Then one week later, after that Ohio State game, one week later – he's back on the field, he's starting, he's playing well, scoring the winning touchdown against Minnesota and earning Big Ten Offensive Player of the Week honors. So, that's what I'm going to think of Tommy Armstrong. I've heard of people say (they) absolutely love to watching Tommy Armstrong play. I've heard people say "I can't wait till he's gone." I personally think that's a bit harsh. I'm not excited that he'll be gone after the bowl game. And frankly, I wish him nothing but the best of luck in the NFL. He's got some physical tools – (if) he works on those mechanics – you never know what could happen. I'll be rooting for him going forward.
What I am excited for though, is to see a pro-style quarterback in Mike Riley's offense. A pocket passing quarterback in his offense. Let's be honest: Tommy wasn't recruited to play in Mike Riley's offense. Obviously – he was here before Riley. But besides the obvious, Riley and Langsdorf are used to doing a certain type of offense. And they tried to fit that to Tommy's skills, but it just never really ever meshed the best. And so I'm excited to see – and I'm not the first one to say this – Coach Riley has been cooking with Bo Pelini's groceries. Well now we're getting to the point where Coach Riley's had the opportunity to go to the store for himself. So I wanna see how he can cook when he's got his own groceries, and his own pieces to the puzzle. I'm not gonna lie – I do have my reservations about this offense working here. But, he's our coach, it's his offense, it's worked elsewhere. Let's give it a chance and see what happens.
Now, I wanna start talking and looking ahead to the future just a little bit. I'm going to drop one name on you today. But I'm not going to drop a whole lot of names. Why? Because this show does not end after the bowl game. Some people have tweeted me and say they're going to miss the show. It doesn't end after the bowl game. I will be here talking about recruits. I will be here talking about the NFL playoffs, I will be here talking about the guys that are standing out come spring ball, come fall camp. I am going to be here doing those things. So the show's not going anywhere. We'll have plenty of time to talk about the quarterbacks, the running backs, the third string long-snappers. So I'm not going to drop a whole lot of names on ya. I'm gonna drop one name. And that name is linebacker Pernell Jefferson, who has stood out to me in the bowl practice so far. But what I want to talk about is I want to talk about ... (looking at half-fallen banner in amusement).
"The thing fell! It fell! Oh ... that's so awesome! But anyways, I digress."
I wanna talk about what it's like as a young guy going into the bowl practices. Because I'll never forget – the year I redshirted – Willie Amos, who was a former defensive back here – was a national jump rope champion in high school, fun fact for you. I'll never forget him looking at me and going "Hey, freshman, you gotta take your skirt off now." And maybe that's not politically correct but so what? I got his message and I never looked at ... basically he was saying you're not protected anymore. That's what he was trying to say. You're not protected by that redshirt anymore. And I never looked at it as protected or as a skirt or anything like that. I looked at it as "Yeah, let's take it off. I'm ready to roll."
But I'll never forget my first bowl game practice. Cuz you go from being a guy that the offensive line coach cares about – cuz he wants you to be in a certain spot so his offensive linemen can practice blocking you – you're basically just a glorified blocking bag, is what you are. To all of a sudden now the defensive coaches are paying attention to you, grading you. And they want you to run their scheme right. And the intensity went through the roof! Not that the O-line coaches weren't intense and in my face quite a bit. But I'll never forget the first practice, I was like "Whoa, everything's going a lot faster." And as the bowl practices progressed, I picked up speed and I did just fine. And I remember it was spring practice going into my redshirt freshman year when I really finally started to hit my stride. So that's what these young guys are going through right now – really experiencing that redshirt, that protection, being taken off. And now, hey, it matters, ladies and gentlemen!
Be sure to tune in on Wednesday. I will be doing something I've never done before on the Carriker Chronicles and give you my final bowl game predictions. Friday after the game within 30 minutes, my gut reactions. Saturday morning, my full bowl game breakdown. So until then, GO BIG RED and always remember to THROW THE BONEZZZZ!!!
Views:
2017 views: