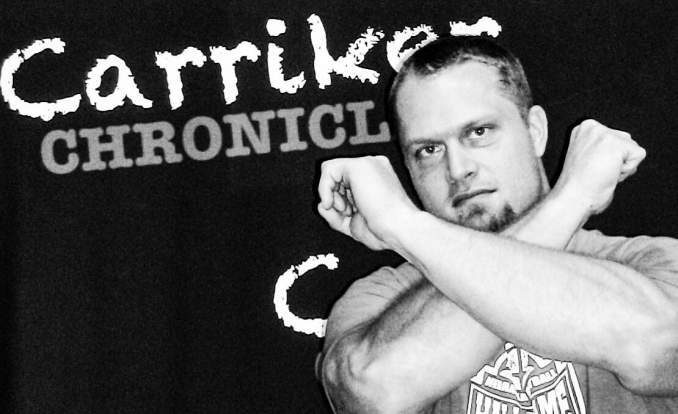 RETURN TO VIDEO 

Dec. 19, 2016
 
Bo Pelini; 2003 story; Husker volleyball
Welcome, Husker Nation, to the Carriker Chronicles, and today I want to talk about three things. Number one, Bo Pelini leading Youngstown State to the FCS National Championship game come Jan 7th. Number two, I'm going to tell a story I've never told publicly before and only a handful of people outside of what happened know about what happened. So I'm going to tell that story today. And number three, obviously it's disappointing the Nebraska volleyball team lost on Thursday night. This is the first chronicles I've done since then. But they did have a great season and there's still a happy ending for one particular person I know, as a result of their season and I'll save that for the end of this video.
But first, I want to talk about Bo Pelini. And I've seen a lot of people, whether it be Facebook, Twitter, heard just a lot of people talking, lot of friends saying "Hey, look at what he's doing now. I told you so. We should have kept him. Look how well he's doing." And I hear lots of people saying stuff back. Lotsa argument, lotsa debate badk and forth.
Here's my take, Here's my response to Bo Pelini doing well at Youngstown State: I'm not surprised. He's showing us what we already know about Bo Pelini. Bo Pelini is a good football coach. Keep in mind, he was here for seven years. He won 9, 10 games every single season. That's nothing to sneeze at. There's a reason his players got so upset when he was fired from Nebraska. There's a reason I loved him when he was my defensive coordinator my freshman year. My teammates loved him. There is a reason he's such a good football coach. He knows football. He knows how to coach it. He knows how to relate to young men. He does a good job. This does not surprise me at all.
Now, my other response is simply this. As far as Nebraska – did we make a mistake letting him go? Like I mentioned, he was here for seven years and he won 9, 10 games each and every that he was here. Also, while he was here, we never beat a [nonconference] top ten team, and we never won a championship, conference championship or otherwise. Now, we had the one-second game against Texas where that one second got put back on the clock. We had a game against Oklahoma in the Big 12 title game. We were up 17-0 but we never could beat a top ten team or win the championship. And it seemed like every time we got in a big game against a big-time opponent, national stage, things would really, really not go the way we that we'd like.
And I understand it happened a couple times this year, but you've gotta give Riley more time. And Riley does have a top ten win over Michigan State his first year and the difference is Riley's been here two years, Pelini had seven years. So when I look at Pelini, good football coach. No doubt about it. When I look at Nebraska, I think of a great, elite college football program. And the bar we have – we haven't won a conference title since '99, national title since '97. I understand that. But the bar is here for Nebraska. And we're striving to get back to that bar. That bar is never going to be lowered. Pelini got to about here and just couldn't quite get there. So good, but just couldn't quite get all the way there. Now maybe he'll do that with Youngstown State, at the FCS level. And I wish him good luck in that national title game, nothing but the best for him, not surprised. Congratulations! Win, lose or draw, I hope he wins the game, I really do. I wish nothing best and congratulations for him not matter what happens. I'm not surprised.
But when I think of Pelini, and I think of people saying he should have stayed here and look at what he's doing there, I think of head coaches that I've had. Whether it be college or NFL and some of them had successes as head coaches, some of them had to quit being a head coach, for lack of a better way to put it, and they had great success as coordinators. Or assistant coaches or otherwise. I think of, uh, one coach I had, Bill Callahan. A guy I've never spoken of before. But I played for him for three years and we're on good terms. Now if you think of him in the NFL, and you talk to GMs and players and coaches in the NFL, they're going to say nothing but great things about him. And he even took the Raiders to the Super Bowl! Now I know he got fired from the Raiders – that's why he came to Nebraska – but in terms of the NFL he is considered a really good football coach. In fact, when he was at Dallas, he was calling the plays, not Jason Garrett. He was calling them! That's how much Jerry Jones liked him. Now, when you think of him in terms of what he did at Nebraska, it wasn't exactly sparkling. Nobody is going to argue that it was. Just like nobody is going to argue he can't coach in the NFL. But there's a difference between coaching in the NFL and coaching in college. He is an NFL football coach and that's where he belongs. A good football coach, but just didn't fit in the college game.
I think of a guy like Lane Kiffin, who didn't work out well with the Raiders, you know, USC or Tennessee but had great success at Alabama. I understand – Nick Saban – but he's now the Florida Atlantic coach. He's going to do really good. He's a young guy, he's going to build back up, he's going to have great success. I think of a guy like Craig Bohl, who was fired from the defensive coordinator here at Nebraska, goes to North Dakota State, builds a dynasty! They win five straight FCS national championships, goes to Wyoming. And within two or three years of arriving at a really, really struggling program, they're playing for the Mountain West Conference Championship this year!
So it's one of those things where maybe Pelini goes to the FCS, does really well. It's a different level, a different mindset, it's a different location, maybe a better fit. And maybe he stays there, builds a dynasty. Maybe he builds back up like a Bohl, or like a Kiffin's probably going to do. The fit here at Nebraska, over the 7 years, I don't think we made a mistake letting him go, wish him nothing but the best. And, I haven't talked to him in a while. I'd love to talk to him when I get a chance. But I wish him nothing but the best and I'm frankly not surprised he's doing so well.
Now the story I wanted to share. It came to my mind because of Minnesota boycotting the Holiday Bowl. And, you know there's the whole sexual assault case, everybody's getting suspended, things of that nature. But it made me think of 2003, my redshirt freshman year. They fired Solich. We'd just gone 9-3, they fired Solich. A lot of players were mad. And Pelini was going to be the interim coach for that bowl game, the Alamo Bowl against Michigan State. Now we called a players-only meeting. I remember Pelini, he didn't know where he was going to be in two months. He said "I'll back whatever you guys want to do." And we had a players-only meeting. And I don't know if this ever went public. I don't believe it ever did. And if it did ... okay, it did. But I never paid attention to the media when I played. I didn't want to hear good or bad. If it was bad I didn't want to be dragged down. If it was good, I didn't want the head to get big. So I never paid attention. I don't think this was ever released. I believe it was private. And the only reason I'm saying it now is cuz all the coaches are gone. Pelini's gone, everybody affiliated with this meeting is gone. Players, there were players only. Everyone's gone, so nothing bad is gonna happen. Plus, we ended playing the bowl game, so what's it matter?
We had a players-only meeting, a lot of players mad Solich was fired. I mean, I understand how these players felt when Pelini was fired. I committed to Solich, he sat in my living room, he recruited me. I understand. And these seniors, these captains, these leaders on the team were upset. And it looked – there was quite an eerie feeling in that meeting for quite a while – it looked like we weren't going to play in the bowl game. We were really close to not going to that bowl game! Now I'll never forget, a certain freshman who is the smartest person I've ever met in my life. He's literally 4.0 undergrad, 4.0 grad, he's an orthopedic surgeon now, very smart. And very not timid when it comes to expressing his opinion. As a freshman – now I'm very outspoken now – but as a freshman, I hadn't started. I mean I had played well in a few games, but I never wanted to be the smartest guy in the room. Smartest guys in the room tend to have all the answers but not always. I'd rather show wisdom, know when to talk, know when you have the answer, know when you don't. So as a freshman I was listening. And I'll never forget that freshman stood up, berated the entire team. Berated – said exactly what I was thinking and said we should play the bowl game. At the end of it the seniors told him to sit down and shut up, freshman. Which kinda made me chuckle even though I agreed with him.
And ultimately we ended up playing in the bowl game. Once we decided to play we came out like a ball of fire. We beat Michigan state 17-3 and shut down their high-powered offense. Held them to a field goal the entire game. But I just wanted to share that story I'd never shared before and in my opinion, college football players, you don't decide what bowl game you play in, you don't decide on a head coach. If you want him to stay, play better. But you don't decide when he gets fired. What you do is you put on the hat, you put on the pads, you put on the helmet, and you hit somebody in the mouth. That's what you do as a college football player. But I just thought I'd share that story. That players only meeting, almost didn't play in the bowl game, ended up playing, ended up with a really good victory.
Now, the Nebraska volleyball team. Disappointing loss, as we know. Great season, final four back to back, again. When we were watching Penn State play Nebraska. Nebraska's down two sets to nothing. They're one point away from their season being over, they need four straight points or five, or whatever it was, and they get it! And they come back and win it. There was a certain little girl who was watching that game with me! Now this girl, she's by far the tallest kid in her class, and just between you and me she's also the fastest (I think she gets all this from her mom). But she decided – she already loves Nebraska – she decided she loves volleyball. And I'll never forget, I was about five when I had my dream of playing football for the University of Nebraska. Now Addison – come here Addy – come on. Addison is five years old and she told me that she wants to – what do you want to do?
Addison: "Play volleyball."
Adam: "Play volleyball? Where do you want to play at?"
Addison: "Nebraska."
Her five year old dream is to play at the University of Nebraska and play volleyball. And hopefully Coach Cook is still there but obviously we've got some time, we've got some work to do. But she's got a dad who might help her just a smidge. So you never know when you might see her on the volleyball court. But whether that ever happens or not, you've got a fan for life, Husker volleyball!
And be sure to tune in on Wednesday as well, because I had someone ask me: If you had one Christmas wish for the Huskers, whether it be the football program, the university as a whole – your one Christmas wish, what would it be? So I'm going to talk about that on Wednesday. Also, my wife is going to join me. We just celebrated our 10 year anniversary and in my opinion this is going to be the most special Carriker Chronicles ever. Because she's joining me for the first time ever for a very good reason so tune in on Wednesday. So until Wednesday, Husker Nation, GO BIG RED, and always remember (Addy speaking): TO THROW THE BONES!!!
Views:
2017 views: