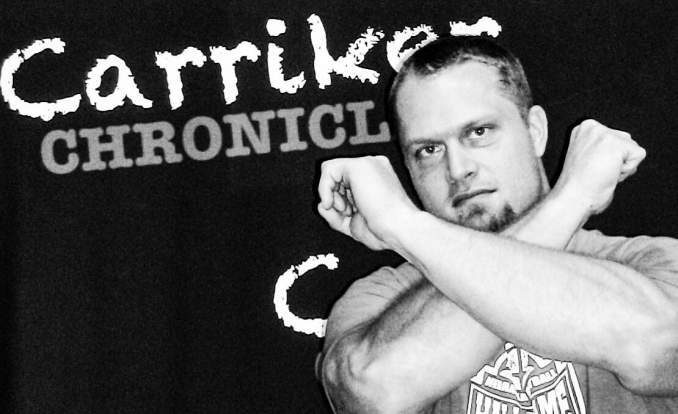 RETURN TO VIDEO 

Dec. 7, 2016
 
Bowl, coaching and more
Welcome, Husker Nation, to the Carriker Chronicles, and just to give you a quick update on the Carriker family, the zombie apocalypse continues. At one point last night we had four kids in our bedroom at 1 a.m., 2 a.m., 3 a.m., throwing up and various other things going on! So, now the wife isn't feeling too good so I'm kind of feeling like the sole survivor here. But everyone is currently taking a nap, so I escaped to the studio to quickly record this video.
And, right off the top, I wrote down a bunch of things, want to get these facts straight today. Right off the top congratulations to Nate Gerry, he's a Pro Football Focus First Team All-American and he's also an AP All First-Team Big Ten. Congratulations also to Jordan Westerkamp, he will be participating in the East-West Shrine Game.
Now let's get straight to our opponent, Tennessee. Not going to go too much in depth, we got a month to do that, but let's take a quick preliminary look at that team that loves to volunteer so much. The Tennessee Volunteers finished the season 8-4. They're currently ranked 21st in the country. Now, in the preseason they were in the top ten in both polls heading into the season. Had a lot of high expectations this year. Now they finish 2nd in the SEC East and they have a lot of NFL talent. They're probably more athletic than we are coming into this game, hence the high expectations coming into this season. But, as far as who they beat, they beat a ranked Virginia Tech team, they beat a ranked – one of their rivals – Florida. And at that time, they were in the first place in the SEC East for quite a while. And then they went on a three game losing streak. They went down to A&M, and keep in mind, at the time A&M was a top ten team and they were down by three touchdowns, came back and forced an overtime before they lost. Then they went and played Alabama and lost 49-10 and that seemed to take the wind out of their sails. They followed that up with a loss to a 6-6 a struggling South Carolina team and they ended up the season losing to a 6-6 Vanderbilt team.
Now they're 8-4 and they are ranked so they are a good football team but they're a bit inconsistent and up and down. Now the only stat I'm going to give you for today cuz I'll get much more in detail as this month goes along and this game approaches is the total offense for Nebraska compared to Tennessee. We are ranked 85th in the country, they are 51st. Our total defense is 21st in the country and they're 109th. So we're a little bit more defensive oriented, they're a little bit more offensive oriented. But keep in mind – I've watched this team this year – Tennessee – it doesn't matter if they're down by 21. When they played Georgia, they were down by 21, came back, took the lead. They were gonna win, then they give up a deep bomb, couldn't believe they were gonna lose ... BOOM the Hail Mary, couldn't believe they won for a touchdown. It was unfrickin-believable! Never count this team out no matter how far we get ahead or how far we get behind. This team is a little unpredictable.
Now there was a hiring on the Husker coaches staff this week. Coach Mike Riley hired Donte Williams as an assistant coach. He's a 34 year old. He worked on the defensive staff for Arizona last year. He's regarded as one of the nation's top young recruiters and defensive coaches and has GREAT energy. I love his enthusiasm and everything I've heard about him in that department so far. He's going to be a cornerbacks and a sub-package specialist, so the nickel and dime package specialist. And this is going to allow Brian Stewart to shift his focus to the safeties solely next year and focus on them and defensive coordinator Mark Banker will return to just focusing on defensive coordinator duties. So I think that's going to benefit the entire defensive staff.
As far as the special teams coach, or positions, who's going to run that? Coach Riley is going to divide those duties among multiple coaches heading into next year. And that's how we did it in college. In the
NFL you tend to have a special teams coach. And I tend to think – I like a special teams coach cuz special teams is so important. It's a third facet of the game – it's very important but at the same time it allows you to focus more on these other packages. As long as it's broken up between the coaches evenly I don't really have a problem with it. That's how a lot of teams do it across the country.
Now, I will be off until Monday. Have a great weekend. Hopefully the Carriker Family gets healthy, I think I actually hear some people may be calling me on my phone! I hope you can't hear that – that would be very unprofessional. But until Monday, have a great weekend, Go Big Red, and always, remember to THROW THE BONES!
Views:
2017 views: