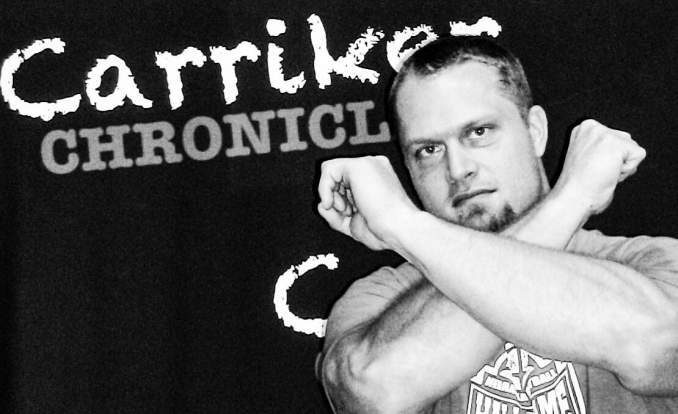 RETURN TO VIDEO 

Nebraska @ Iowa: Who's going to win?
Nov. 23, 2016 – Iowa week – Wednesday prediction
 
Welcome, Husker Nation, to your preview and prediction Carriker Chronicles for the Iowa vs. Nebraska football game.
Now, who's gonna play quarterback for us? When asked earlier this week at a press conference, Mike Riley flat out said "I don't know". It made me laugh. It made me chuckle. I think I just love the brutal honesty of it. But, part of me thought, let's give Adam Sandler a call, or maybe our water boy. Can he throw the football? I think if I remember that movie right Michigan tried to see if their towel boy could play a position as well. But it just kind of made me laugh. Hey, I was a high school quarterback – huh?
True story. When I was back for the Hall of Fame earlier this year apparently Danny Langsdorf had heard some of the stories of me throwing the football and some of the competitions I used to win and kind of embarrass certain quarterbacks in. And he comes up to me and he goes "so if we need a Hail Mary, are you ready?" I was like "Hail Mary, yeah."
But, there is always a silver lining. There's always a positive. And the positive to not having a clue who is going to play for us at quarterback right now is neither does Iowa. If I'm Iowa's defensive coordinator, am I getting ready for the legs of Tommy Armstrong, am I getting ready for more of the pocket presence of Ryker Fyfe. If Zack Darlington gets in, what can I expect from him? We know he's a dual threat quarterback; but I have not tape on him. So that is the silver lining, Iowa doesn't know who to get ready for. So, obviously we'd rather have Tommy or know who our starter is gonna be, but that's not possible.
Now, earlier this week Tommy and Zack Darlington split reps in practice, and as of Tuesday, Ryker Fyfe was expected – after breaking his left wrist and having surgery on Sunday – he was expected to be back at practice and is a possibility for the game on Friday.
As you know, as I just mentioned, I was a high school quarterback and my junior year I hurt my left wrist. So they put it in a cast and I had to play at quarterback. Steven Green, I love you, you're my boy; but you know this is true. I had to play because my backup quarterback Steven Green – if you wanted to go duck hunting and have him throw balls up in the air, that's what his balls looked like. And you're my boy; but it's the truth. I had to play. Luckily, we were a shotgun team. I don't know how under center would have worked with just one hand. I'd catch the ball with one hand and I'd throw it. Now luckily, nothing bad ever happened; but I did that for two weeks.
And my senior year I hurt my right wrist. And I played the entire year with it and it hurt. Big whoop, this is football, get over it. Had an X-ray at the end of the year, turned out I had broken my wrist that first game of the year. Then I had to wear a cast for 6 weeks. That thing was stinker than the twins' diapers combined and itched like crazy. So I would not suggest doing that.
But if you're Ryker, what do you need your left arm for? Put that thing in a cast. Tie it behind your back. Make sure it's protected and if you can play just make sure your right arm is free. Just don't call any option plays, that could get a little bit dicey.
But in all honesty, obviously, Tommy's our first choice. Ryker's instilled confidence in Husker Nation after that Maryland game. If Zack Darlington does play, you gotta keep in mind, he's had some concussion issues and I believe that's why they moved him to wide receiver in the spring; but if you think about it, is that a lot safer than quarterback? Receiver is running full speed, safety is running full speed – those high-speed collisions so I don't know, maybe there was another reason; but remember, this kid was a top 15 dual threat quarterback recruit coming out of high school. A top recruit and Ohio State wanted him bad. Urban Meyer even went so far as to say you could be the next Tim Tebow.
Now I don't know if it's just me; but this game coming up against Iowa kind of reminds me of Nebraska vs. Kansas 1994. Tommy Frazier gets the blood clot. Brook Berringer's a question mark, comes in plays well, collapsed lung. Now we need walk on sophomore Matt Turman who hadn't really played at all. So what does Matt do? Takes care of the football, doesn't make a lot of mistakes, leads the Huskers to a low scoring defensive battle close win on the road at Kansas. That's really all we need this Friday from whoever is playing quarterback. Take care of the ball and let's just win a close game on the road.
Now, some of the guys who could possibly play – and I know Tanner Lee has to sit out this year because he transferred from Tulane; but I just want to mention he is my early season pick for next year – very early season pick – to be our starter next year. If you watched him at Tulane he was quite good.
Now, Patrick O'Brien could possibly play; but the coaches have made it clear they don't want to pull his redshirt and I agree with that decision. That will be a fun quarterback battle to watch coming in the spring though.
I look at a team like the Patriots and Brady's suspended the first four games. They have to play a guy named Jimmy Garoppolo who I had never heard of . What did they do? They go out and win games with their backup quarterback. He gets hurt. They got to play with their third string quarterback, what do they do? They go out and win. They end up 3-1 without Tom Brady, possibly, arguably the greatest quarterback of all time. I know, Joe Montana. We can have that debate later.
But, you talk about third string quarterbacks, what about Ohio State? They won a Big Ten championship game; beat Alabama in the Sugar Bowl; and won a National Championship with a third string quarterback who hadn't played much either.
We're going to learn a lot about our coaching staff this game. Because when they have to think outside the box, that's when you see how good coaches really are. I'm also going to throw it out there again for the third week in a row, because our quarterback position is up in the air again – wildcat. Tommy played against Minnesota – didn't need it. Ryker played well against, let's face it, it was Maryland and we didn't need it. We might need it this week so I'm going to throw it out there again.
One more name that has been mentioned this week as a possible person that could help us this week at the quarterback position is true freshman quarterback Lamar Jackson. Now, in his last three years of high school he played quite a bit of quarterback. He was a quarterback/running back. And during those three years he threw for over 2,000 yards and over 20 touchdowns. Obviously he's got some speed as well, so there's another possibility.
As far as the game itself, Iowa is favored by 3. And everywhere I look people are picking Iowa. Can't really blame them, we don't' even know right now who is going to play quarterback for us. Can't really fault people for doing that.
But looking at the game and breaking it down myself, I look at some of Iowa's scores when they played good opponents. When they lost to Wisconsin the score was 17-9. When they beat Michigan it was 14-13. Low scoring, close football games.
Now, this could be a situation like when we played Wisconsin and I said the first team to get to 20 points would win. It could be a situation where the first team to get three scores wins. So the first team to 17 points could win, or even 9 points. I guess three field goals is technically three scores. But you get what I'm saying, with Iowa's lack of a passing game and the injuries they have along their offensive line and our quarterback situation being more confusing than an MIT crossword puzzle, it could be a situation where the first team to 14 points wins this football game.
Now, my prediction for the game and I'm just going to flat out and tell you and be honest, it's a homer pick. And why is it? First time I've said it all year, because this is going to be low scoring, close a defensive battle, so it could go either way. The only way I see someone getting blown out is if one of our backups plays and they turn the ball over a lot. Outside of that, it's going to be close. And if the game can go either way, I'm going to err towards Nebraska. Hence, the homer pick. And I'm unapologetic about it.
So I'm going to say Nebraska 17, Iowa 14.
For the third week in a row I'm going to say I don't care if it's rear end ugly or super model gorgeous, and I'll say it again – we just need to find a way to win this football game.
Be sure to tune in Friday after the game, because I'm going to be doing my gut reaction video. It's a video I put out within 30 minutes of the end of the game. So within 30 minutes of the end of the Iowa game I'll be posting a gut reaction and all it is a 90 second video. I usually have a guest; people seem to enjoy the guest. It's not my official breakdown, the offense, defense, stats and all that. It's just my initial gut and emotion reaction and I'm joined by a guest. And I'm going to be joined by two guests this week and I keep it to 90 seconds. I'm not quite sure how I'm going to do it this week; but I think you guys will enjoy it twice as much as normal.
And, also on Saturday, I'm going to be putting out my official game recap and breakdown on Saturday morning, and that's where I break down the offense, defense, stats and all that good stuff. So I'm going to be putting it out on my Facebook and Twitter between 8:00 and 8:30 a.m. on Saturday morning depending on what time I wake up. I don't get to sleep in too much with the kids, honestly. By the time I get the video out, I should say. Between 8:00 and 8:30 on my Facebook and Twitter, you can also find it on HuskerMax as well.
So, until Friday for the gut reaction and Saturday, Go Big Red, and always remember to Throw the Bones!
Views:
2017 views: