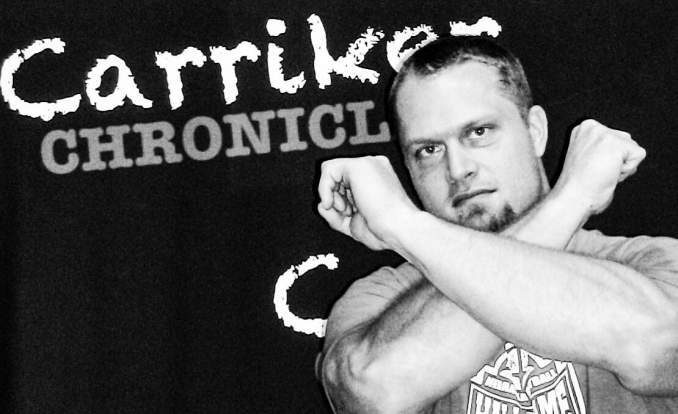 RETURN TO VIDEO 

Huskers-Terps game review
Nov. 20, 2016 – Maryland game – Armchair Quarterback Sunday
 
Welcome, Husker Nation, to another Victory Armchair Quarterback Sunday edition of the Carriker Chronicles.
It was great to see the Huskers finish the season undefeated at home. And it was also very nice for me personally, and probably for those of you who watched the game yesterday as well to not have to be on the edge of your seat the entire game. We got up, we got up early, you could sit back, you knew you were going to win and just enjoy the football game. I enjoyed that part of it.
Now, we just appeared to just be better, just to be more athletic at this point than Maryland was. They seemed a little bit overmatched. They did come into this game with a true freshman quarterback who had not played since the fourth quarter of their first game of the season way back in September. Now Maryland started out 4-0 this year. I know a lot of people back in that DMV area (Washington, DC, Virginia, Maryland area) and they were pretty proud and so we talked a little trash; but hopefully Maryland wins next week as that will make them bowl eligible.
But as far as the stats for this week, Nebraska outgained Maryland 401 total yards to 207. We had the ball for 39 minutes while Maryland had the ball for 21 minutes. Now this is a rush-first offense that the Blackshirts were playing -- an offense that averages over 200 yards rushing a game in the Maryland Terrapins. The Blackshirts held them to a total of 11 yards rushing. And they averaged 0.4 yards per rush.
Now some of the individual performances that stood out to me:
Ryker Fyfe. He appeared very poised. He had a QBR of 94.9 and he runs better than I thought he would so I have to give him credit for that.
Everyone else on both sides of the ball, offense and defense, they all stepped up their game and all played as a team and you could tell they all rose up around Ryker and played well.
Terrell Newby. Very impressive. His 50th game he has played in as a Nebraska Cornhusker. Ever since his first game as a freshman he's played in every single game -- all 50 games. I don't know that anybody's ever done that, a total of games. I don't know. I'd have to look that up. Pretty impressive.
I was also excited to see the emergence of Tre Bryant starting to show what he could do. A very talented freshman. I'm excited for his future. Excited to see him show what he could do just a little bit on Saturday.
From what I understand, Devine Ozigbo was cleared and good to go on Saturday. He didn't play, not sure why. I'm sure we'll see him more against Iowa.
Jordan Westerkamp: 8 receptions, 85 yards and a touchdown. This guy he just continues to climb those record books in the history receiving column as far as a receiver at Nebraska. He's had some injuries this year as well, from his back, he was holding his ankle, his knee at the game. He's like Tommy Armstrong, a warrior. Just keeps showing up, just keeps fighting through. Love that kid, as everyone else does.
The Blackshirts played well as a whole. They had 5 sacks as a defense. Ross Dzuris, a walk-on. Love this kid. He leads the defense with 5½ sacks. The walk-on program is alive and well, strong and kicking still to this day at the University of Nebraska and I love that.
It was good to see Freedom get a couple of sacks and kind of have a breakout game for the first time this year. That kid's got a lot of potential and I'm excited to watch him going forward as well.
The only issue I saw on the defense was the big play for the touchdown that they gave up to the Terrapins. I believe it was a screen pass about 90 yards and the biggest issues we had were missed tackles and not leveraging the football on that play. That's what killed us and gave up the big touchdown play. Otherwise it would have been 28-nothing, a shutout; but outside of that play the Blackshirts played pretty well.
You know what's interesting -- I'm having trouble reading my notes if you haven't noticed. In 5th grade I got all A's and B's on my report card. I had one C. You want to know what it was in? Handwriting. My dad was so mad and 20 years to this day, I'm still having trouble reading my own notes. My old teacher Mrs. Francesca would be very upset with me.
But anyways, I digress. I don't want to say that the Huskers quit playing, as I don't think they quit playing partway through the game; but the level of intensity definitely backed down as the game wore on. But that's kind of natural. But they have to maintain that against Iowa and whoever else we play the rest of the season.
They did average 4.0 yards per rush, it was OK. I think had they maintained that level of intensity as the they'd have been more successful as the game wore rushing the ball up the middle between the tackles (which we need to do consistently going forward). It would have been more towards 5 yards a carry. But I think I was pretty happy with the performance, I'm sure you at home were as well.
Now, be sure to tune in tomorrow. We have a different schedule this week because of the holiday week. Monday, Wednesday, Friday. Not Sunday, Tuesday, Thursday. Monday, Wednesday, Friday. Tomorrow is a blooper reel of the Carriker Chronicles. My wife -- big shout-out to my wife, Angie Carriker, who edits all these videos -- she also kept track of all my mistakes. She put together a two minute behind the scenes blooper reel which I'm sure you guys will enjoy tomorrow. So check that out.
Wednesday I will give my prediction for the Iowa game and Friday another gut reaction video with some more special guests. I'll keep that video short; but I'm sure you'll love that as well.
Oh, I almost forgot, hey Iowa, you're next!
Go Big Red, and always remember to Throw the Bones!
Views:
2017 views: