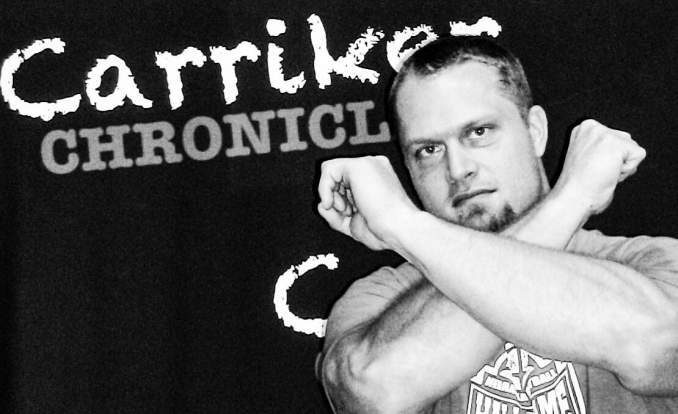 RETURN TO VIDEO 

Minnesota game recap & breakdown
Nov. 13, 2016 – Minnesota @ Nebraska
 
Hakuna Matata, Husker Nation, and welcome to a victory Sunday edition of the Carriker Chronicles.
Now, in my opinion, this game against Minnesota was the most important game of the season so far; maybe not the biggest but the most important, and I'll tell you why.
Look at what Nebraska can do the rest of this season. They have the opportunity to go 10-2 and get in a major bowl game for the first time since 2001. And depending on what happens in that bowl game or the rest of the season, a possible top ten ranking when the final rankings come out. Now that would be the first time, and arguably, it could be the best season Nebraska's had in the past decade and a half – the past fifteen years.
Now, if Nebraska had lost to Minnesota on Saturday it would have been their third loss in a row, it would have been the third time they lost to Minnesota at home in a row, and following what happened at Ohio State – that little embarrassment there, this season could have really spiraled out of control. So I think this was a very important victory for the Huskers.
Now for me it all started with Tommy Armstrong – probably you too, no shocker there. We were wondering all week – is he going to play is he not going to play? He gives us the best opportunity to win. And that's no slight to Ryker Fyfe; but when 2+2 = 4 you can't argue with math, it's just science. The fact of the matter is Tommy's the difference between a win and a loss in this football game.
And my favorite stat for Tommy from this game was three total touchdowns to no turnovers. He was the MVP of the Minnesota game. And in my opinion, I think he's earned it, the team should name him a team captain going forward.
Now, as a general whole we outproduced and outgained Minnesota by over 100 yards. We had 374 yards, they had 265 yards. The Minnesota running back coming into this game (Rodney Smith) check out his last four games – check out these stats – he had 508 combined total rushing yards and 8 total touchdowns. Now the Blackshirts defense held Minnesota as a team to a total rushing effort of 85 yards and only 2.5 yards per carry while the Huskers themselves almost doubled that with nearly 5 yards per carry. And for me it really started up front along the defensive line and Kevin Maurice and Stotltenberg. They played some of their best football of the year against the run and really controlled the interior of that Minnesota offensive line. And the running game, our offensive line showed that they can be a little bit better when they get healthy. And the return of Jerald Foster – or the debut if you will of Jerald Foster, a guard – I think helped a lot. He played very well. He hurt his knee in August and was thought to be gone for the year but was able to come back and play in this game and he played very well.
Now, as far as the defensive line as a whole, I would like to see a little bit more consistent pressure with just the four-man rush. But when the Blackshirts mixed up their blitzes and they blitzed, they did confuse and they did get pretty good pressure on the Minnesota quarterback.
Now something that did stand out in this game to me, as I'm sure it did to you, was the penalties, there were 8 penalties for 80 yards. It basically gave the Minnesota Golden Gophers 10 points in this football game and it nearly cost us this football game in my opinion. The Huskers were a little bit undisciplined in this area, but some of the calls by these referees was like they came out of a cockatoo's rear end in my opinion. The personal foul call on Cethan Carter – the guy flopped, the guy should be in the NBA for goodness sakes as good as he is at flopping. The pass interference call – this ain't two-hand touch. It ain't flag football, ladies and gentleman. And the punches that some of the Minnesota players got away with and no flags were thrown – absolute joke.
You look at the first drive Minnesota had in that football game – 14 plays. They took almost half the quarter. Their longest touchdown drive of the year. The longest touchdown drive that the Blackshirts have given up all year. Why? Because we actually stopped them twice on two third downs and should have forced them to punt. What? Penalties extended that drive, ended up giving Minnesota their first touchdown of the game.
Mike Riley, Mr. Riverboat Gambler himself, goes for it two more times on 4th down and it leads to two touchdowns – our first touchdown in the first quarter and our go-ahead touchdown in the 4th quarter. Now I would have personally kicked that field goal; but hey, I got no problem with a coach who tries to win the game and isn't afraid of losing it. The issue I had was on second down, 2-1 leading into that 4-1, that third down, we passed the ball. We got to be able to run the ball in those situations. That was my biggest issue; and in the first half we seemed to pass the ball a lot more than we ran the ball. I believe it was 14 passes to only 8 runs. We ended up about 50/50 playcalling; 53 percent of the time we actually ran the football by the end of the game.
But here's something that we are all aware of. We are a fourth-quarter football team. I wish we'd be a little more consistent the first three quarters. That would be really nice; but in that fourth quarter, the Blackshirts defense is number 1 in the nation, only giving up 20 points in 10 games so far this year in the fourth quarter. Let me give you a little N-is-for-Knowledge basic math. Twenty points, 10 games, that means we give up an average of a safety every fourth quarter of every game.
Now, coming into this game on Saturday I asked, well I said, I predicted, there would be a butt whupping on Saturday. But I asked, would we supply the butt or bring the whupping. And I also said I didn't care if it was supermodel gorgeous or rear-end ugly. We needed to do whatever we had to do to win this football game. Now we definitely didn't supply the butt to this whupping and I wouldn't call it ugly or gorgeous. What I would call it is a great freaking win.
Now until Tuesday's show, just so you know the Carriker Chronicles are now Sunday, Tuesday, Thursday – 3 days a week, every other day. So until Tuesday's show, Go Big Red and always remember to Throw the Bones!
Views:
2017 views: