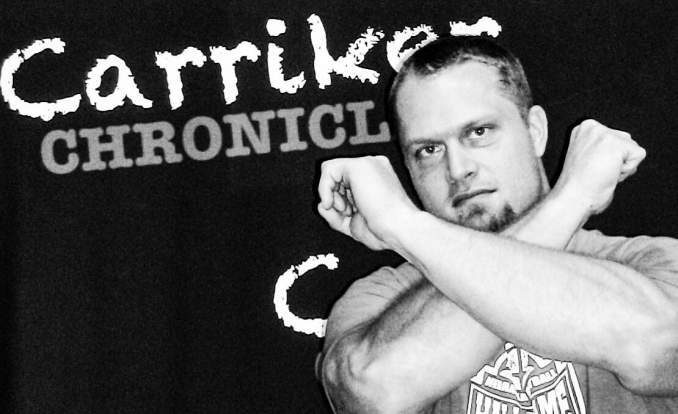 RETURN TO VIDEO 

Carriker's Keys to the Game
Nov. 10, 2016 – Minnesota week – Prediction Thursday
 
Welcome, Husker Nation, to Prediction Thursday, and today I'm going to give you Carriker's Keys to the football game on Saturday – my keys to the Nebraska-Minnesota football game this weekend.
As of right now, I don't know who is going to be the starting quarterback, which leads me to my first key, which is on the offensive side of the football. I'm not going to spend a ton of time on the offensive side of the football, because as I started to break down my prediction I started to realize I'm not going to change much from what I said on Tuesday. And Tuesday I addressed what needs to happen if Ryker Fyfe starts instead of Tommy Armstrong. And even though Tommy gives us a much better chance of winning, I wouldn't change the game plan going in if I was the coach – or the keys to the game all that much offensively, and I'll tell you why.
The last 4 games leading into the Ohio State game, Tommy's stats were 49.5% completion percentage, he was passing for just over 200 yards a game, he had 3 touchdowns and 6 INTs. I remember at one point this year I was happy because he had 11 total touchdowns and 1 INT. He just hasn't been playing well lately throwing the football. I don't think we can count on either quarterback through the air for us. I think Tommy gives us the better chance to win, but I wouldn't change the scheme a whole lot whether it's Ryker Fyfe or Tommy Armstrong.
The things that would be different are Tommy gives you the deep ball. He's got the stronger arm; you don't have to be so conservative with short passes like you'd have to be with Ryker. And also I talked about the wildcat on Tuesday's video – check that video out if you haven't seen it. I talked about the wildcat. I would still run that, you just wouldn't have to run it as much with Tommy under center. But I'll be honest with you, I like the idea of putting Zack Darlington and De'Mornay Pierson-El back there, two guys who were high school quarterbacks who could run and throw with the football, and let's ignite this offense. Let's do something Minnesota's not ready for. This offense has been struggling, we have to do something different to get it rolling and I just don't think it's going to be through the air. So let's do something different on the ground. And also it protects Tommy. We see what happens when Tommy gets knocked out of football games – it doesn't go well. So the less hits he takes the better it is for the team as a whole.
I watch a team like Navy who doesn't have the talent we do and the run the ball 90-95% of the time and they have been having a really good season and they're a really good program. I remember watching a certain team growing up who ran the ball 90-95% of the time and they won a whole lot of games and a few championships along the way – that certain team.
Now, we can throw the ball a little bit more than that, but I think you know what I'm saying.
My second key has to do with the defense, and it ain't hard. Get back to playing solid defense like we were before we played Ohio State. Don't give up the big plays.
The third key – defense again. Get off the field. Third downs and turnovers. It ain't complicated. We've led Division I in interceptions multiple times this year. We don't have to lead it every week, but we need to take that football away and get back to that being our calling card.
Number four, nothing fancy about it. And it may be the most important thing about this Saturday's game. It's a gut check. It's a heart check. Do you know that in the past 15 years since 2001, 7 times we have given up 62 points or more? What I remember about last year was that Purdue game. One of the worst losses we've had in recent Husker history, and what did this team do? They came out fighting. They came out swinging and they followed that up with one of the biggest wins against Michigan State the very next week that we've had in recent Husker history. The question is, how is this team going to react?
The only thing that would be worse than the Ohio State loss on Saturday is losing to Minnesota on top of it. Just win. Just find a way to win. I don't care if we run the triple option every play and we put the kicker at quarterback. The score could be 2-1. They don't get the touchdown and kick the extra point. It could be 100-99, I don't care. Just find a way to win.
This is about heart. If the Patriots can win games with their second- and third-string quarterbacks and Ohio State can win a national championship with their third-string quarterback, who had never started a game in college football, we can find a way to beat Minnesota if our program is truly trending upwards. Not gonna be easy, but it can happen.
Now, you want my prediction for this game. My prediction for this game is simply this. I gave four keys. Find a way to ignite the offense; I think that's through running the football because I don't trust us throwing the football right now. No big plays on defense. Get off the field on defense. Come out and play like your season depends on it, 'cuz it just might. If we do those four things, or even three of those four things, we're gonna win the football game. But if we don't, it doesn't matter who is under center, we will not win the football game. Now I'm not dodging a tough question, you know me, I'll give my opinion. I'm not just going to conjure up an answer. I don't know who's starting at quarterback and I don't know how this team's going to respond to that Ohio State loss; I'm not in that locker room. But that is my prediction based on what the team does.
Oh, by the way, this is my dad's favorite hat. Fifteen years old and it's still pretty awesome.
I didn't give a lot of stats, but sometimes you just gotta fasten that chinstrap, lace up your cleats and hit somebody in the mouth. What I can guaran-frickin-tee: It's gonna be a butt whooping on Saturday. We're going to bring the butt or the whooping.
Go Big Red, and always remember to Throw the Bones!
Views:
2017 views: