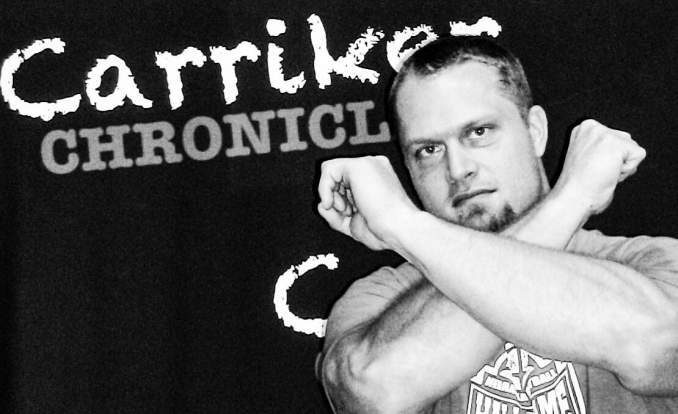 RETURN TO VIDEO 

Carriker Chronicles transcript
Nov. 8, 2016 – Minnesota week – Wild-Card Day
 
Welcome, Husker Nation, to your Wild Card Day of the week.
As we know, Tommy Armstrong is currently day to day. So today I'm going to be discussing what needs to happen and what can we expect if he is unable to play on Saturday.
So first things first, Tommy, I wish you a speedy recovery, my man.
Now I had several people hit me up on Facebook and Twitter and ask me about Patrick O'Brien and my response is I would not burn his redshirt. There are too many unpredictable elements and variables if you were to start a true freshman, or play a true freshman, at this point of the season who has no experience. Keep in mind, he's behind Ryker Fyfe on the depth chart for a reason. He showed last spring he has a lot talent and potential, he also showed he still needs some time for room and growth. But as we know, if Tommy doesn't play on Saturday, Ryker Fyfe will be the starter and Zack Darlington, who is a dual threat quarterback who just moved over to wide receiver this past spring, will be the backup.
Now, let me give you a little bit of background info. about Ryker Fyfe so far this year. He has 23 total pass attempts this season. Against Ohio State he was 5 of 18 for 52 yards and had an interception returned for a touchdown. Last year against Purdue he had a start and he threw for 407 yards. He had 4 touchdowns. He also had 4 interceptions.
Now, what needs to happen if Ryker starts on Saturday? The first thing that needs to happen is we need to find a running game and we need to find a running back. And it all starts with the offensive line up front.
We need to get these guys healthy and we need to start developing some depth with the offensive line as well. These guys up front have been getting beat like some scalded dogs lately, that's just the truth of the matter. And they need to start playing better. We need to be able to run between the tackles and we need to be able to start running the football. Now this carousel of running backs we have in the backfield with Ozigbo and Newby and the occasional Mikale Wilbon and Tre Bryant. It's just not working. Guys don't get into the game. Guys don't get lathered up. It just doesn't work when you keep playing guys like that. Think about it, Newby's best game was when Ozigbo was hurt. Why? Because he was into the game, he was ready to go. I have no problem with a two back system, kind of like thunder and lightning if you will. Ozigbo as your power back and maybe Newby as your speed back if you will. Especially in certain situations in the game, I'm completely cool with that. But I would not use more than two running backs in the football game going forward.
Now, I have had several people also ask me, do we have a chance at winning if Ryker Fyfe starts on Saturday. Obviously Tommy Armstrong gives us our best chance; but if Ryker starts, yes, we have a chance of winning the football game. I do wish they'd develop the backup quarterback-much like the offensive line – a little bit more than they have and he'd got more experience.
Now, we've had a bunch of close game this year and last year, so I'm not sure when that would have happened. Now I know he played a little big against Wyoming; but we pulled away from Wyoming by the 4th quarter and he could have got more reps. Fresno State we pulled away and he could have got more reps. I just wish he could have been developed a little bit more for a scenario where Tommy, if it happened, is unable to play.
Now, he does have experience against Ohio State, the start against Purdue. Not great experience. But let's be honest, neither quarterback has played well in the last two games that we lost. In fact, in those two losses we are 21 of 64 passing. Our completion percentage is 32.8. We've thrown 4 interceptions and we have a total of 279 passing yards. We are now 123rd in the country in completion percentage at 49.2.
Now, what else needs to happen if Ryker starts on Saturday? We need to get the running game going, we need the offensive line to play better, and he just needs to be a game manager. Just take care of the football. If he walked out of Saturday, if he started; and without a turnover, I would consider that a big win. And let that – one of the best receiving corps in the Big Ten conference – help you out.
If he does play, what can we expect? What we can expect is a lot of short passes. I would expect the coaching staff to try to get the running game going; and probably not a lot of big plays. Now keep in mind, we are also playing Minnesota and they are basically Wisconsin with a little bit less talent (no disrespect). But think about it. They run power, power, power with jet sweep. Well where have we seen that before? They're going to run the same plays as Wisconsin, they just won't break the big plays like Wisconsin. So what we can expect is a lot of conservative play calling. A lot of plays; but not a lot of big plays, which will make the game much closer. If we take care of the football we have a decent chance of winning the football game.
Now, I'd love to see Zack Darlington get in the game. Why? Dual-threat quarterback. Little zone read, little triple option, put the fullback in, run a little power option huh? Even the old wildcat. The NFL coaches struggled to stop it for so long because they didn't expect it, they didn't know it was coming. Put De'Mornay Pierson-El back there and let's see what happens. I think we could have some excitement, especially since Minnesota won't be ready for it. We've never shown it.
In my opinion, Nebraska basically needs to basically "Just Ball Out, baby."
So until Thursday, Husker Nation, Go Big Red and always remember to Throw the Bones!
Views:
2017 views: