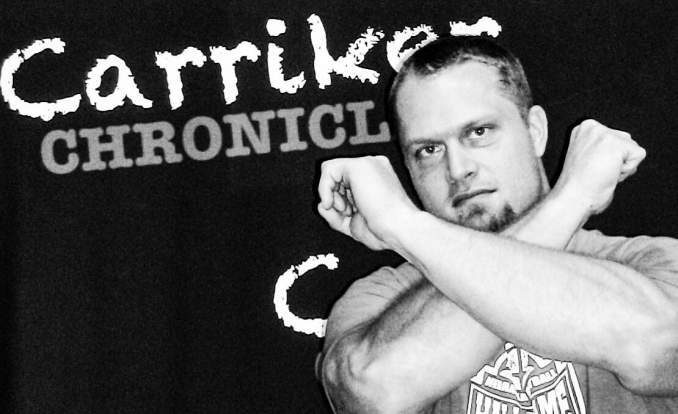 RETURN TO VIDEO 

Carriker Chronicles transcript
Oct. 30, 2016 – Wisconsin game – Armchair Quarterback Sunday
 
Welcome, Husker Nation, to a Sunday edition of the Carriker Chronicles – Armchair Quarterback Sunday.
Just to give you a brief heads up before I get into the game, everything's a little bit different. My grandpa's funeral was yesterday, as most of you know. I'm at my aunt Bonna's house and I escaped into a room away from the crazy Carriker family. Love being around family; but a bunch of us here, kind of a big reaction to the end of a game so I had to escape into where my parents are staying in their room.
Real quickly, a little bit of show business to take care of. Because of that, I'm only going to be doing three Carriker Chronicles this week. So instead of going Sunday through Thursday it's going to be Sunday, Tuesday and Thursday. Three shows this week. So, be sure to check each one of those out. They will all be just a smidge longer because of that.
Right off the bat, going to get into the game now. Saw a lot of, I was one of them, wasn't too thrilled with the refs. Not going to make a bunch of excuses. Didn't like a bunch of the calls, a lot didn't go our way. That's football, I don't like it. Not gonna make a big deal.
I thought Nebraska played well. I thought Nebraska earned respect in this game. A top 11 team on the road, well respected team that's beaten us pretty bad in the past and we played them right down to the wire. Easily coulda shoulda woulda won the game, but I think we earned respect tonight. I'm proud of that.
I almost look forward to that Ohio State game a lot more than I did before now. I was already looking forward to it. They are very beatable and we are capable of beating that football team.
We gotta give Wisconsin some credit. Wisconsin is a good football team. There is a reason why they are rated where they are rated. Their defense is legit. Their defense is really good. We come into this game averaging 34 points a game, almost 450 yards of offense a game and they hold us to 17 points and just over 300 yards of offense in this contest. And, I mean, we ran 75 plays. They had 61 plays we had 75 plays, we ran 14 more plays than them. I have yet to see a time this year where we lose the time of possession. Just kind of a random stat, random fact. We always seem to run more plays and we seem to control the clock. So that's a good thing; but give Wisconsin credit. They are a very good football team. Um, I don't like saying it; but give them credit.
Tommy Armstrong didn't have a phenomenal day. He had just over I believe 154 yards passing. He had some batted balls, a couple picks, stats weren't that great. I just wish they'd work on his footwork. At this point you know his mechanics are what they are to a certain point, but why is his footwork – that's something you can work on – why is that not better? But I still love the kid, still love his heart.
In fact, you could argue we had trouble running the ball up the gut today and I know play calling on 1st down was a little predictable. Play calling at the end of the game – why weren't we more aggressive trying to get that field goal? Instead of almost playing to get to overtime or we hit the deep bomb or clock runs out and we get to overtime. And then in overtime I wasn't crazy about the play calling there either. A little predictable throughout the game. Couldn't get much going up the gut, seemed to be we were almost trying to out-Wisconsin Wisconsin at times. We seemed to have success on the edges at time, whether it be Tommy running or some of the other guys to the edges. And really, the only thing we had success with continuously throughout the game was the zone read if Tommy could keep the ball. So give Tommy a little bit of credit for being able to create some things with his legs.
I thought the Blackshirts played pretty well for the most part. Carlos Davis looked good; I hope he's going to be all right. We did give up over 200 yards rushing, almost 6 yards per rush. That is probably the biggest take away from this game, that's what Wisconsin does. They play good defense and they run the football. They held Wisconsin to 115 passing yards, which is really good defensively. Nate Gerry is just a BEAST. The guy had two interceptions. I'm just going to say, he walks around like a bad A mo fo and I love it; and that's the PG version ladies and gentlemen, I kept it PG.
Bottom line is, I'm proud of this team. This is a game where we fought hard. It was a close game. Yes, the refs. Yes, play calling. But I think we earned a little bit of respect today. Obviously, I'd rather get the win; but I'm looking forward to that Ohio State game. Like I said, they look very beatable.
And like I said, three Carriker chronicles this week. Sunday, Tuesday, and Thursday. Be sure to check out the Thursday Chronicles because I'll be breaking down the upcoming Ohio State game. Not sure what I'm doing for Tuesday yet. Heading back home tomorrow, can't wait to see Angie, my wife, and the rest of the kids. Had a fun time with the extended family; but I'm ready to head home and see the kids.
So, until Tuesday, Husker Nation, Go Big Red and always remember to Throw the Bones (that's how you do it selfie-style, I guess). Throw the – I can't do it – Go Big Red and always remember to Throw the Bones, baby!
Views:
2017 views: