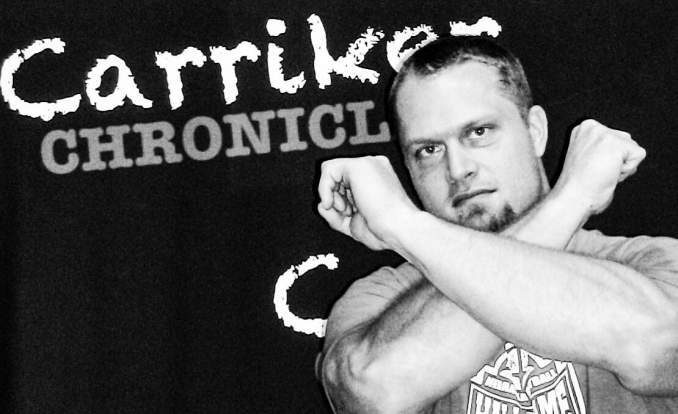 RETURN TO VIDEO 

Carriker Chronicles transcript
Oct. 18, 2016 – Purdue week – NFL Huskers update
 
Welcome, Husker Nation, to your weekly update on Huskers in the NFL.
I was blessed and fortunate enough to spend quite a few years in the NFL. I spent just under the last half decade of my career in DC, so I still keep my eye on the Washington Redskins each and every Sunday, along with all my other Husker brothers across the league. And a couple guys that I played with I want to give you an update on today and share some behind the scenes stories as well: that's Will Compton and that's Niles Paul.
Now the Redskins are currently 4-2. They are second in the NFC East and they're riding a 4 game win streak as of right now. Will Compton was an undrafted rookie free agent in 2013. He was released by the Redskins at the end of training camp; but then re-signed a couple days later. He spent his rookie year on the practice squad.
Now I want to share a quick story about Will. I remember the first time I met him. I saw him in the locker room. He was one of favorite guys to watch at Nebraska. Went up to him, introduced myself to him, had a nice you know 2-3 minute chat; but it was right before his rookie mini-camp. And I remember walking out of the locker room; and most guys don't come back from a rookie mini-camp. Its 3 days and 90% of the guys are gone. So I remember looking back and thinking "I wonder if I'll see him here on Monday" because I think that was like a Thursday. Sure enough, he was there that Monday; and he's gone from a guy who didn't know if he'd be there 3 days later, a guy that was released and spent time on the practice squad, to a guy who is now the team's leading tackler so far this season for the Redskins, and a team captain. He's one of my favorite guys to watch in the entire NFL.
Now, Niles Paul. He was drafted in 2011 in the 5th round. In 2012 they moved him from a receiver to a tight end. In 2013 they moved him from tight end to fullback (not your typical position transition). 2015 they signed him to a three year contract and he was back at tight end. He ended up getting hurt last year. But he's back this year; and he, too, is a team captain for the Washington Redskins. Just like Will Compton, he's doing really well.
Now it's interesting, because the position transitions that he made are not typical or normal. That's what's interesting about these two guys to me: Will didn't even know if he was going to be there being undrafted – team captain, leads the team in tackles.
Niles Paul – all these transitions that he made from the different positions. The fact is he's one of the strongest receivers I've ever seen in my life. I once saw Larry Fitzgerald lunge 405 – that is no BS. Outside of Larry Fitzgerald, Niles Paul is the most physical and the strongest receiver I've ever seen. I've seen him bench 315. I've seen him squat 405 and I've seen him not just do it; but rep it out. He has a blue-collar smash mouth attitude. He's very physical. I'll never forget the first time he played tight end in a practice. They just moved him from receiver and kick off return and he had to block me. I remember his eyes got a little bit wide when he looked at me; but hey- he hit me right in the mouth and gave me everything he had, and I've always respected that.
I'm proud of these two boys and they represent what being a Nebraska boy is all about.
So Go Big Red, and always remember to Throw the Bones!
Views:
2017 views: