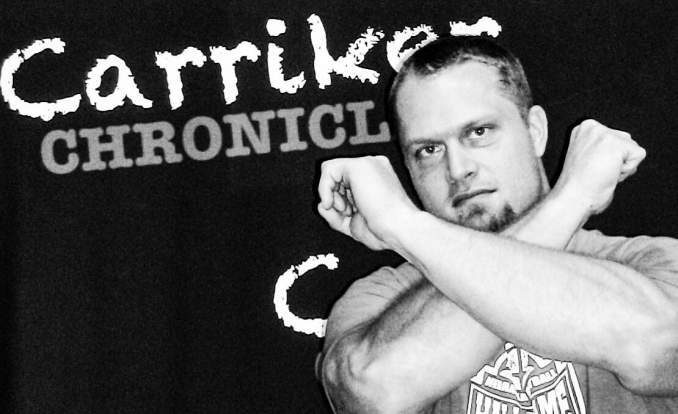 RETURN TO VIDEO 

Carriker Chronicles transcript
Oct. 10, 2016 – Indiana week – Blackshirt Monday
 
Welcome, Husker Nation, to Blackshirt Monday.
Today I'm going to give you my Mount Rushmore of defensive linemen who played at Nebraska. Now just to let you know, all these guys have a list of accolades that's about 82 miles long, so I tried to find stats and awards that were specific to each individual.
The first guy I want to talk about is Grant Wistrom, three-time national champion and voted a starting defensive end on the All Time Nebraska Cornhuskers team. He's first on the all time tackles for loss list in the history of Nebraska (58½ TFLs). And he's second on the sacks list with 26½ career sacks. He was my personal favorite player growing up. I always felt like he played like his hair was on fire and I loved it.
Next on the list is Trev Alberts, and he has more sacks than anybody in Nebraska history with 29½ career sacks. He's a single season sack record holder with 15 sacks his senior year. He has more tackles than anybody else on this list with almost 250 tackles; and he was the Big 8 Male Athlete of the Year. He's the only guy on this list that can claim a conference or national male athlete of the year. And keep in mind, a lot of these records he holds he did it and they played less games back then.
Next is Ndamukong SUUUUUH! His junior year he led the team with 76 tackles. Defensive tackles don't do that. But then he did it again his senior year when he led the team with 85 tackles. He was the AP Player of the Year his senior year – the first defensive player ever to win that award. He was a Heisman finalist (he finished fourth); and his 161 first-place votes were the most ever by an interior defensive lineman. Now he's having a great NFL career. This is about what these guys did in college, and these guys were dominant.
Next on the list is Rich Glover, a two time national champion. He was voted a starting defensive tackle on the Sports Illustrated 1999 All Century Team. And keep in mind, he played in a different era. Teams were running the triple option back then. I couldn't even find a sack stat for this guy. Why? Because they didn't start keeping it until 1982. But his junior year he had 92 tackles. His senior year he had 100 tackles. That's more tackles than Suh his last two years. He has more career tackles than Wistrom, and he did it in only three years; and Suh and Wistrom are two of the best ever. They did run the ball more back then, a la the triple option. He also finished third in the Heisman voting in 1972 (it's OK, Johnny Rodgers won that year). And that's the highest finish ever by a defensive lineman.
Now I've watched a lot of film on Glover and all I can say is "WOW"!
Now I was originally going to rank these guys 4 through 1; and if I was going to do that it would probably go in the order I gave them to you, which would be Wistrom, Alberts, Suh and Glover being number one. Now I know that's gonna upset somebody. But let's be honest: any one of these guys could be first and anyone could be fourth. There have only been 16 Huskers in history that have had their jersey retired. Four of them I just told you about.
I've only got one real question for you, Husker Nation, and that's "Whatcha gonna do, brother, when the Mount Rushmore of Defensive Linemen at the Blackshirt University run wild on YOU?!"
And always remember to Throw the Bones!
Views:
2017 views: