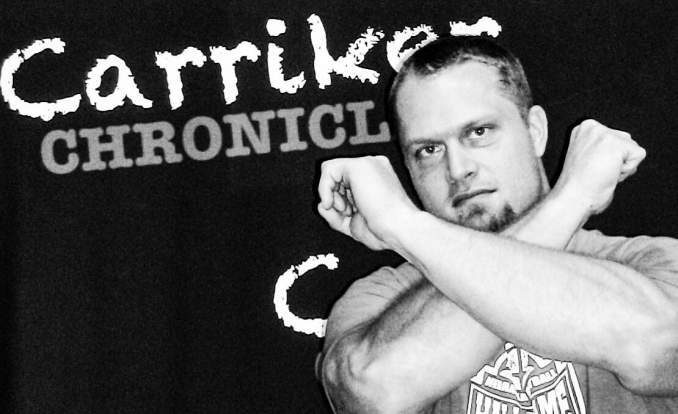 RETURN TO VIDEO 

Carriker Chronicles transcript
Oct. 2, 2016 – Illinois @ Nebraska postgame – Armchair Quarterback Sunday
 
Welcome, Husker Nation, to Armchair Quarterback Sunday, and for a while there I thought I was going to have to sit here and eat some crow, especially after my prediction last Thursday.
Now, thank goodness I don't have to do that.
But, in all honesty, Illinois controlled the first 2½ quarters of this football game and really outplayed Nebraska. The defensive line for the Illini, which has three guys that will play on Sundays, really controlled the line of scrimmage for the first 2½ quarters of the game. I'm sitting there watching the game, and had a feeling in my gut like I did a lot of times last year. Like, we're in a close game with a team we shouldn't be in a close game with, are we somehow going to find a way to lose this game like we did so often a year ago?
We had turnovers rear their ugly head again today – literally took points off the board inside the red zone. We had penalties that creeped up as well, especially at inopportune times. Tommy Armstrong had some decent stats; but you saw some good Tommy/bad Tommy.
But let's be honest – that's who Tommy Armstrong is; and we know that. I just feel like they, the Huskers, this year have played down to their level of competition at times; and I just hope that doesn't bite them at some point this year. But I really hope when we play Wisconsin and Ohio State and teams like that, we play up to the level of our competition.
But, I do think there's something different about the team this year. Instead of finding ways to lose like I felt like they did a year ago, I feel like they are finding ways to win this year, even though it can be ugly at times.
Let me give you some stats. They were down 16-10 in the third quarter and then proceeded to go on two very long touchdown drives. Those two drives alone chewed up almost 17 minutes off the clock. But to me the turning point of the football game was in that first touchdown drive: 4th and 1, inside Illinois' 5 yard line and Mike Riley goes for it instead of doing what conventional wisdom says – which is kick a field goal. Much like a week ago, when he went for it on 4th and short on our own 30 yard line early in the game against Northwestern. Bold moves by Mike Riley. We've converted both times. So far those have paid dividends.
But it's really a story of the first 2½ quarters, which Illinois controlled; and the last quarter and a half, which belonged to Nebraska. In the last quarter and a half Nebraska had three unanswered touchdowns. Terrell Newby had 16 carries for 113 yards in the 4th quarter alone. And in the fourth quarter alone, Nebraska had 151 total yards to Illinois' total of 19. And in the 4th quarter so far this year combined, Nebraska's outscored their opponents 78-6.
Nebraska's clearly a second half team; and I love that they're stronger and more conditioned. My concern is they're also a second half team because they don't entirely show up until the second half. And that needs to be addressed. I felt when the game turned is when they made it physical, smash mouth, power football; and that helped turn the game around.
Now I want to wish Jordan Westerkamp, Cethan Carter, Divine Ozigbo-everyone else who got hurt-a speedy recovery. This bye week could not have come at a better time. Be sure to tune in tomorrow to Blackshirt Monday; and until then-Go Big Red and always remember to Throw the Bones!
Views:
2017 views: