A former All-Big Eight quarterback at Nebraska, Turner Gill is in his 13th season at Nebraska and first as the coach of the Husker receivers. Gill previously served as the Huskersí quarterbacks coach for each of his first 12 years. In addition to coaching the receivers in the West Coast Offense, Gill will direct the graduate assistants.
In the past 12 years as quarterbacks coach at Nebraska, Gill has helped develop the skills of some of the finest quarterbacks in Husker history, including 2001 Heisman Trophy and Davey OíBrien Award winner Eric Crouch and 1995 Johnny Unitas Golden Arm Award winner Tommie Frazier. Frazier led the Huskers to two national championships with Gill on the sideline, while another star, NU quarterback Scott Frost, added a third national title.
Gill also saw great success on the field as a player. Nebraskaís starting quarterback from 1981 to 1983, Gill led one of the most explosive offensive attacks in college football history, as NU averaged 546.7 yards of total offense and 52.0 points per game in 1983.
His reputation as an excellent recruiter is also a proven fact. Tom Lemming named Gill to his "other big-time recruiting names," just outside of the top 10 list.
Gill led the Huskers to a 28-2 mark, including a 20-0 league record, and three conference titles during his playing days. A three-time All-Big Eight pick and a second-team All-American as a senior, Gill finished fourth in 1983 Heisman Trophy voting, while teammate Mike Rozier won the award. The 1983 team finished 12-1 and second in the final polls, just missing a national championship on a missed two-point conversion against Miami. In his career, Gill completed 231-of-428 passes for 3,317 yards, 34 touchdowns and a .540 completion percentage. He also rushed for 1,317 yards and 18 TDs.
Gillís success and experiences as a player have helped him shape the young men that have played for him at Nebraska, including the top three total offense career leaders in Nebraska history.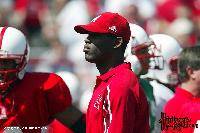 Jammal Lord set Nebraskaís quarterback rushing record with 1,412 yards while also passing for 1,362 yards in 2002. He became the third Husker quarterback under Gill to rush and pass for 1,000 yards in the same season, and finished with 5,421 total offense yards to rank third. Lord is the latest in a line of successful NU quarterbacks under Gill, beginning with Tommie Frazier.
Frazier was a first-team All-America quarterback and finished second in voting for the Heisman Trophy in 1995. He finished his career as NUís then-career leader in total offense, while leading the Huskers to a pair of national titles in 1994 and 1995 as he posted a 33-3 record as a starter.
Frost played only his junior and senior seasons with the Huskers, but earned league newcomer-of-the-year honors in 1996, before leading the Huskers to a national title in 1997. Frost finished his career with a 24-2 record as a starter and became the first Husker to rush and pass for 1,000 yards in the same season, a feat Crouch (2001) and Lord (2002) later matched.
Crouch (35-7) became the most decorated quarterback in school history, earning first-team All-America honors to go along with his selection as the Walter Camp National Player of the Year and Heisman Trophy winner. Crouch was also a two-time Big 12 Offensive Player of the Year and ended his career as one of just three players in NCAA history to rush for more than 3,000 yards and pass for more than 4,000 yards in his career. He also set an NCAA record for quarterbacks by scoring 59 career touchdowns, while shattering Nebraskaís career total-offense record.
Three of Gillís proteges Ė Frost (1996-97), Crouch (1998-2001) and Lord (1999-2003), were chosen in the NFL Draft, while Frazier (1992-95) was drafted by the CFL. Gillís development of excellent quarterbacks is far from his only asset. He is regarded as a strong recruiter, covering Arkansas, Louisiana and northeast Texas.
A talented all-around athlete, Gill spent two seasons with the CFLís Montreal Concordes (1984-85) and three years (1986-88) in the Cleveland and Detroit minor league baseball systems. He left baseball for the University of North Texas in 1989, where he was a volunteer assistant coach working with the receivers and earned a bachelorís degree in behavior analysis in 1990. He returned to NU in 1990 as a graduate assistant, then moved to SMU as a graduate assistant in 1991. He was the receivers coach that season, and was elevated to a full-time position before returning to NU in August of 1992. Gill has taken graduate courses at both SMU and NU.
Gill is married to the former Gayle DeBrie, of Kearney, Neb., and they have two daughters, Jordan, 14, and Margaux, 9.
The Gill File
Date and Place of Birth: Born on Aug. 13, 1962, in Fort Worth, Texas
Family: Wife, Gayle; Daughters, Jordan (14) and Margaux (9)
Education: University of North Texas, bachelors in behavior analysis, 1990; has taken graduate courses at Nebraska and SMU
Playing Experience: 1980-83, Nebraska; 1984-85, Montreal Concordes; 1986-88, Cleveland and Detroit minor league baseball systems
Coaching Experience: 1989, North Texas (volunteer assistant coach); 1990, Nebraska (graduate assistant coach); 1991, Southern Methodist (graduate assistant coach/receivers); 1992-2002, Nebraska (assistant coach/quarterbacks); 2003, Nebraska (assistant head coach/quarterbacks); 2004-present, Nebraska (assistant coach/wide receivers)
Recruiting Emphasis: Arkansas, Louisiana, northeast Texas
Callahan on Gill: "Iím pleased to have Turner aboard to coach the receivers. Turner has an excellent reputation, is an outstanding recruiter and will be an asset in coaching the wide receivers."