Best of the Decade: Claims to fame
Hall of Fame material? The Huskers had some during the 2010s.
It became more and more rare as the decade went on, but three dozen Huskers earned honors that someday could land them in the Nebraska Football Hall of Fame. The threshold for HOF consideration: All-America or first/second team All-Big 12/Big Ten status.
Ten of the 36 players earned first-, second- or third-team placement on at least one of the five NCAA-recognized All-America teams (Walter Camp, FWAA, AFCA, AP, Sporting News).
ALL-AMERICA
First team
Alex Henery, PK, 2010
Prince Amukamara, CB, 2010
Lavonte David, LB, 2011*
Second team
Jared Crick, DT, 2010
Spencer Long, OG, 2013
Ameer Abdullah, RB, 2014**
Randy Gregory, DE, 2014
De'Mornay Pierson-El, PR, 2014
Third team
Eric Hagg, DB, 2010
Nathan Gerry, S, 2016

* Second team in previous year
** Third team in previous year


For the 26 additional HOF-eligible players, the top honor was first- or second-team all-conference (selected by conference coaches or conference media panel).
Embed from Getty Images
ALL-CONFERENCE
First team (11)
Pierre Allen, DE, 2010
Ricky Henry, OG, 2010
Rex Burkhead, RB, 2011
Alfonzo Dennard, DB, 2011
Brett Maher, PK, 2011-12
Eric Martin, DE, 2012
Taylor Martinez, QB, 2012
Daimion Stafford, S, 2012
Ciante Evans, CB, 2013
Kenny Bell, WR, 2014
Sam Foltz, P, 2015

Second team (15)
Roy Helu Jr., RB, 2010
Cameron Meredith, DE, 2010
Niles Paul, WR/KR, 2010
Mike Caputo, C, 2011
Will Compton, LB, 2012
Jeremiah Sirles, OT, 2012
Baker Steinkuhler, DT, 2012
Stanley Jean-Baptiste, CB, 2013
Cole Pensick, C, 2013
Maliek Collins, DT, 2014-15
Drew Brown, PK, 2015
Alex Lewis, OT, 2015
Jordan Westerkamp, WR, 2015
Stanley Morgan Jr., WR, 2017-18
Lamar Jackson, DB, 2019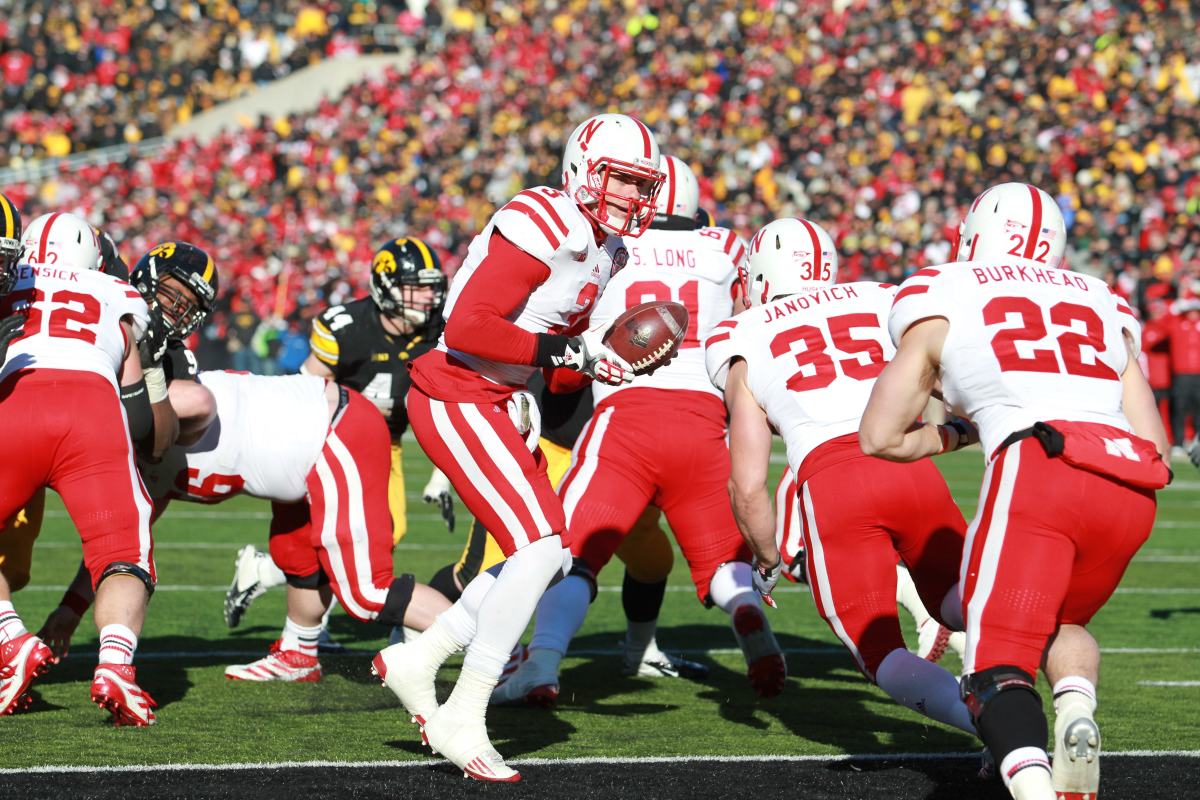 2012 at Iowa: Taylor Martinez hands off to Rex Burkhead as Cole Pensick and Spencer Long block. | Reese Strickland-USA TODAY Sports
Absent from the list is Nebraska's career leader in total offense, passing yards and passing touchdowns. Quarterback Tommy Armstrong Jr. holds those records and more, but the requisite conference accolades eluded him.
The decade ended with a four-year dry spell: Just three of the 36 players received HOF-eligible honors in 2016 or later.
NOTABLE
The three first-team All-Americans will be potential candidates for the national College Football Hall of Fame. Three is the lowest first-team total for the Huskers since the decade of the 1950s, and the current eight-season drought without a first-teamer is the longest since 1953-62. | Honors scorecard
The current streak of being shut out on first-team all-conference honors is the longest in program history.
Three Huskers were named to the FWAA Freshman All-America team: De'Mornay Pierson-El in 2014, JD Spielman in 2017 and Adrian Martinez in 2018.
Seven Huskers were first- or second-team Academic All-Americans. First team: Austin Cassidy (2010-11), Rex Burkhead (2011-12), Spencer Long (2013), Chris Weber (2017). Second team: Sean Fisher (2011-12), Jake Long (2013), C.J. Zimmerer (2013).
---
---
---