Anatomy of an Era: Troy Dumas, Part 2
Excerpted from Chapter 18, No Place Like Nebraska: Anatomy of an Era, Vol. 1 by Paul Koch
Troy Dumas, Part 2
Q: What differentiated us from the other great teams of the time?
TD: Well, we talked it, so we were gonna walk it. That was huge. I'll be frank about it: if you're gonna put it out there, you're gonna have to back it up, too. We sincerely believed that.
Q: Speaking of, there was the Unity, Belief, Respect, the We Refuse to Lose, and Unfinished Business slogans. Did you guys buy into that stuff?
TD: When the coaches came out with that it was something that we agreed upon, wanting to become of the same mind. I remember how Unfinished Business was, everybody wore that on their sleeve for the whole year and felt it and believed it. After coming up so short with the Florida State fiasco, how could they not buy into it?
Q: Florida State, you were on the special teams that game, right? What did you take away from that game?
TD: The biggest thing was that we were the underdog and came in and basically beat them – despite a couple of plays- and we came in there and played with them. Face it, it wasn't the best game that was called: crucial calls in that game didn't go our way, they were questionable. They didn't have instant replay those days, and it's unfortunate how it worked out. But we left there with the confidence to be able to sustain that level of play and compete with the Florida schools.
Q: This is a big 'what if', but if we had won it, do you think we would have repeated the next year?
TD: That's kind of tough. It could have went either way.
We had gotten to that point where we were a victim of our own success at that point, but we didn't know what to expect. Playing them so close, there's no question afterwards that we could play with these guys, so coming back next year we knew what to expect, what the standard was, so it was just a matter of taking all the steps to get there.
I'm not sure that if we'd have won that Florida State game if we would have won those back-to-back seasons. That '95 team was just a whole other ball of wax, there, too. (laughs) We were the epitome of college football, we had the best defense in the world, the fastest defense. We won like it was nobody's business.
Q: Makes you wish you would have redshirted!
TD: Absolutely, (laughs) we were knocking the crap out of people. It was just a work in progress, you know?
Q: What was it about that team? Was it effort, unity, talent?
TD: I would have to say effort and unity. We weren't the most talented team out there or the fastest, but we went 100% every play, we were gonna practice our tails off in the process, and we were gonna win. There was never a question before the game if we were gonna win. It was just, "How much are we gonna win by?" We were gonna hang in there and find a way to do it. It takes a lot to have 11 people on offense and defense on the same page.
Q: Everybody pulling the rope in the same direction gets a lot more accomplished?
TD: Absolutely, then when you add a little aggression to it, that 'I'm not gonna take any crap from you'-kind of thing. It made us tough to beat.
Q: Who gave us the best fight, if you recall?
TD: It would have to be those Miami teams. That was part of their whole deal, talking trash and whatnot. You never ran into a more mouthy group. That was their deal.
Q: Even on offense, they were talking smack?
TD: Their receivers, it was pretty typical.
Q: Verbiage that's repeatable?
TD: None of it's repeatable. (laughs) We'd be getting into race relations and all that…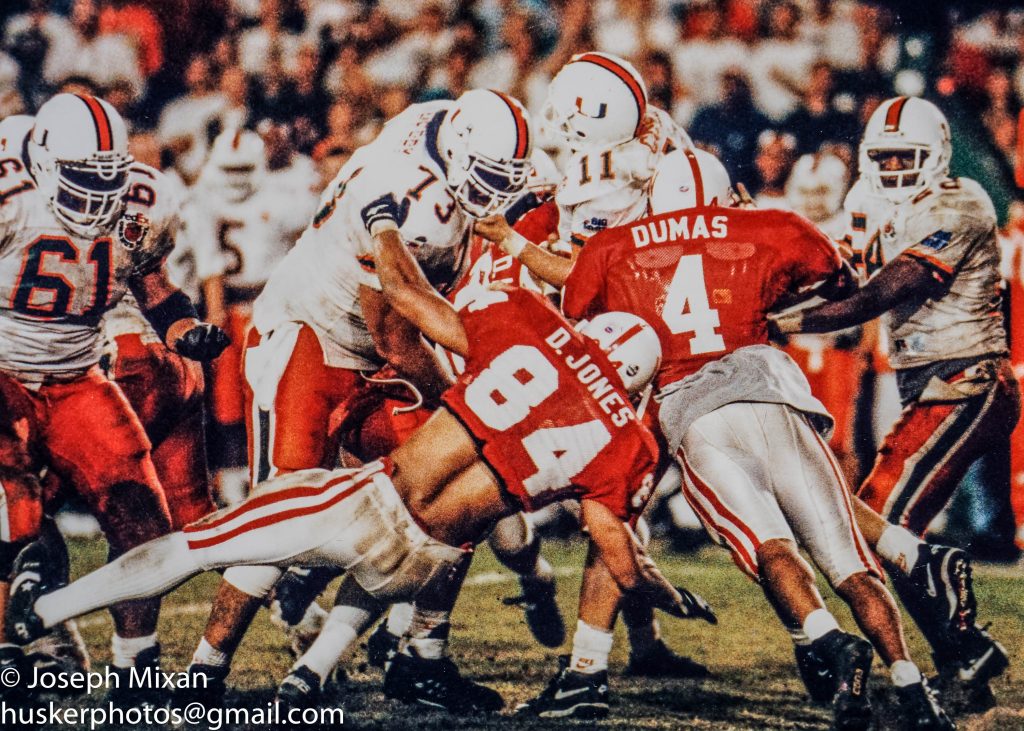 Going in for the kill (Joe Mixan)
Q: A favorite play from your college career?
TD: Well, it would be my first start as a sophomore at free safety against Arizona State, and I could have picked the ball off at the 5 yard line… and it just sailed through my arms. It would have been 95 yards smooth sailing.
Another one, my senior year, I returned one 54 yards or something like that, and then I got pushed out of bounds by a lineman. I caught a lot of crap about that, but we ended up close to the red zone, so that was okay.
Q: What about practices?
TD: I do remember Lawrence (Phillips). I had a clean shot on him (I was kind of off to the side), to blindside him. Most people, I'd be in that position and they were going down off their feet, you know? I remember hitting Lawrence…and it kind of threw me for a loop, because he kept running! (laughs) I mean, most running backs would have been eating the turf, but he was an incredible talent. He had a center of gravity that was low. I remember hitting him with everything I had and he kept going. It was like, 'Wow! Okay, I guess I'll have to knock him off his feet and wrap him up.' And Lawrence was really good. He obviously had some issues and whatnot, but he was one of those guys, he got along with his teammates. Outside that circle might have been a different deal, but he was fun to be around and it was friendship.
Q: Any other good practice stories?
TD: Not really. As far as defense was concerned, we had it in our mind that we were going to kick the offense's butt every day. We looked forward to doing that. I mean, we believed in our mind that we were the best defense in the nation. And they were facing our defense every day, and there were times they couldn't move the ball on us. I think they started to believe we were pretty damn good, too. They thought they had the best offense, so there were some battles. And everybody took pride in what they were doing, no question about that.
Q: What would you tell people about Coach McBride?
TD: He had a way of motivating his players, especially the day before or moments before the game. He had a way of talking to us and letting us know, always keeping in mind the tradition of the school, playing for your family and the people that loved you, that was preached to us every weekend. It was never just screaming, everything in the meeting was one tone. But when he was done talking he had you wanting to eat gunpowder. He always made you want to give 110%.
Q: Do you find yourself borrowing from Charlie now that you're a coach?
TD: Oh yes, you can't help but not. You kind of model yourself after them. All of them you picked something up from: Coach Samuel, Coach Osborne, Coach Mike Shanahan, Guenther Cunningham (the K.C. Chiefs' defensive coordinator), it's an interesting mix to pick things up from as far as getting your guys ready to play and motivated. I'd have to say I'm pretty intense and get them after it. As a player I wasn't all that vocal, (my roommates would always call me the 'Silent Assassin') but when I'm out there I want to go 110 miles an hour and knock your head off.
Q: One of my childhood heroes was Oakland Raider Jack Tatum, and they called him 'The Assassin'. (laughs) What about that mindset and attitude? Was it preached or was it coming from each player individually?
TD: It was pretty etched in stone when you get there. We were self-motivated as a team -the coaches kind of knew that- but for the most part were self-motivators and knew the kind of attitude you had to have to get the job done. It was basically already there, the coaches just had to fuel the fire. I just remember from the first day of practice, there was a practice tempo that required you to have a high motor. If you didn't have that you'd have a hard time adjusting.
Q: And other than that big fight when you were freshmen, any other off-field stuff from those days?
TD: Well, that was the biggest, most significant one the whole time we were there.
I remember Clester Johnson put on the greatest parties ever, they were just classic. I don't know what it was, but Clester was good at the communication skills and he always made his place the party to be at. He would only have two per semester but they were special.
Q: What about the defensive goals every week?
TD: We'd actually make them up. We'd all come up with our own individual goals, and it was something to go out there and try to meet them. And if we did, it meant we'd win. We'd always go 105 miles per hour and not worry about it, but they were set at a high level and we were going out there determined to play at a high level every game.
Q: What was the main, overriding goal?
TD: No touchdowns! We always felt that the offense only had to score 7 points per game. If they could do that we felt we could win.
Q: What about the grading process after each game?
TD: We had conversations about the goals we accomplished that game and we always talked about the ones we didn't, and tried to get that figured out. We had goals for scoring, passing yardage, running yardage, turnovers, those were the biggest ones. We'd usually hit most of them, too. Some of the passing teams would be a little higher, but we usually made our goals.
Q: Where would those goals be set?
TD: They were lofty, but we were thinking we could realistically attain them, too.
Q: What are most proud of?
TD: Just playing with the guys I had the opportunity to play with; such a unique bunch. You don't run into that very much these days. That's a hard thing to find. Kids are different these days and you have to think of ways to motivate them. I talk to them from time to time about how it was when I was a player and how close we were as a team. I preach that kind of stuff to them.
Q: Is there one shining moment in your career that really stands out as a favorite?
TD: It would probably have to be beating Kansas State my senior year, because we were down to our third-string quarterback and we were supposed to have our doomsday as a defense with Chad May. And we pretty much shot Chad May down that day. It was on national TV, an early morning game, and we had a chance to show the whole nation that our defense was no joke.
Q: That was even greater than the National Championship, the Miami game?
TD: Absolutely! If we don't win that game we don't even get in the national championship game.
It was the way Coach Osborne wanted things done. We were a family, man, that's the bottom line. Most people don't understand how close-knit we were as a team, almost freakish. There was something there that was truly unique. We had our team prayer, so we all had a lot of faith and bought into that. It was our staple before every game, and it got pretty emotional from time to time. That prayer evoked emotions, no question.
Q: Anybody behind the scenes who made a difference?
TD: I would just have to say it was the tradition rather than just one person. It wasn't anything that was really vocalized, you just knew when you got there, you knew that the position you played came with some responsibilities you had to live up to. There was lots of pressure, and we realized along the way that we had to compete. It wasn't the kind of pressure that we didn't want, we were looking for it.
Q: It seemed we had a whole lot of proactive, unified, self-motivated team members…
TD: Yeah, when it came to football. (laughs) With other things it was a little different. But the football part was no question. (laughs)  I just go back to that team prayer all the time, and focusing on my little world. Right after the team movie the night before I really started to focus.
Q: What do you draw from those experiences and apply to your present life?
TD: You're champions! (laughs) You know, you sacrifice to get that. You're always gonna learn something from that and incorporate those type of things into your later life: going about doing things the right way, creating expectations that things are going to happen.
Q: Kind of like, "The right thing may not be the easiest thing to get you over the top, but you do the right thing, anyway?"
TD: Exactly. Go the long route. The Nebraska program was built on hard work and the dedication of its people, and if I had a chance to do it over again I wouldn't change it in a heartbeat. Nebraska is a special place.
End conversation.
Troy mentioned 'The Prayer.' Just moments before they gathered hand-in-hand and stormed the field via the famed Tunnel Walk, they huddled in a massive circle at the center of their locker room and spoke this collective Husker pre-game prayer:
"Dear Lord, in the battles we go through in life we ask for a chance that's fair, a chance to equal all your stripes, a chance to do or dare. If we shall win let it be by the code, with our faith and honor held high. If we shall lose let us stand by the road and cheer the winners as they go by. Day by day, getting better and better, a team that can't be beat… won't be beat!"
The words reflect on concepts of humility before a great God, of giving a worthwhile witness to His glory, of sportsmanship, of holding steadfastly to integrity amid the course of battle, and the idea that, in the final tally, effort matters even more than victory. "Go the long route," Troy said. It echoes famed sportswriter Grantland Rice's glorious poetic summation:
For when the One Great Scorer comes
To write against your name,
He marks -not that you won or lost-
But how you played the game.
–"Alumnus Football," Only the Brave and Other Poems
So we have The Prayer, which Dr. Jack Stark and others have spoken of, but this is the first I've heard of 'The Fight.'  This may or may not be news to you, but rumor has it that at that time existed a street gang of sorts who went by the name of 'The Lincolnites': punks, troublemakers, drug dealers and thugs who used forced fights with Nebraska football players as an initiation rite to their membership. Rather than separating themselves from potential brush-ups by remaining on the right side of the tracks for the entirety of their Nebraska college experience, I think it speaks volumes about the self-assurance and moxie of the 1991 recruiting class who drew a line in the sand and then proceeded to pound those hoodlums into it. The historic scrum bonded these boys for life, because after the carnage they knew they could depend on their teammates come Hell or high water. Who would have guessed that one special encounter with delinquents would play a crucial part in future on-field success? Not me. But there it is, nonetheless.
In the final summary of this endeavor, if you find my writing capabilities have fallen short of conveying an accurate portrayal of the solidarity and fellowship of that era, I then ask you to lean heavily on Troy's words, instead. They cannot be better stated: "We were a family, man. That's the bottom line. Most people don't understand how close-knit we were as a team, almost freakish. There was something there that was truly unique."
Notable quote #2:
Troy Dumas on Defensive Coordinator Charlie McBride's pre-game speeches: "When he was done he had you wanting to eat gunpowder. He always made you want to give 110%."
Copyright @ 2013 Thermopylae Press. All Rights Reserved.
Photo Credits : Unknown Original Sources/Updates Welcomed
Paul Koch
---
---
---