Anatomy of an Era: Troy Branch, Part 2
Excerpted from Chapter 92, No Place Like Nebraska: Anatomy of an Era, Vol. 2 by Paul Koch
Anatomy of an Era: Troy Branch, Part 2
Q: What other coaches stand out to you from your time there?
TB: Me, I didn't spend a ton of time up in the coaches' offices and stuff like that. I was really self-sufficient in that respect. I did my thing and I was about school and about a lot of different things other than just Nebraska football. I loved Nebraska football and sold out for it, but I did other stuff. There was just other stuff that interested me. I enjoyed just being around other kids who didn't play football. I enjoyed just hanging out when I could, because that was rather infrequent that you'd just get the chance to hang out.
Q: Because it was usually go, go, go? Class, study hall, training table, weight room…
TB: Exactly. It was class, eat, tape, work out, watch film, go practice, come back, lift, run, get treatment, eat, study, you know? That was the schedule. It was a demanding schedule, you know.
Q: Anything about Charlie McBride stand out to you, his methodologies?
TB: The thing I remember about Charlie? He didn't holler as much as Steele. But the thing I remember about Charlie -and he could be the nastiest thing you ever wanted to meet- but as much as he ripped a guy, he would always find a way before the end of practice, he'd figure out a way to build that guy up. I always respected that about Charlie. He may have ridden you, but he found a way to pick the guy back up before he left the field that day.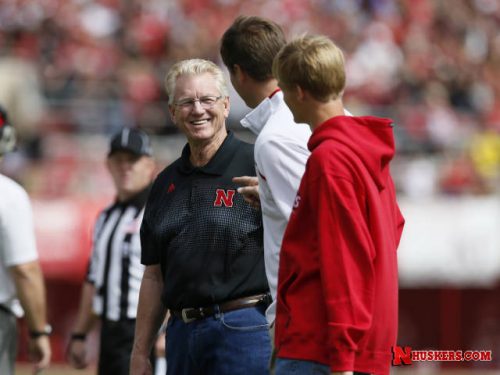 Tony Samuel, I just thought he was so 'chill' as a coach. I just remember him and his coaching style. You could sum it up in one day: I remember it was Dwayne Harris who just wasn't having a good day. I don't know what was going on -and this is the closest Tony would ever come to hollering- he just said, "Don't worry, Chief. Competition will sort everything out." And that was as close as he came to hollering. He meant it like, "You know what? You keep messing around, you keep having a bad day. But when you start wondering why somebody's ahead of you on the depth chart, competition will sort everything out." And I was, 'Damn, that is kind of true.'
Q: You wish Kevin Steele would have borrowed that line a time or two, eh?
TB: Yeah, I could have gone with that route. That route would have been more fruitful for us, I would have to say.
Q: (laughs) And any special memories of rubbing elbows with Coach Osborne? Any particular attributes about him and his methods?
TB: The one thing about T.O. was -and I appreciate it a lot more now- is his ability to get people to focus in the moment. I realize this now as I look and I think about the Callahan years and what that meant and why that was just a failure. And one of the reasons I think that was is… one of the most difficult things, I think, to get across to people is to "play every game like it's the only game." You play every game like it's Oklahoma. And if you can do that what you find out is that you are playing against yourself, you are playing against what you believe is your max(imum) self.
And what I realized, we had all the goals -20 to 25 goals- all these esoteric numbers. We had a goal to keep someone from starting (their offensive series) at less than the 25 yard line, we wanted to start by the 35… we had all these goals. And what you found out was that as you achieved more of those goals you become more of a complete team. And you were able to demonstrate -even though we may have beat someone fifty to ten we only got ten to twenty goals– and if that happened there's probably film to be looked at to show why we didn't have as good a game.
What that does is it teaches you that it's not so much the score; it's about playing to your max ability. And if you can do that, and you lose, you just got beat by a better team. But the goal is to get as close to your max ability as possible. And if you can get teams to focus that way? Those are the teams that end up special. When they just approach every game like, "Hey, this is the most important game on my schedule. Period. This is the most important game on my schedule."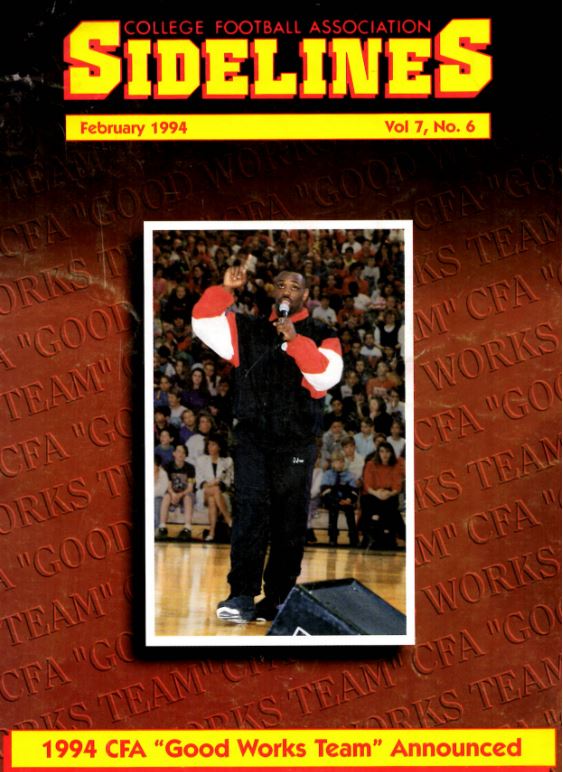 And I just never appreciated that until I got away from it, like the year they finally imploded and went 5 and 5 and got beat that time by USC. I remember at the beginning of that year someone was talking "National Championship or Bust." And I was like, 'I really don't like that sentiment.' And they were like, "What do you mean? I love it! It means they are shooting for the top and setting their goals high." And I said, 'That doesn't mean anything. I can probably count on one hand the number of times Coach Osborne discussed the national championship in my five years there. And I probably wouldn't need all five fingers. (laughs)
It's about' -I hate to be cliche- 'one game at a time, focusing on the right stuff.' And the other guy said, "That's all that is. It's a cliche." And I saw the guy after the season -and it's my position that that team died that day when they got blown out and it was so apparent they weren't USC's match- I think that's the day that team ended. They were never the same after that. They probably weren't as good as people thought, but they were never the same after they had hung their hat on the national championship, and that's what the coaches had allowed them to do. So after that, what do you play for?
Q: I used to call that the "Notre Dame Syndrome." I recall college football in the '80's and '90's and it seemed that Notre Dame would always get the cream of the crop in recruiting, but once they lost their first game of the year they just tanked -despite the talent- because they put too much emphasis on the result rather than the process.
TB: Colorado in the '90's, too. Now, they didn't tank -they were good- but they hung everything they could on beating Nebraska and almost invariably came up short, so the season was over. But if it was about playing to your max ability every game? Then you're playing for something different, in my opinion.
Q: Did that kind of focus help get you through law school, too?
TB: That all becomes a combination of things, picking and choosing and doing everything in your power to take those things and put them to work. But in law school there's a certain amount of grind -and the 'stick-to-it-iveness'- you just have to live with it in law school. There's a certain amount that you just have to do and you have to say, 'I don't care what it is, I just have to get it done.' So yeah, there is a certain amount of 'this day I've got to get better. With this day, I'm pushing myself in this way, not so much focusing on the outcome.'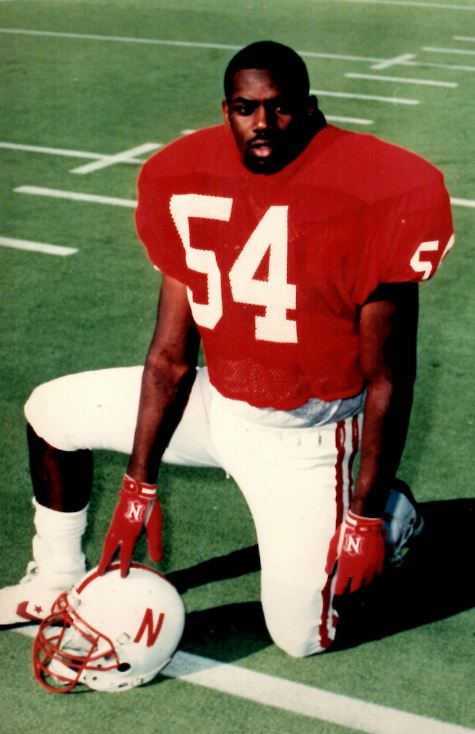 Q: Do you recall the first time you actually got to play in a game?
TB: Sure. I played in 33-34-35 games. I didn't play in the Missouri game my senior year because of a deep thigh bruise, but I played and traveled, was a four-year letterman. The first game I played it was like 97 degrees at like six at night. We played Baylor on ESPN and I think it was the first time playing for ESPN or something to that effect. They had Santana Dotson and some other big, big defensive tackle, but we played Baylor and beat them like 13 to nothing. The first game was a night game, so that was pretty cool.
Q: Your first Tunnel Walk?
TB: Well, there wasn't a tunnel walk then, remember?  We just had like brick walkways and people standing around and Pomp & Circumstance, right? (laughs) The tunnel walk came in '94, because they were supposed to redo it and have a tunnel walk in '93. But if you remember, in the spring of '93, the Monday after the Spring Game part of the stadium collapsed. It would have been the southeast corner of the stadium fell down, and so they were prepping the stadium to put the big screens up and the tunnel walk and all that stuff, but they had to basically bring the engineers in and make sure the stadium was safe, so that delayed the screens and everything until '94. We were thinking, "Man, there were like 30,000 people here for the Spring Game. What would have happened?"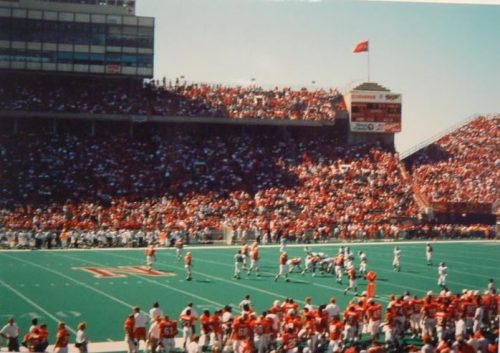 Q: Do you have an all-time favorite game?
TB: Probably… oh man, the national championship game was fun- but probably the Halloween Massacre against Colorado. That was fun. Yeah, that was fun. I had two fumble recoveries that day. But just in general? I've never seen a team jump on another team so fast and so ferociously. A team that you expected to be good, to jump on them so ferociously was something. Of course, it was alcohol- and beer-fueled and costumes and ESPN kickoff on Halloweeen Night… no one had been drinking for that one. (laughs) That stadium was just gassed up and ready to go. We jumped on them and just never took our foot off the gas.
Q: It was like a football game, a rock concert and Comic-Con all rolled into one?
TB: Exactly! That game was fun. I tell you, a game that -even though it wasn't much fun- the game I remember a lot, too, was Washington out in Washington, my redshirt junior year in '92. It was the loudest game I've ever been at in my life. Nothing close compares, even to what I heard at Memorial Stadium.
Q: What was that due to? Acoustics? Louder fans? What?
TB: Acoustically, the fans were juiced up. I can honestly say the crowd was a ten point difference, easily. We couldn't audible -and that's back when we were running the option, and if you can't audible out of bad plays?- so we couldn't audible, it was just so loud. It was ridiculously loud. And I remember flying back that night and my ears were still ringing twelve hours later.
Now, I've been in some loud games at Memorial Stadium… and my wife taught at the University of Nebraska, so we've had faculty tickets. So I was at Oklahoma in 2001 when they had that reverse pass to Crouch, I was at there at Notre Dame for the overtime game, I was there for the Oklahoma game in 2009 where it was ten to three and the crowd, literally, willed the defense to keep seven points off the board, but nothing approaches that sound or that decibel level out at Washington, nothing approaches that. I haven't been to any sporting event that approaches that, and I've been to athletic events indoors, too.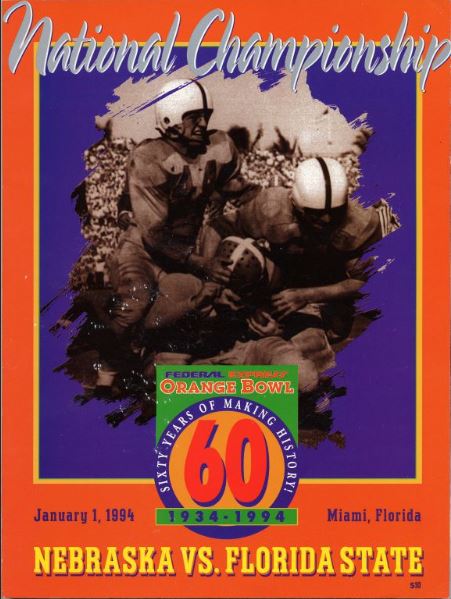 Q: Are there any favorite, funny, memorable off-field moments from back then?
TB: Not that you could tell for the book! I'll only get guys in trouble. (laughs) These guys are married now! (laughs) Probably off of the field? (And hopefully Ed (Stewart)doesn't get mad at me, being a bigwig with the Big 12 now) This goes back to Kevin Steele: we'd give Ed crap about this all the time, but he loved  Ed. Alright? And at the bowl game my redshirt junior year… It was my first time because a lot of people forget that we had played Florida State twice. (We played them the year before we lost to them in the national championship game, as well) So at the bowl practice he was just going on with films -and gosh, you've watched the same film over and over so many times- and he'd just be watching and watching and watching it, and of course, the whole time he's going over it with Ed, "Hey Ed, look for this. Hey Ed, you've got this… Hey Ed, you've got that…," on and on and on, you know? The boys got pissed off! And we go, "You know what?… we've got to send him a message."
So the next spring, the spring before our senior year, the spring before Coach Osborne and the "Oh, my God! How did he hear about our plan?! How'd he find out?!," that spring… well, we were like, "We have to send a message somehow, some way." So we decide we're going to buy these t-shirts and we're going to save 'em and we're going to wear 'em the first day of spring ball, and all of us are going to do it. So we get all the linebackers together, "Alright, is everybody in? Yeah!! Alright, here's the money we'll need. We went to the shirt place and here's how much it's going to cost us. So everybody give me your money and here's what we're going to do: on the front of the shirt it's going to say "Hey, My name is Ed, too." On the back it's going to say 'Stew" and we're going to get our numbers stenciled on it." So all the linebackers except Ed ended up buying, ended up getting one of these shirts.
And I felt bad and I was like, 'I've got to tell Ed.' So I told Ed, 'Here's what we're doing here. Here's why. No one's upset with you. No one's mad at you, but we're still doing it.' And so he was like, "Okay, cool."
So we waited and, of course, the plan was going to be: "We're gonna wait and walk into the meeting late." And that was one of Coach Steele's rules: You're never late. Never late! And so, we always started with the big team meeting with Coach Osborne and the whole team, and then we'd break out into our position meetings. And I was like, 'We're gonna be the last group to go into the meeting room. We're all going to wait. And then we're going to come in and all of us will be parading in with these shirts.' And so, of course, everyone runs up the steps and we all gather into our position room and they've all got two shirts in their hands: one, the shirt that we bought, and the other in case someone decides to chicken out. It was like, "Okay, let's start. Let's get them on!"
And right before we walked in I hear Coach Osborne say to Coach Steele, "Coach, where are the inside linebackers?" And he's like, "I don't know." So then everyone's seated –the whole team and all the coaches- and then we all come parading in with these shirts on: "Hey, my name is Ed, too." It took a while for people to realize we all had the same shirts on and what they said, and then it was two, three minutes of just bust-a-gut laughing! We all had a good time with it. Ed had a good time with it and Coach Steele had a good time with it. It was all fun. (laughs) Ed will probably find me and try to beat me up for telling the story, but we had fun with it. We still have lunch when he comes into town every now and then.
Q: I remember you guys coming into the weight room that day with those shirts on…
TB: Oh yeah, everyone was laughing. That's the story of how those got made. (laughs)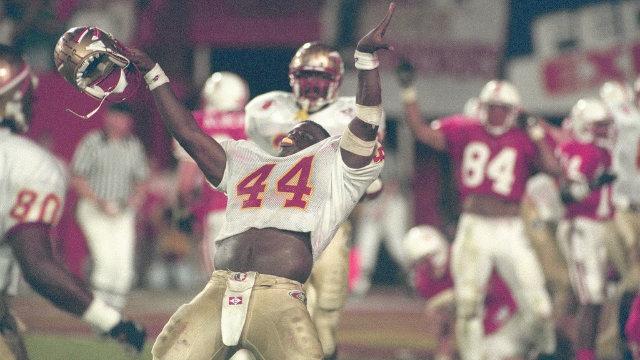 Q: Now, it seems to me that a great change in the atmosphere, the culture of the program took place in the span of your freshman to your senior year. Would you concur?
TB: Oh, absolutely. I would say that '90 team was more talented. The most talented team, before the national championship team. That team had Kenny Walker on it, Tahaun Lewis, Bruce Pickens… that '90 team was pretty talented. I would venture to say if that '90 team was playing the 4-3 instead of the 5-2 and you could have turned Mike Croel and Kenny Walker loose on the outside, you had Travis Hill and David White were young, you had Bruce Pickens, Tyrone Byrd? If they could have been turned loose in the 4-3 it would have been interesting to see what would have happened. I think Reggie Cooper was on that team, too. So imagine if you would have moved Reggie down to what they ended up going with, the WILL linebacker spot, you could have really done some cool things.
But they had made the transition there -they were kind of doing the dime- but they hadn't made the whole transition. That '90 team -talking about a 'national championship-or-bust' team- that '90 team ended the night that we lost to Colorado in the rain when they hung twenty-four on us in the fourth quarter. That team ended that night; it never recovered. We had a lackluster game against Iowa State, get blown out by Oklahoma -they literally ran a fullback trap on us all day- and then, of course, that's the game Mickey Joseph hurt his leg. And then we lose to quite possibly the worst national champion ever: Georgia Tech. That team just never recovered from that night against Colorado in the rain. As a young guy -I was a redshirt freshman playing on special teams- that was a defining moment for me, because that's when I realized that it can't be all about national championships, because losing sucks.
But there was just an evolution, and by the time we were seniors I think we had less stars. You think about my senior year in '93: you had Trev Alberts, but there weren't superstars. And that team? They were 'lunch pail.' They came to work hard every day. We were playing in a new system that gave people freedom and people were able to fly around in different spots they grew accustomed to, and we just worked hard.
Q: Did you always have that work ethic or do you think it was something that was learned?
TB: You know, I don't think that we worked any less hard -from an inside linebacker standpoint- I don't think we worked any less hard before. By the time we were seniors -Mike, Daren and I- that was the way we knew. I mean, that's the way you practice. We didn't know any differently by then, that's just the way we practiced. It was where Steele used to say, "You know what?  We're in a scrimmage, and I'm just gonna leave you out here for fourteen plays and see what happens." He'd see how you responded: "Are you gonna let your mind dictate to your body or vice versa?" He would just do stuff like that, and that all created a mindset that we were toughter than anyone else, period.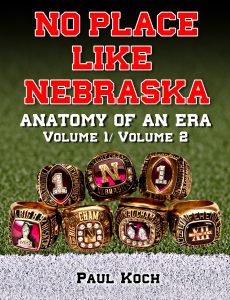 Available on Amazon.com
Q: Do you think the walk-on program had much to do with any of that?
TB: For me it did. Another one of my good friends, Zeke Cisco, he was another guy in my wedding. You see a guy who was born and raised in Michigan -and he comes here- and he's paying for it. It's the same old story. And people say it's cliché and all that sort of stuff, but it's the truth: you'd see the guy busting his hump. And make no mistake about it, if I was paying to go to school I would be some place closer to Camden, New Jersey, (laughs) you know? But he was paying to go to school here and just laying it on the line, and you'd see guys doing it all the time. You'd see guys who'd invite you back home and you realize there is something to this 'Nebraska values and doing the right thing, and people are friendly', so there's value that you take away from that.
And any great team? I realized that you have to find something bigger than yourself. That's when you're a good team: when you're playing for something bigger than yourself. Mainly, 'I'm playing not so much for me, but I can't let that guy down and then look him in the eye when we go into the film room on Monday.' When you get guys doing that, any team sport and in business, as well, if you truly want a 'team' that team has to believe in something bigger than itself. When you do that it's easier to sacrifice, to make those personal sacrifices to allow the entire team to be better, not just you personally. That's hard to translate into business, but it's easy to translate into athletics.
To be continued….
Copyright @ 2013 Thermopylae Press. All Rights Reserved.
Photo Credits : Unknown Original Sources/Updates Welcomed
Author assumes no responsibility for interviewee errors or misstatements of fact.